Throwdown is the Organized Play event format for Riot Quest. Whether you're looking to host a more traditional tournament style event or want to run something where players enjoy a handful of games at their own pace for the chance at earning prizes, Throwdown is the OP event you'll want to run. There is no better way to build and support a growing Riot Quest community than with regular Throwdown events. Each Throwdown Kit contains 1 alt-sculpt Riot Quest miniature and 4 foil cards, enough prizes for any size event. Throwdown events can be run at any time, with the specific miniature and card contents in the kits updated periodically. Riot Quest Throwdown Prize Kit (8) ..First Release due September ..NETT £13.00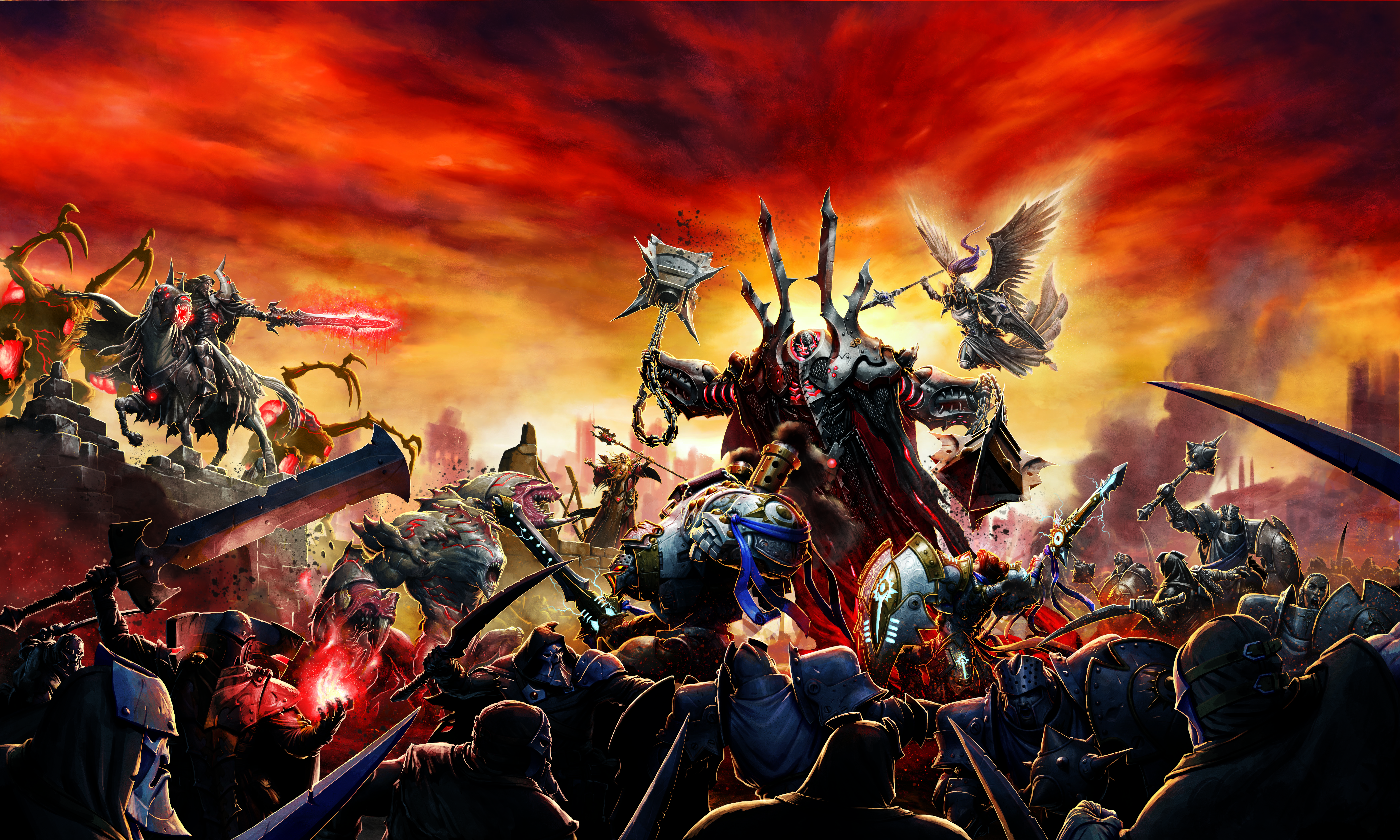 WARMACHINE: Oblivion-Infernal Bleeding. The Oblivion box set is just around the corner!
Everything will change… A pact struck ages ago has finally come due, and now the otherworldly horrors known as the Infernals descend upon Caen to collect their payment. The cost in mortal souls is higher than anyone could possibly imagine, but forces have gathered to stand against these invaders. Holy archons and steadfast soldiers of the Order of Illumination join with armies of all nations to protect humanity from utter oblivion at the hands of ancient evils from without and traitorous individuals from within. The fate of every living being hangs in the balance, and the Iron Kingdoms will be changed forever…if it survives at all. The Oblivion Campaign Set contains a vault of secrets about the upcoming Claiming, including new fiction detailing the Claiming of souls; a narrative campaign system featuring 16 branching scenarios that allow you and your friends to participate in the invasions; Omen cards that contribute to the outcome of your path to victory or defeat; a brand-new model, the Hermit of Henge Hold, that can play in any army; and new and updated rules for WARMACHINE and HORDES in a convenient digest. The Oblivion Campaign Set has everything you need to help you defend against those who come to claim souls or to aid them in their decimation of the world.
January New Release
2nd Ed. LEVEL 7 [OMEGA PROTOCOL]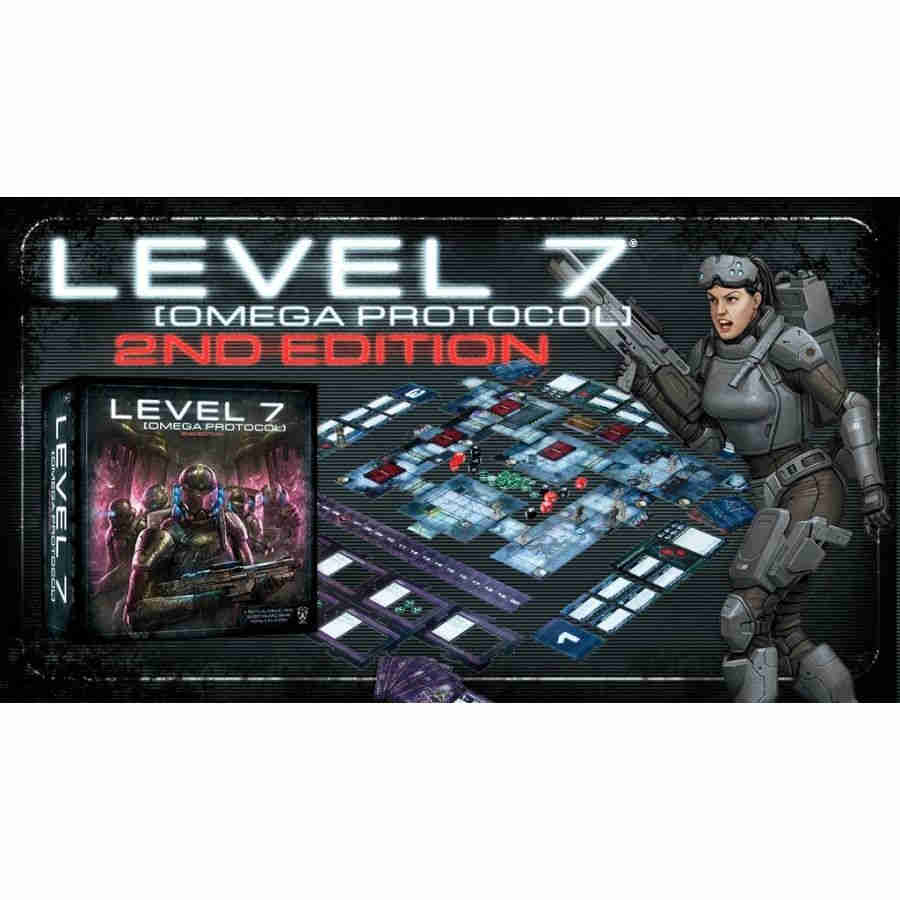 PIP Code: 62004nPrice: £89.95
LEVEL 7 [OMEGA PROTOCOL] is a tactical miniatures-based board game for 2–6 players, now in its second edition. The plastic miniatures are produced in a rigid plastic, far superior to the original edition, and minor errata and rules changes have been made to offer an even better gaming experience. Now players can once again fearlessly enter the belly of the beast as part of a highly trained team of operatives and work together to neutralize all threats, or they can take control of the creatures inhabiting Subterra Bravo, and ensure the human intruders know true terror before they meet their grisly fate. Overrun with swarms of monstrous genetic creations led by their nefarious alien overseers, the underground facility of Subterra Bravo is the epicenter of an unfathomable government conspiracy - one that must be kept secret at all costs. To cover up the truth, the shadowy agency in charge of the operation has initiated Omega Protocol, dispatching an elite team of commandos to retake Subterra Bravo and eradicate all evidence of the sinister creatures within. But the threat these creatures and their alien overlords pose may be far greater than anyone can possibly imagine... Contents: • 37 Plastic Figures • 18 Special Dice • 5 Commando Character Sheets • 16 Overseer Dashboard Pieces • 36 Map Tiles • 153 Cards • 74 Markers • 156 Tokens • 2 Round Tracker Pieces • Mission Guide • Rulebook
January New Release
Order of Illumination Resolutes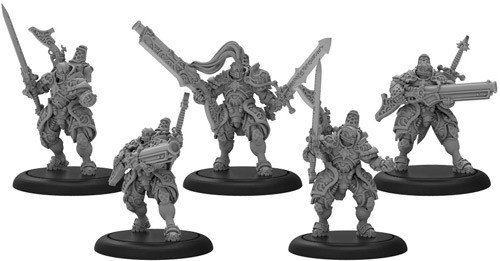 PIP Code: 41171Price: £39.95
The Resolutes are the heavy infantry of the Order of Illumination. Armed with holy blades and blessed Execrator Cannons, the Resolutes are trained to cleave through unholy spirits and the most malevolent denizens of the Outer Abyss. Their mechanika armor protects them from both mundane attacks and the dark corruptions of infernal and undead foes. Few of humanity's heroes are as prepared to face the infernal threat as are the Order of Illumination Resolutes. The Order of Illumination Resolutes is a unit that takes to the battlefield wearing heavy armor like the Khadoran Man-O-Wars but with additional holy protections against attacks made by Infernal and undead models. Offensively, both their melee and ranged attacks deliver a powerful punch, which is further increased when attacking the undead and Infernal models they are geared to destroy.
January New Release
Thamarite Advocate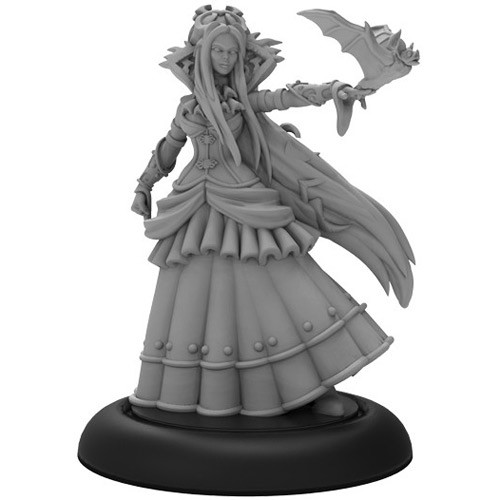 PIP Code: 41172Price: £12.95
The Thamarite Advocates are peerless masters of the forbidden arts who have dedicated themselves to the destruction of the infernals and the protection of humanity. Once denizens of the shadows long-accustomed to serving their Dark Mistress in secret, the Advocates have put aside old differences and joined forces with those who once hunted them. They now take to the battlefield against the ravening hordes of the Outer Abyss, pairing their magic and fell curses with the steel, shot, and hallowed blessings of the Order of Illumination. The Thamarite Advocate is a wild card, a solo possessing strong spellcasting and defensive capabilities geared toward disrupting the capabilities of the Infernals. While capabilities like Barring the Gates, Fell Curse, and Hex Bolt require her to close with the enemy, Reposition and Sucker! work to keep her safe from harm. Should she fall in combat against the Infernals, Blessed of Thamar offers a final poison pill to inflict on the Advocate's primary enemy.
January New Release
MonPoc Steel Shell Crabs & Psi-Eel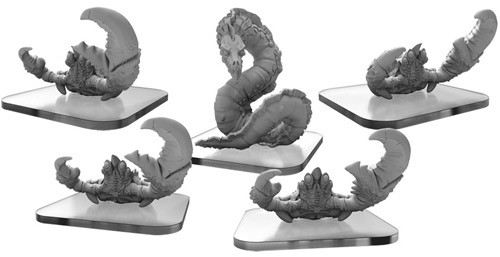 PIP Code: 51078Price: £31.95
Following in the wake of the first great Triton beast to emerge from the ocean's depths, these lesser creatures would still qualify as sea monsters if you found one washed up on the beach. Steel shell crabs are so named because of their incredibly dense exoskeletons. In the first skirmishes between these mega crustaceans and G.U.A.R.D. forces, the crabs' shells were virtually immune to all but the largest ordnance. Luckily, it was soon apparent that, like their larger counterparts, the steel shell crabs were more interested in fighting Earth's invaders than anything native to the planet. Slithering behind waves of crabs come the psi-eels. Human scientists have so far failed to capture a live specimen, so the full extent of their abilities is untested, but from battlefield readings it appears that they have mental capacities hitherto only seen in the extra-dimensional beasts assaulting the planet. This blister pack provides the first Tritons unit reinforcements for Protectors players. Steel shell crabs emerge from the ocean, Digging into to friendly territory in an attempt to save the planet from any who would seek to destroy it. Psi-Eels use their powerful Telekinesis abilities to stifle an invader's best-laid plans.
January New Release
MonPoc Mollock Brutes & Mollock Berserker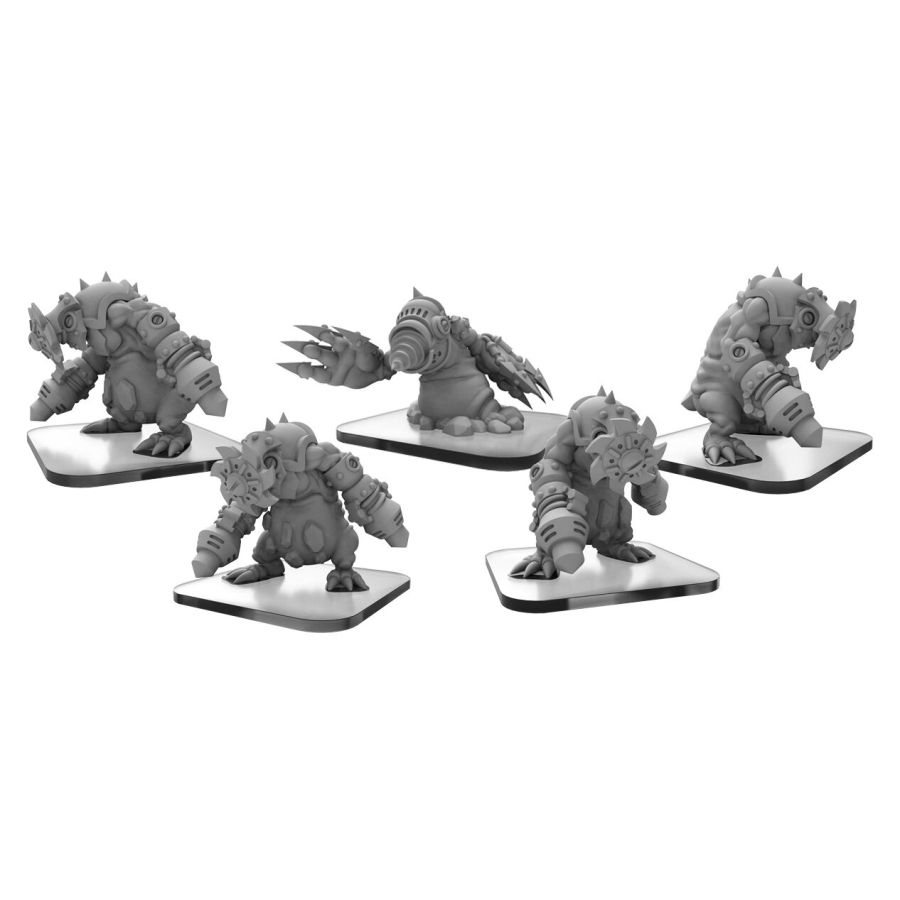 PIP Code: 51079Price: £34.95
Among the Subterrans, the mollocks are a caste of battle-ready warriors noted for their ferocity and fearlessness. After being surgically equipped with prosthetic grinders and drills, the greater tyrants send mollocks to the surface to murder and destroy. Mollock brutes display a wider array of machined replacements geared toward melee confrontations. Berserkers erupt from the ground to startle and flank foes and enter a frenzied trance-like state until no foes remain. This blister pack provides the first Subterran Uprising unit reinforcements for Destroyers players. Mollock Brutes advance across human cities digging just below the surface, Cloaked from enemy eyes until they burst forth to take down their master's target. Even more frightening than its common Mollock brothers, the Mollock Berserker shuns all subterfuge, intent on Berserking its way through as many enemies as possible before it falls to hails of cannon fire.
January New Release
MonPoc Elemental Champions Monster Incinerus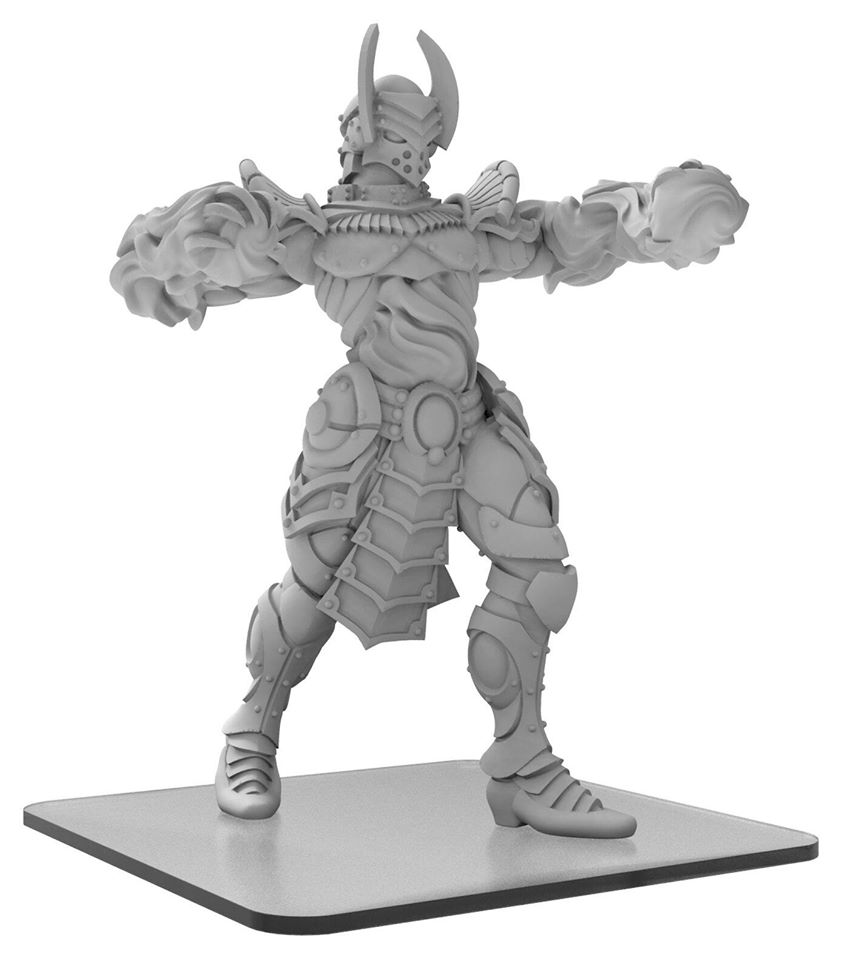 PIP Code: 51080Price: £24.95
Though his body is wreathed in flame, only good intentions fill Incinerus' blazing heart. The Elemental Champions belong to a secret society of powerful mystics who can tap into the primal energies of the earth itself. By internalizing and harnessing these flows through his body, Incinerus grows to colossal proportions and becomes a self-contained inferno of righteousness, rendering to ash any who would imperil the innocent. Incinerus is an offensive monster that can be added to any Protectors force. Made of the essence of fire, he casually steps through hazards to get to his foes. Any debris that isn't a raging inferno bursts into flames with a snap of his fingers. When he goes hyper, his burning rage is so strong that rubble ignites as he approaches and the fireballs he hurls at enemies Explode, showering the area with holy flames.
January New Release
MonPoc Savage Swarm Monster Xixorax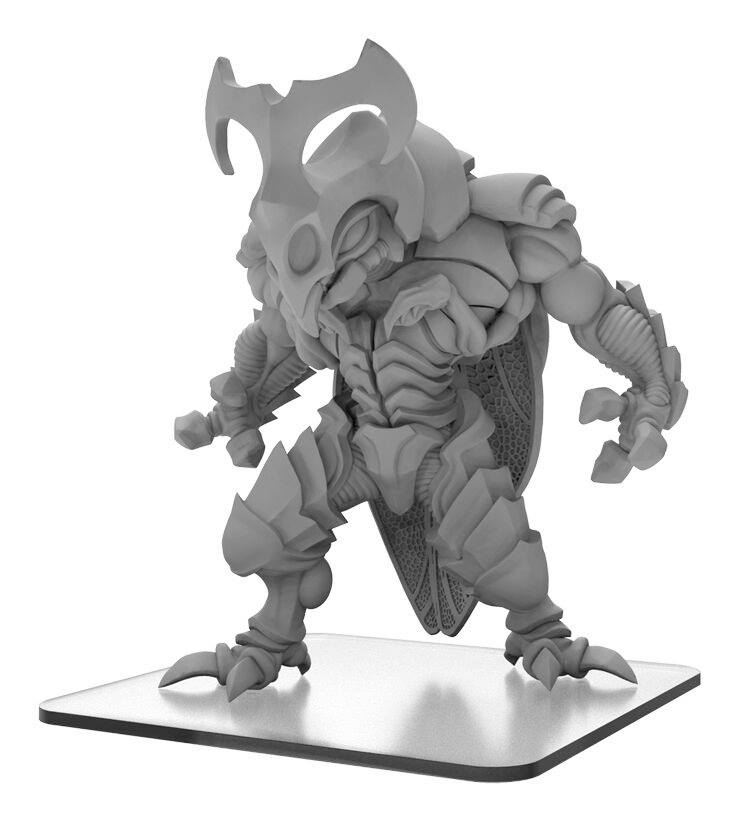 PIP Code: 51081Price: £27.95
The existence of the Savage Swarm has produced rampant speculation in fields as far apart as biology and theology. Preceded by the drone of a thousand-thousand buzzing wings, Xixorax emerges from craters in the earth to erupt as a force of urban destruction. Resembling a gigantic bipedal beetle, Xixorax shows none of the regard for the natural world or humanity that is demonstrated by the Terrasaurs and Empire of the Apes. Whether he has any intelligence or is motivated by any desire other than pure annihilation remains to be seen. Xixorax is an Offensive monster that can be added to any Destroyers force. This juggernaut of insectile force rampages through the cities of mankind with no apparent goal other than rampant destruction. When he goes hyper, he uses his opponents as weapons, masterfully knocking down buildings by slamming or throwing opponents into them.
January New Release
Riot Quest Doctor Stygius - Specialist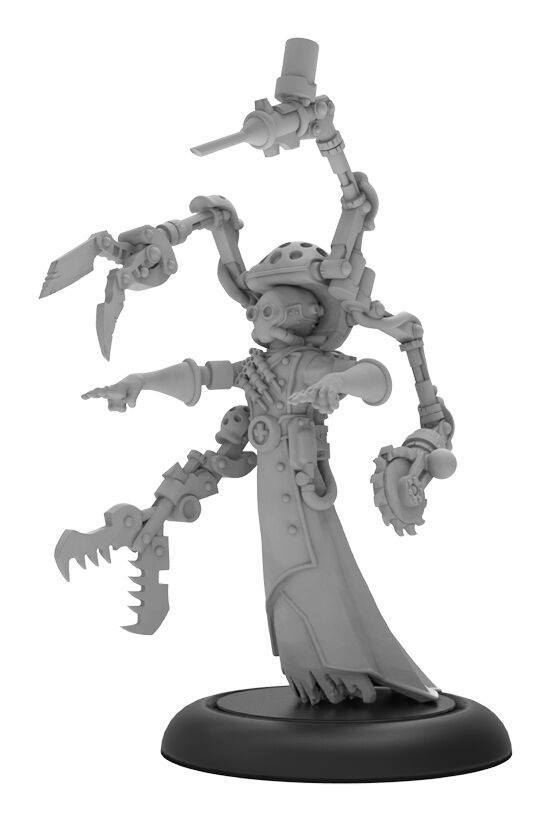 PIP Code: 63019Price: £13.95
An apple a day might keep the doctor away in the real world, but in a post-apocalyptic Iron Kingdoms, it'll take some seriously heavy firepower to avoid a visit from Dr. Stygius! Suffer a wound while he's on your crew, and this sinister Cephalyx has a suite of tools to stitch, saw, or scrape away your ails and keep you in the action. But if you're looting for the other team, don't forget your tinfoil hat or you may find Stygius psychically scrambling your cerebellum into a savory sauce! Doctor Stygius is a Specialist Class Hero that brings a unique and powerful ability to any Crew he joins: Healing! In addition to lowering the cost of Riot Gear equipped to himself or to nearby Crew mates, the "good doctor" can also perform some quick surgery to heal damage his "friends" have sustained in the Arena. Stygius also has the power to melt the minds of his enemies from a respectable distance, possibly even disrupting the opponent's flow of Action Die thanks to his Scramble ability. When played in WARMACHINE & HORDES, this model is a Mercenary Cephalyx Solo and the first warcaster attachment for Cephalyx warcasters!
January New Release
Riot Quest: Scythe - Gunner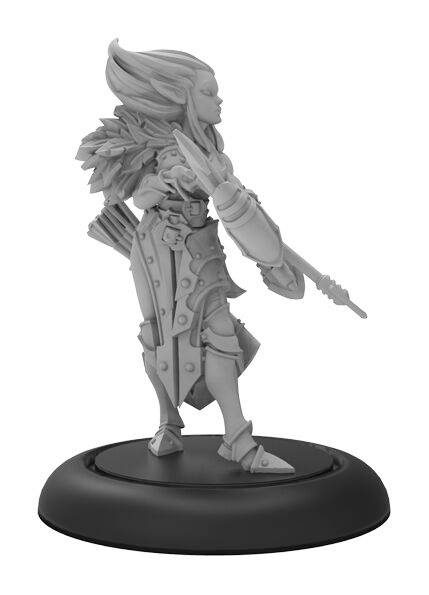 PIP Code: 63020Price: £12.95
Few of the true Nyss people still exist in the Iron Kingdoms, and those who remain are able to for a reason: they are skilled and deadly hunters. And Scythe is the deadliest. Frosty on the outside, burning with vengeance in the middle, Scythe has a passion for peering deep into your soul and then penetrating it with an arrow fired from her mechanika long bow. With the unmatched range of her bow and unhindered by the most difficult terrain, you can run from Scythe, but you can't hide. (Well, technically you can hide, but that just makes you a sitting target. Either way, you're going to end up a kebab.) Scythe is a Gunner Class Hero that boasts the longest base range of any weapon in Riot Quest. With a Speed of 5 and a Range of 5 on her Mecha-Bow, there is almost nowhere safe to hide in the Arena from Scythe. Thanks to her Pathfinder and Sniper abilities, Scythe ignores obstacles as she runs through the Arena and almost always lands her shot. When played in WARMACHINE & HORDES, this model is a Mercenaries Minion Nyss Solo that will work for Cygnar, Khador, Retribution, Circle, and Trollbloods. Additionally. she is a Retribution Partisan.
January New Release
Mercenaries - Legion of Lost Souls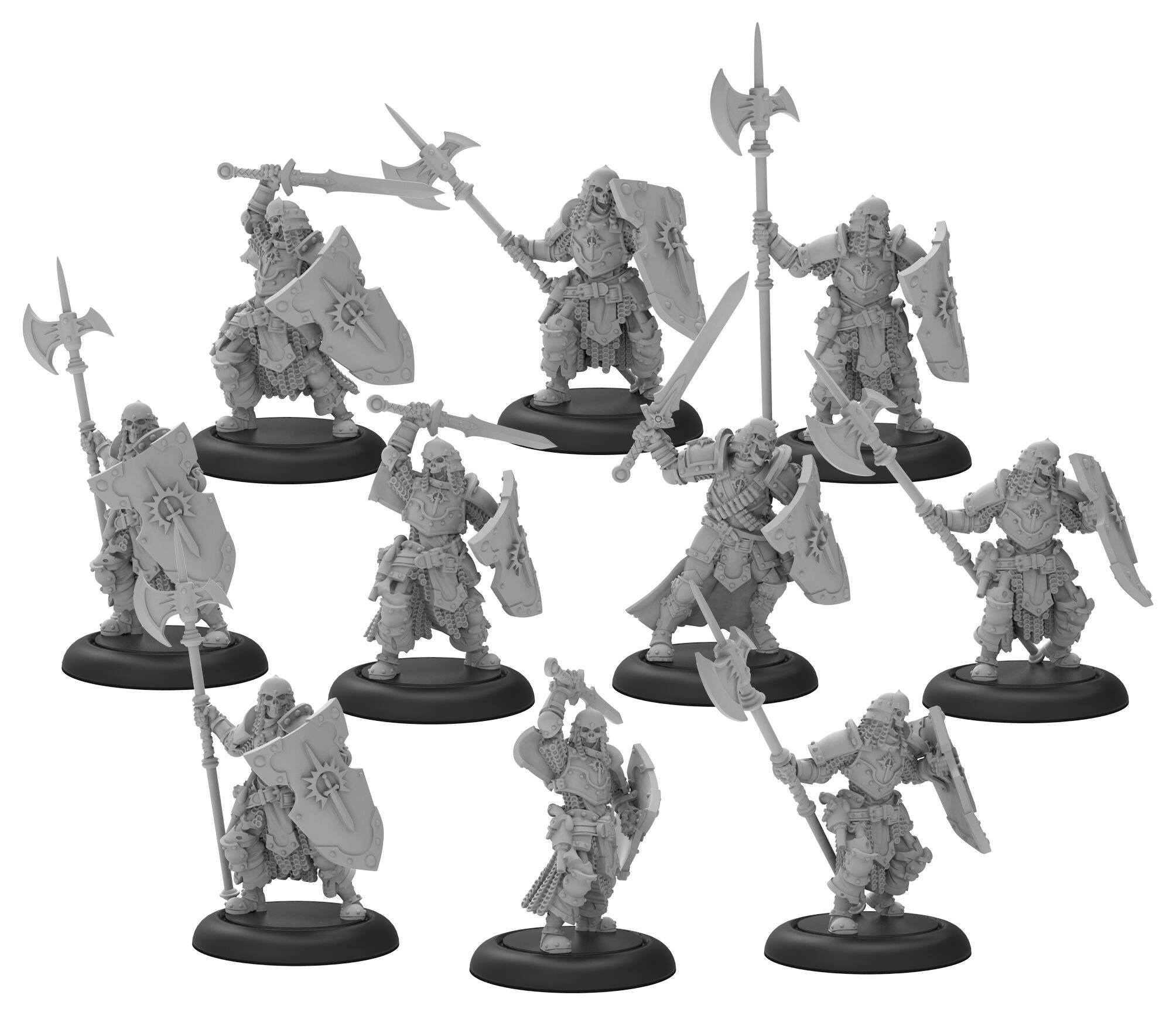 PIP Code: 41170Price: £64.95
The Legion of Lost Souls is an ancient company of Morrowan mercenaries who long ago stood against a terrible darkness that threatened the whole of Cygnar. Though the company was slain to a man, tales of their valor lived on, and it was prophesized that in a time of great need, Morrow would call the Legion of Lost Souls back to service, and once more they would rise and take arms against those who would threaten their nation. With the arrival of the infernals, Morrow himself dispatched a holy archon to rouse the Legion from deathly sleep to march against those who would claim the souls of humanity for their own dark purposes. The Legion of Lost Souls is potent undead heavy infantry unit. Heavily armed and armored, they approach the enemy in Shield Wall, taking shots with their heavy pistols before closing into melee with their two-handed swords. Tenacious in the extreme, any of the unliving soldiers who fall can be replaced by the Blood-Bound special rule as the Legion cuts through its opposition.
December New Release
Order of Illumination Morrowan Battle Priest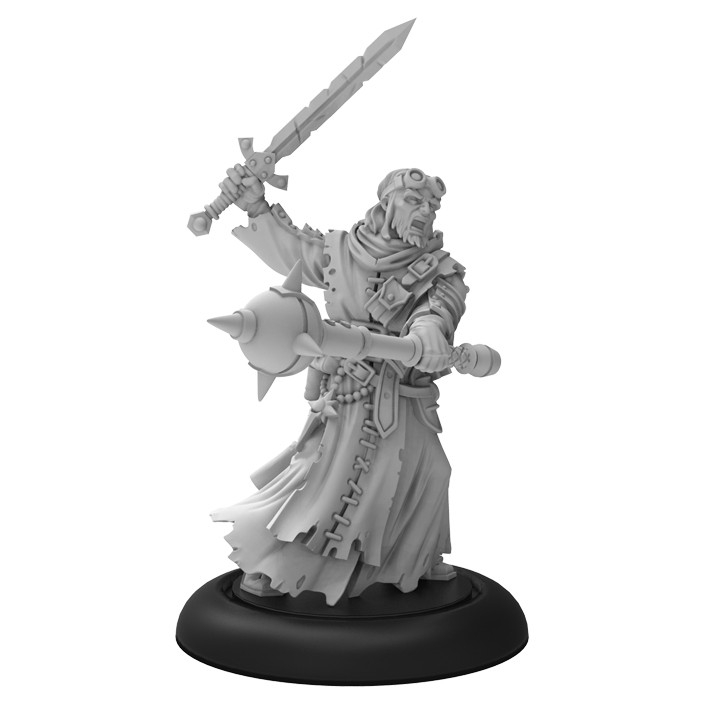 PIP Code: 41168Price: £12.95
The Order of Illumination relies on an arsenal of blessed weapons and holy wards, the preservation and upkeep of which falls to Morrowan battle priests. Soldiers of the Order are glad to be joined by such priests, who support them in battle with prayers and shield them from enemy magic. Battle priests are so focused on their sacred duties that they may appear ragged and disheveled, with no concern for superficial appearances. They are quite willing to pay the ultimate sacrifice to safeguard the faithful warriors with whom they serve. The Morrowan Battle Priest is a weapon attachment that can be attached to any small- or medium-based Cygnar or Morrowan unit, such as Precursor Knights. Battle Priests provide a solid workhorse model, capable in combat but shining best as a support piece for their unit by protecting key models with Shield Guard from ranged attacks or removing enemy upkeep spells with its Spell Breaker. Their Granted ability, Rise, also aids their unit against knockdown effects.
December New Release
Order of Illumination Illuminated One Glyn Cormier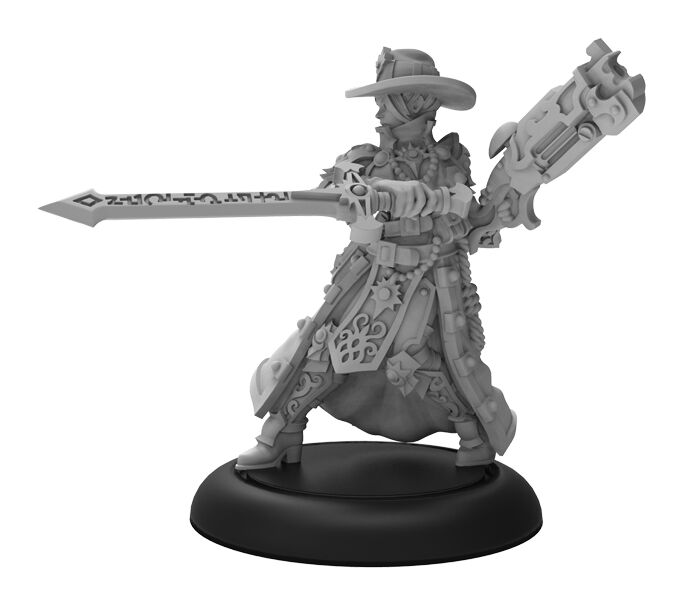 PIP Code: 41169Price: £12.95
An agent of Llaelese descent, Glyn Cormier dedicated her life to the Order of Illumination from an early age and has long since put aside national loyalties. During recent wars, she has sometimes struggled to maintain her objectivity, but she has endeavored to take the lessons of her mentors to heart, keeping her eye focused on the greater threat to humanity. She has fought infernalists since her youth after narrowly evading being recruited into a heretical cult. She has distinguished herself in numerous conflicts against those who practice dark magic. Glyn Cormier is an Order of Illumination Vigilant solo with a suite of powerful ranged abilities and a cagey, hard-to-pin-down play style. Advance Deploy, Pathfinder, and Stealth ensure she will be someplace inconvenient for your opponent, and Dodge makes her challenging to lock down in melee combat. Perhaps her most potent ability is Banish on her ranged weapon, which allows her to move an enemy model struck by it.
December New Release
Monpoc Terrasaurs Unit Bellows & Pteradactix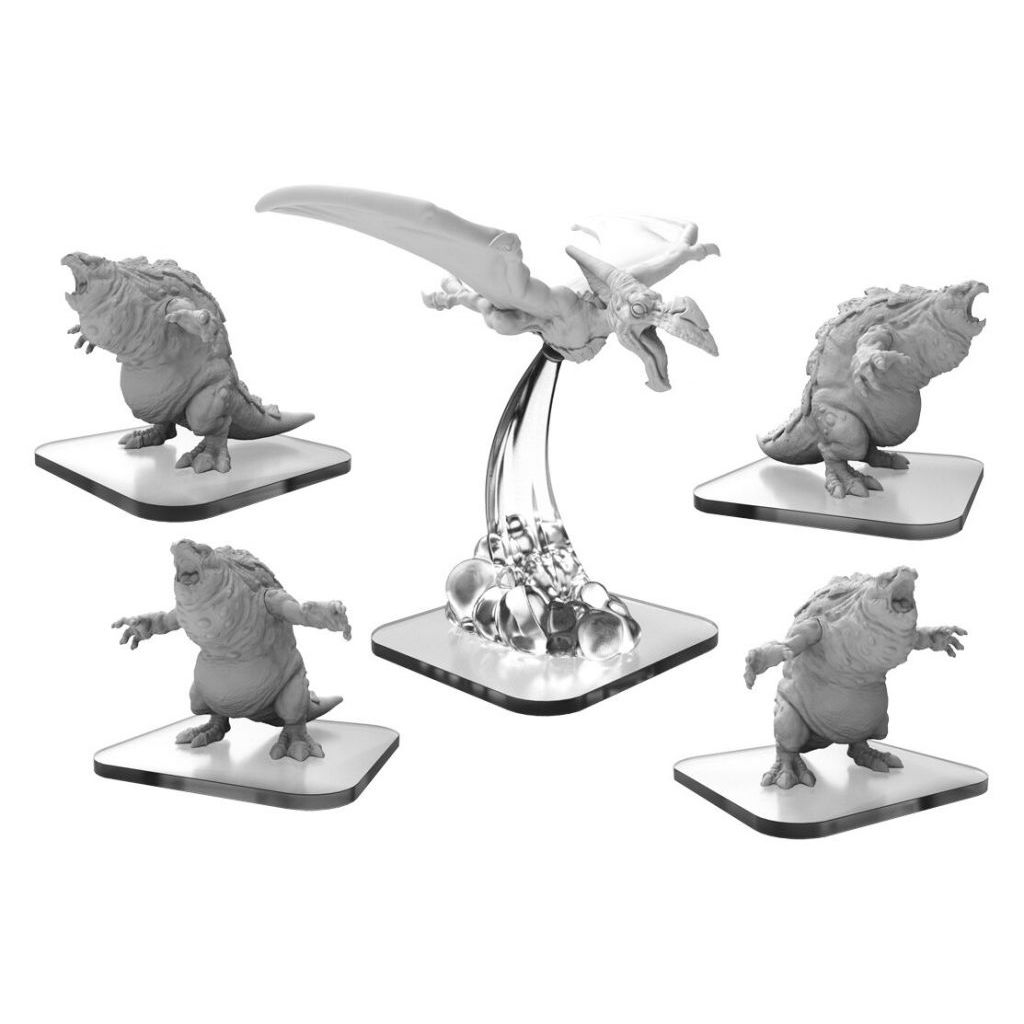 PIP Code: 51077Price: £28.95
Pteradax swoops from the skies to snatch enemy monsters and send them flying through the city skyline. Flocks of lesser pteradactix follow this creature wherever it travels, sweeping enemies from the skies. Like other Terrasaurs, Pteradax is strangely considerate of humanity, evading military flying machines with which it shares the skies, though it has brought considerable collateral damage wherever it fights. Pteradax is a highly maneuverable monster that can be added to any Protectors force. Its speed, High Mobility, and Flight allow it to easily move through the city. It buffets enemy units with blasts of air from its wings, Flinging them away and carries its allies where they are most needed. When it goes hyper, the Rapid Fire sweeps of its wings threaten all nearby foes, and it Air Drops enemy monsters to throw them into distant buildings.
December New Release
Monpoc Martian Menace Monster Tharsis 5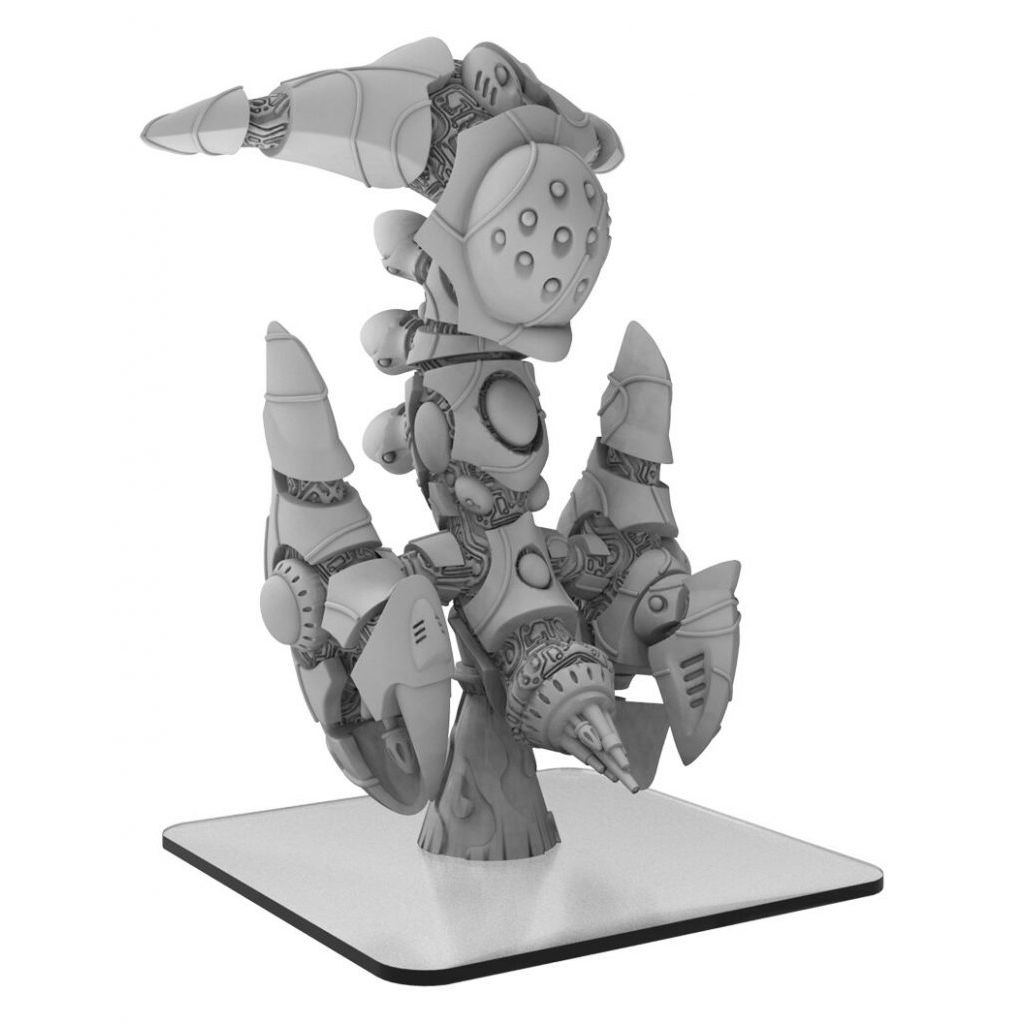 PIP Code: 51075Price: £28.95
Built to level entire towns and return to orbit after absorbing their resources, Tharsis-5 is as much an architect of the invasion of Earth as any other great Martian super-vessel. Tharsis-5 was built to remain at a low elevation and disassemble its adversaries more directly, becoming something of a self-contained and heavily armed factory and material recycling center. In all respects, Tharsis-5 is an efficient mobile invasion base, optimized to obliterate Earth's defenders and facilitate Martian forces, particularly across urban environments. Tharsis-5 is a support monster that can be added to any Destroyers force. It can change the skyline of cities with ease using Action: Repair. Nano Construction grants the Repair action to Martian ground units, meaning a force led by Tharsis-5 is capable of quickly terraforming entire cities. When it goes hyper, it powers up emergency force fields, Armoring it against collisions with buildings, and super charges its giant claws to knock enemy monsters across the city.
December New Release
Monpoc Martian Menace Reapers & Harvester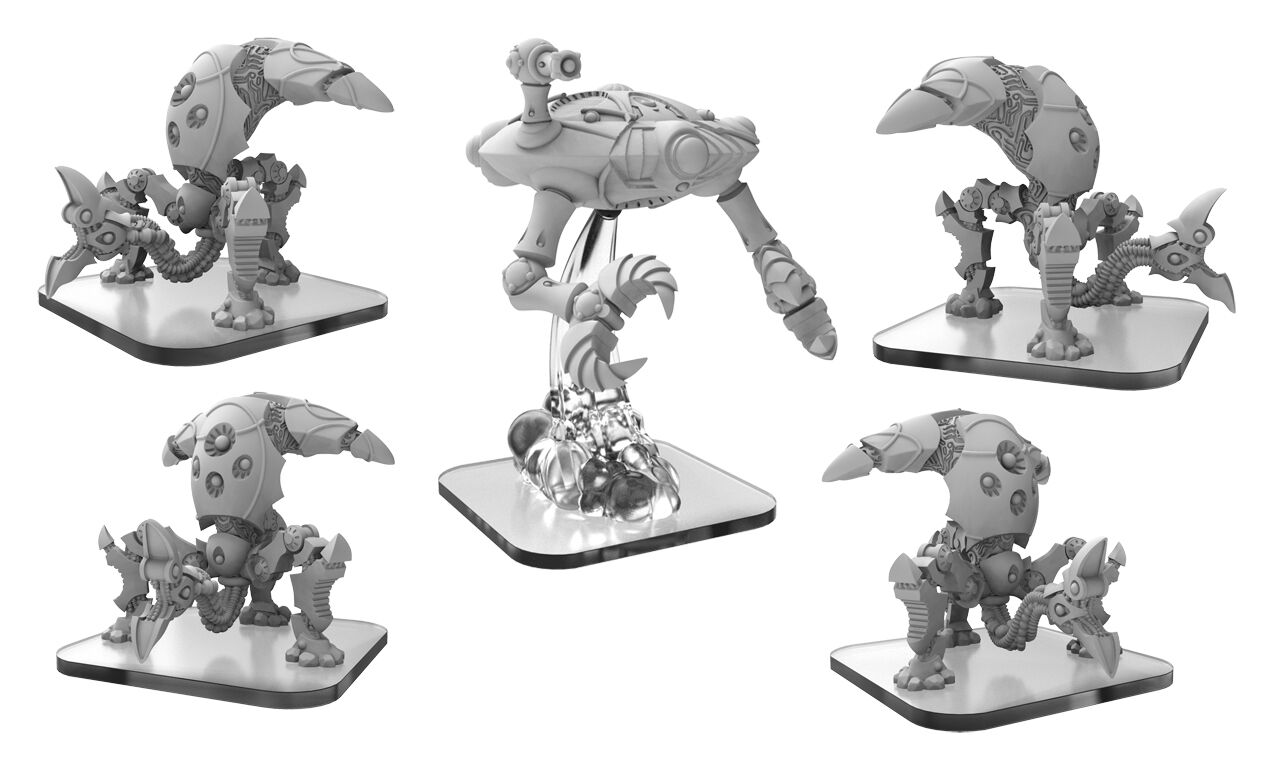 PIP Code: 51076Price: £31.75
Reaper battle walkers are among the most feared of ground forces deployed by the Martian Menace, striding swiftly through city streets and prioritizing the destruction of any defenders they encounter. Noted for their tremendous facility in climbing over barricades or crossing rubble, they have proven to be implacable foes.

Harvesters, as their name implies, are sinister elements of the Martian Menace that prioritize and facilitate the capture of living subjects. They also assist in gathering other needed resources required for the depleted Martian home world.

This blister pack provides Martian Menace reinforcements for any Destroyers player. Reapers provide Martian forces with a sturdy ground unit capable of scuttling over All Terrain to close with their targets. Harvesters lead the Abduction efforts of these alien invaders, supercharging the systems of their Saucer allies and using their built-in Manufacturing facilities to reinforce Martian forces with any materials on hand.
December New Release
Monpoc Terrasaurs Unit Bellows & Pteradactix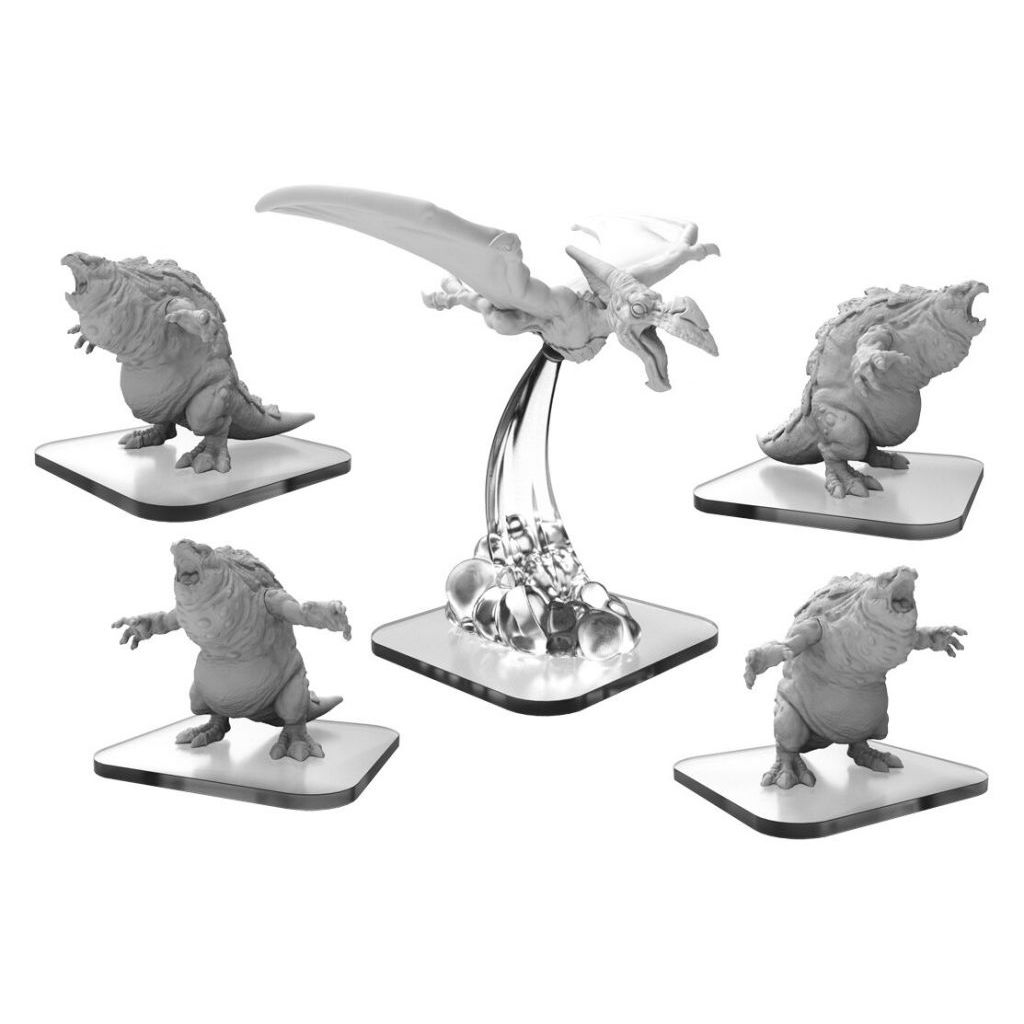 PIP Code: 51077 bellowers pteradactixPrice: £28.95
Bellowers are formidable Terrasaurs that have demonstrated a remarkably powerful sonic assault capability. Filling their great lungs with air, they can emit either high-pitched shattering shrieks or their more common deep bellows that can crumble stone. Few fabricated materials, even advanced otherworldly ones, can stand against these soundwaves. Pteradactix are tremendously agile fliers, taking to the skies for the Terrasaurs and quite capable of intercepting other enemies in the air or swooping down on ground forces. They are also adept at lifting their allies and carrying them across rivers or other obstacles. This blister pack provides Terrasaurs reinforcements for any Protectors player. Bellows provide a mainline blast unit to the Faction, and the noise of their calls Disrupts the plans of enemies around them. Pteradacticx are quick fliers capable of Towing their allies into the best tactical positions.
December New Release
Riot Quest Gunner Destructotron 3000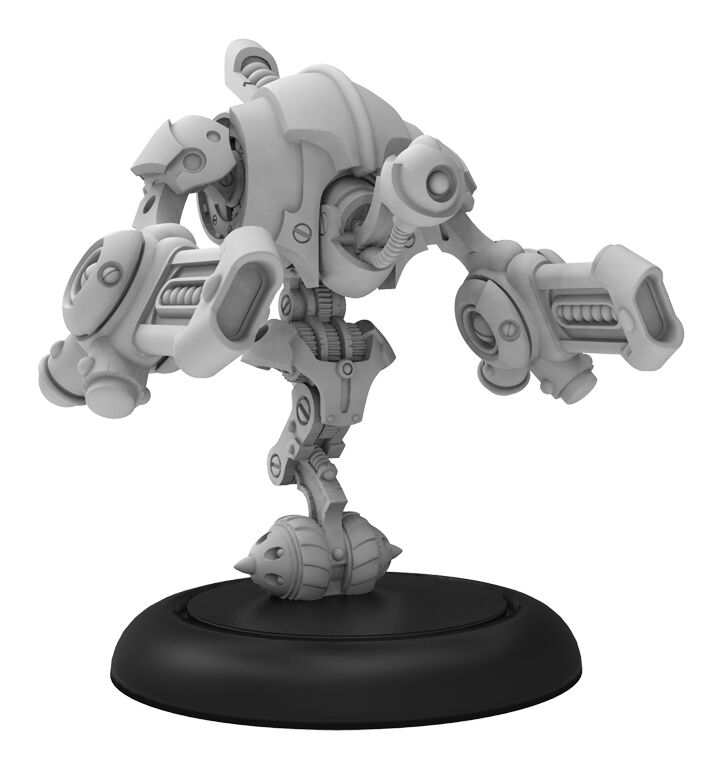 PIP Code: 63013Price: £21.45
Tired of trying to best your rivals with wit and guile? Then say hello to Destructotron 3000, the most straightforward solution to incinerating the smug looks off your enemies' faces that money can by. You'll love him 3000! Destructotron 3000 is a Gunner class Hero that specializes in melting faces. There is nothing fancy or tricky to this Hero—it's a straightforward damage dealer. Destructotron deals the most damage when shooting at adjacent enemies, thanks to Point Blank and Disintegration abilities, which both trigger when they are right next to their target. Players looking to add a ranged DPS all-star to their Riot Quest Crew are definitely going to want to take a look at Destructotron 3000. When played in WARMACHINE & HORDES, this model is a Convergence of Cyriss Solo.
December New Release
Riot Quest Specialist Master Gurglepox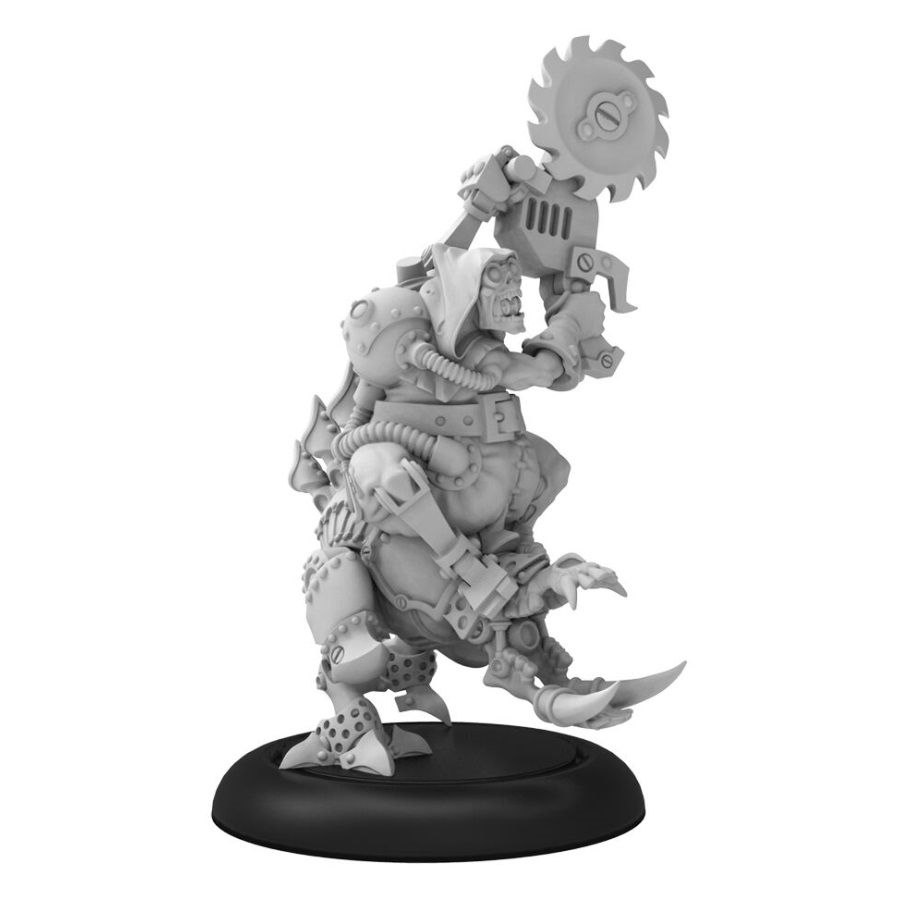 PIP Code: 63014Price: £26.95
Master Gurglepox is a Specialist class Hero that is full of tricks and utility. Like all Specialists, he can lower the Loot Cost to equip Riot Gear to Heroes. Additionally, Gurglepox can earn a player Loot just by attacking and hitting an Enemy, thanks to his Salvage rule. Perhaps his dirtiest trick is his Caustic Fumes ability, which allows him to damage Enemies that are too close when Gurglepox decides to run away. When played in WARMACHINE & HORDES, this model is a Cryx Necrotech Solo.
December New Release
Riot Quest Fabric Playmat Hullgrinder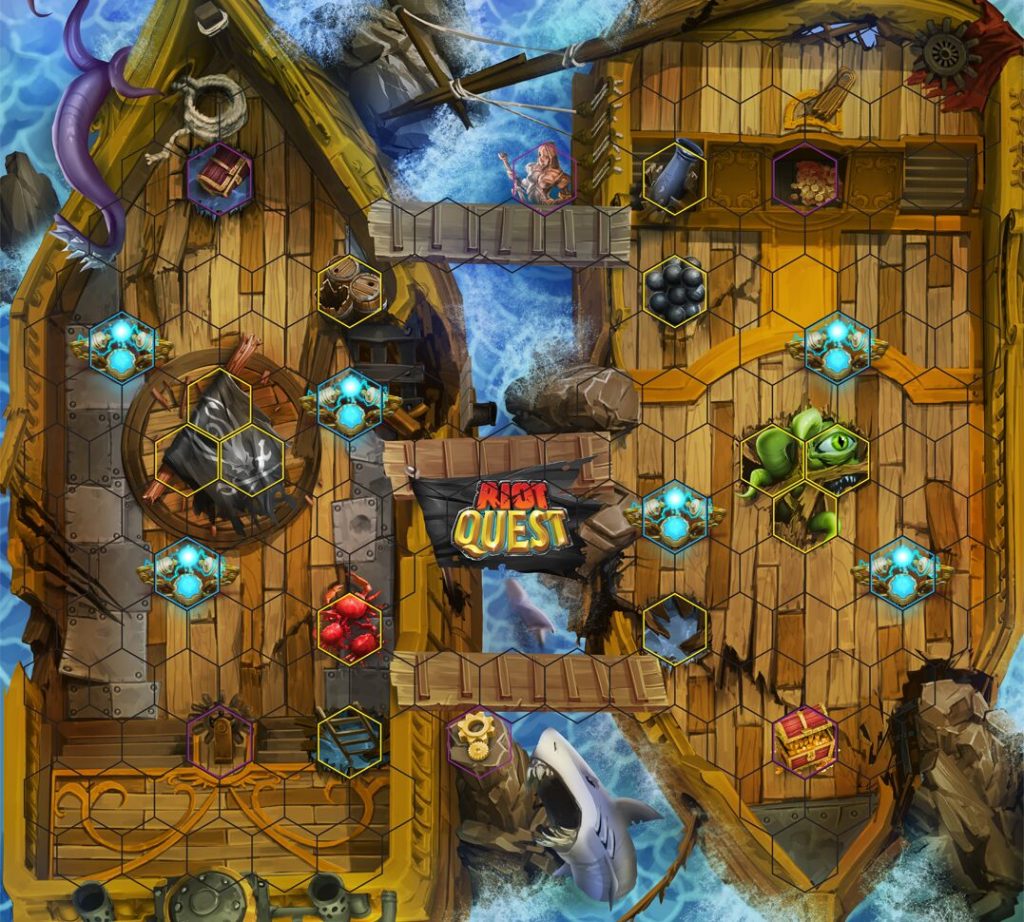 PIP Code: 63902Price: £36.95
Named for a massive predatory fish that wrecks ships all over the Iron Kingdoms, the Hullgrinder Islands located in the straits of Five Fingers have become the last stop for many an unwary vessel. Forever locked in combat by the rocks that pierce their hulls, two loot-laden galleons await your party to plunder! But keep a weather-eye open, for where there be booty, there be bandits, waiting to steal it right out from under you! Hullgrinder is the latest and greatest map for Riot Quest, made from (symbolically speaking) unsinkable neoprene fabric! Shipped rolled in individual tubes, Hullgrinder fabric playmats measure 27" x 27" when flat.
November New Release
Infernal Character Dark Seeker Eilish Garrity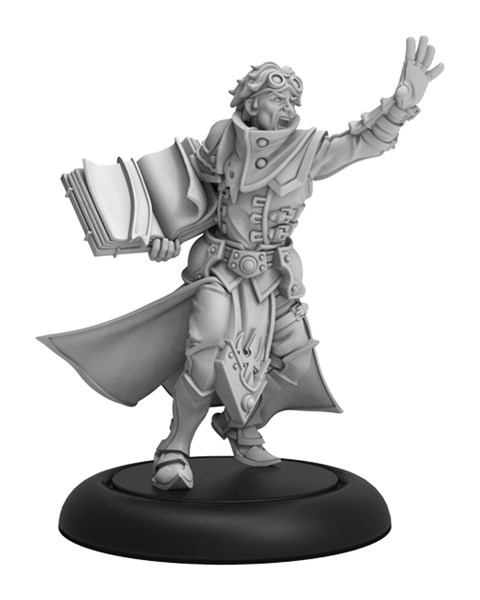 PIP Code: 38018Price: £13.95
Nowhere is the potential scope of infernal corruption more evident than with Eilish Garrity, the once affable arcanist of the Black River Irregular mercenaries. Eilish still sees in the mirror the man he once was. When speaking to outsiders, his charm can return, allowing him to present a smiling face to those who, moments later, are overwhelmed by his magic and offered to his infernal masters. He is addicted to power, with a thirst for hidden knowledge that has taken him down a path to disgrace and degradation. He greedily accepted the forbidden lore that was offered him and, in doing so, damned himself beyond redemption.
November New Release
Infernal Character Solo Lord Roget d' Vyros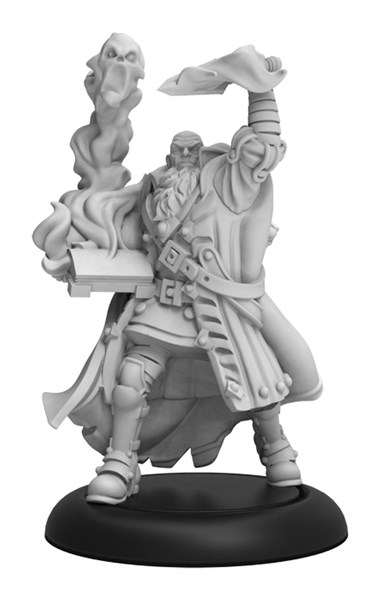 PIP Code: 38019Price: £13.95
An arcanist who becomes an infernalist can seize a leadership position among the cults, attracting others into their pacts. Lord Roget d'Vyros is an example of one who has risen to such a position. A former member of the Order of the Golden Crucible, Roget is glad to have put that group behind him and now openly serves his new masters. His arcane skill was once mediocre, but he has achieved harmonic exaltation with the infernals, able to augment their strength and to borrow their greater magic to employ as his own.
November New Release
Minion Solo Dhunian Archon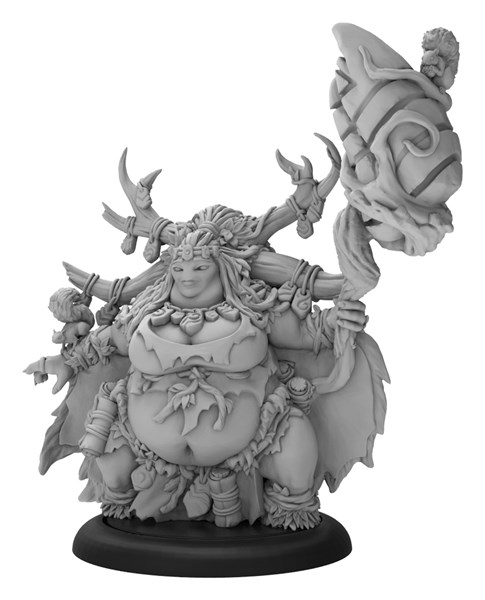 PIP Code: 75088Price: £33.75
Dhunia is the goddess of life itself, of Caen, of the seasons, and of the cycle of birth, death, and rebirth. The boons Dhunia has bestowed upon her chosen peoples are many, but she rarely interacts directly with mortals. That her archons are now manifesting more often is confirmation of the dire peril facing Caen. They bring with them the god-mother's wrath. The manipulation and theft of souls is particularly loathed by these archons, and they ruthlessly punish those guilty of such actions, drawing on the power of nature itself.
November New Release
Monpoc GUARD Nova ESR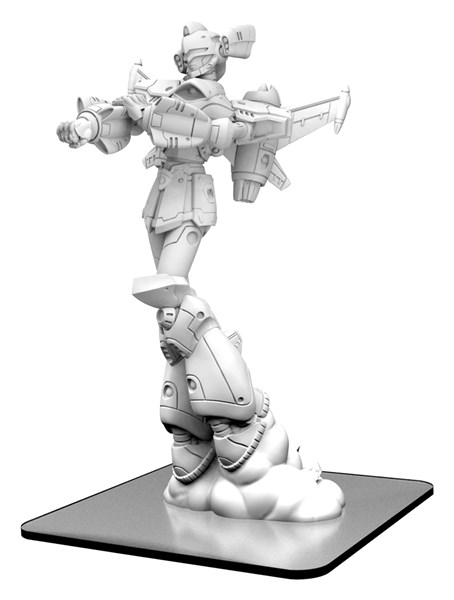 PIP Code: 51070Price: £26.45
While most of the sentinels of G.U.A.R.D. are bulky and heavily armored, Nova ESR (Extreme Situation Responder) was built to be fast and nimble. Incorporating advanced engines and boasting an impressive range of articulated movement, Nova's pilot can often avoid incoming attacks entirely. Nova ESR has been outfitted with an impressive arsenal of ranged firepower to exploit her maneuverability. The current pilot, Astrid Iverson, qualified for this assignment after testing off the charts for both reaction speed and situational awareness.
November New Release
Monpoc Planet Eater Monster Xaxor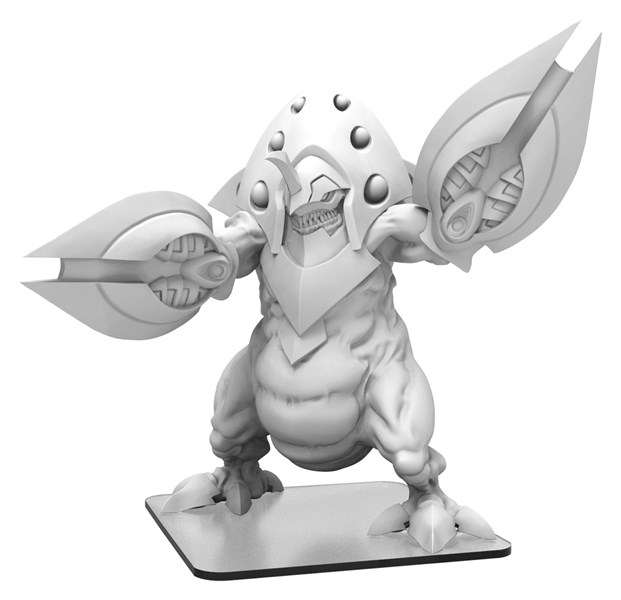 PIP Code: 51071Price: £36.75
Having absorbed solar winds throughout the comet's long space journey, Xaxor has the energy reserves to deny the very forces of gravity itself. His beams of ionized cosmic energy pierce the hearts of his enemies while city after city burns in his wake. It is difficult for observers to gauge this creature's goals or intelligence, though Xaxor seems more deliberate and focused than his counterparts. He has demonstrated a preference for focusing on obliterating power plants and factories, perhaps siphoning their power for his own.
November New Release
Monpoc GUARD Exo Armors Elite & Tank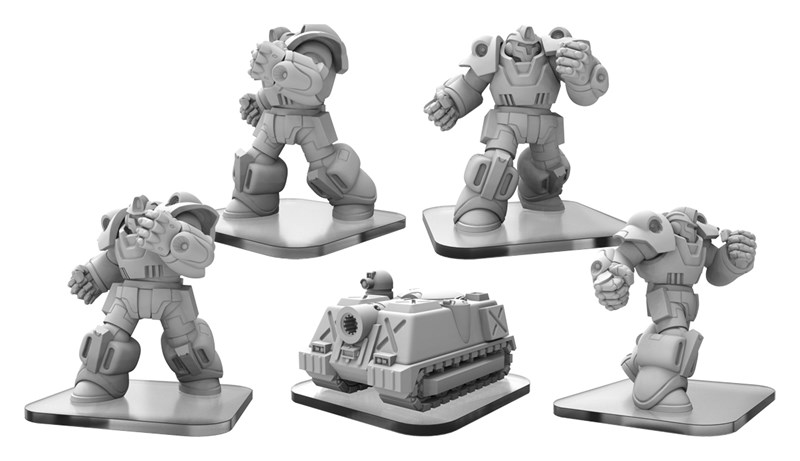 PIP Code: 51072Price: £31.75
G.U.A.R.D. has proven its facility at manufacturing powerful mechanized warriors. In addition to the larger "super mech" weapons platforms, it has unleashed a large number of smaller exo-armors to assist in flexible ground support. These mechs are extremely durable, being all but immune to explosions in their vicinity. While some of G.U.A.R.D.'s weaponry was based on preexisting designs, the heavy Monster Response Tank was created specifically to assist in encounters with gargantuan monsters. The focused firepower of MR-Tanks exceeds all previous developments, enabling these machines to potentially damage even the greatest of Earth's threats.
November New Release
Monpoc Scorchers Elite & Exterminatrix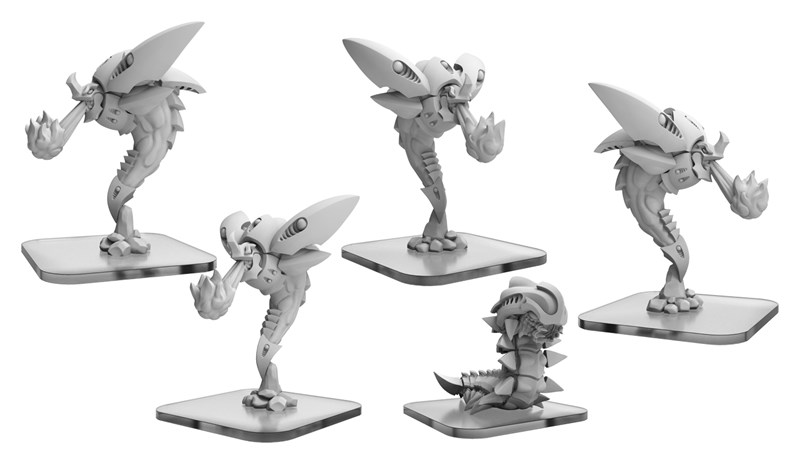 PIP Code: 51073Price: £36.75
Scorchers are highly mobile, flying assault entities that frequently accompany the greater Planet Eater monsters on their rampages. Capable of emitting blasts at extremely high temperatures, these beings can melt even advanced alloys to slag. Exterminatrix are horrifying multi-limbed creatures bearing superficial resemblance to destructomites but capable of emitting a short blast of plasma energy, rendering that which was destroyed more easily absorbed by the Planet Eaters.
November New Release
Riot Quest Gunner Leadfoot & tredz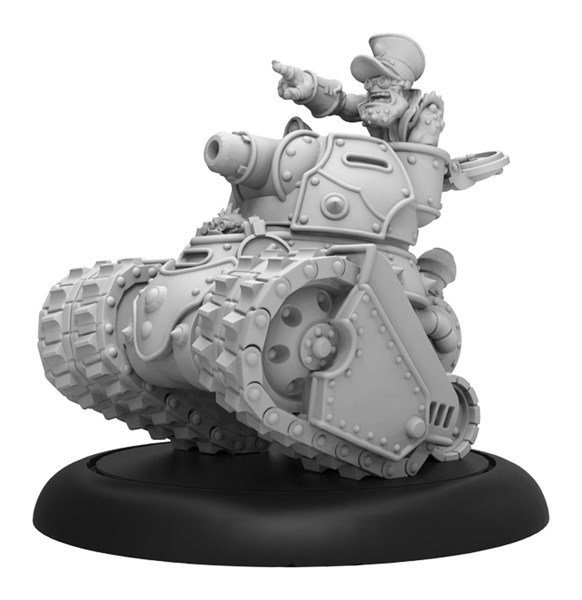 PIP Code: 63011Price: £31.75
What General Ledfoot and his trusty tank pilot Tredz lack in stature, they make up for in firepower. Christened "Madtrak" in honor of their late chieftain, the weapon of mass destruction at Ledfoot's command is guaranteed to cause opposing crews to make tracks!
November New Release
Riot Quest Guard Boss MacHorn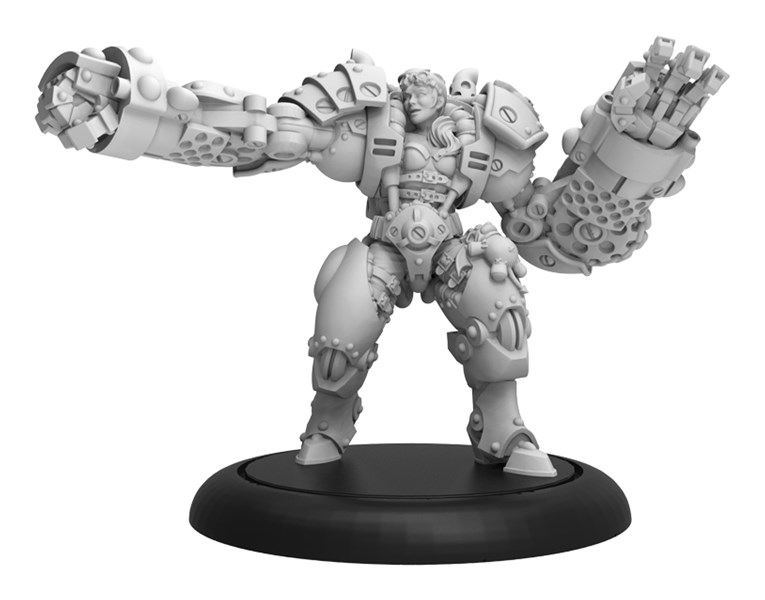 PIP Code: 63012Price: £21.75
As the former leader of the Devil Dogs mercenary company, Sam MacHorn is known for two things: wrecking face and getting paid! And with her custom-built Ironhead suit, she's ready to put in some overtime!
November New Release
Riot Quest Spawn Gates & weird Wendell Gremlin Wrangler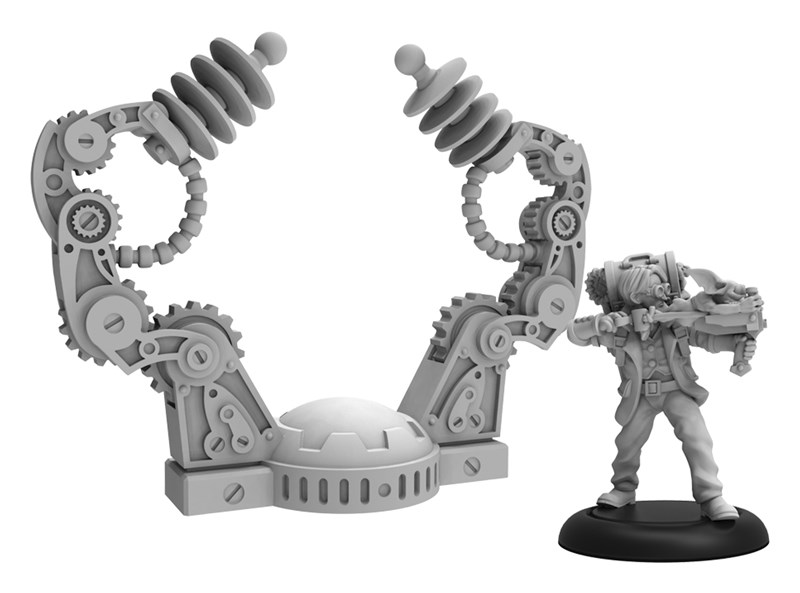 PIP Code: 63015Price: £36.75
Add a new dimension to your Riot Quest games and 'port into battle in style with a set of new and improved spawn gates! While you're at it, throw Weird Wendell onto your roster and watch your rivals weep sweet tears of terror as Wendell's gremlins turn their precious riot gear against them.
November New Release
Monpoc Carnage Corners Fabric Playmat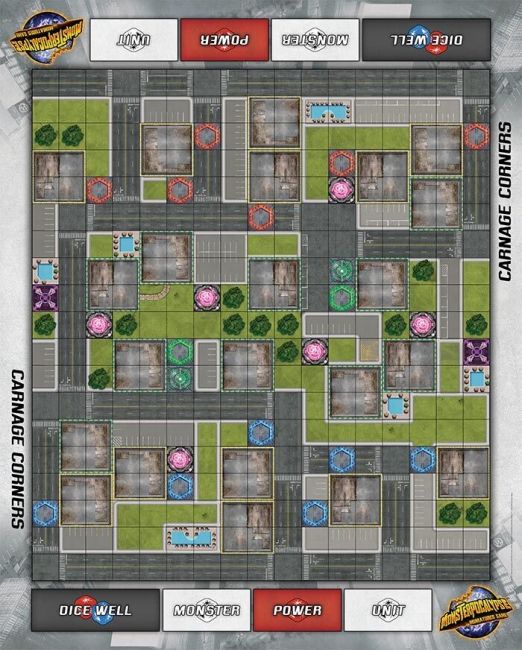 PIP Code: 51094Price: £36.75
The city planners of Carnage Corners have spent years refining their urban landscape with a balance of commercial and residential zoning, creating the perfect amount of population density. They can virtually guarantee that no monster would be reckless enough to start a fight in this neighborhood due to the threat of being thrown into so many buildings at one time. Carnage Corners is the first new Monsterpocalypse map design to appear in neoprene fabric, offering players even more variety in the city setup of their games.
October New Release
Infernal Command Orin Midwinter Master Preceptor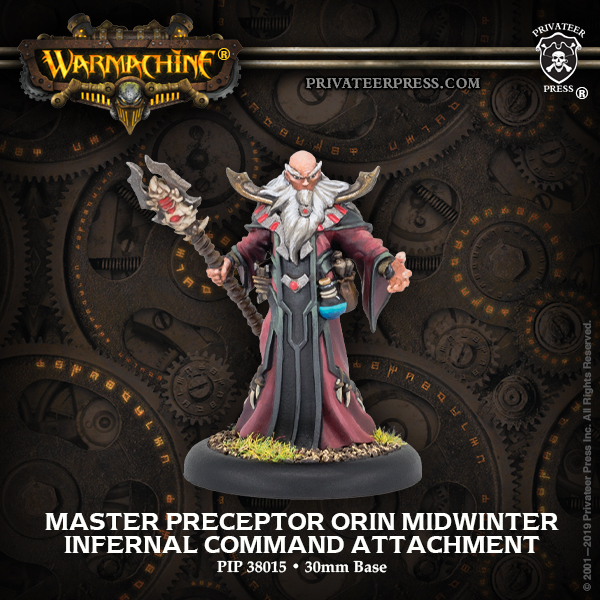 PIP Code: 38015Price: £11.95
Master Preceptor Orin Midwinter is a command attachment for Infernal Cultists that brings a variety of useful offensive and support abilities to his unit. Annihilation is a powerful magical attack that gives him the souls of his victims, which he can then spend for effects to protect and augment his unit, such as Arcane Vortex, or rerolls from Knowledge of the Damned.
October New Release
Mercenary - Aexia, the Undying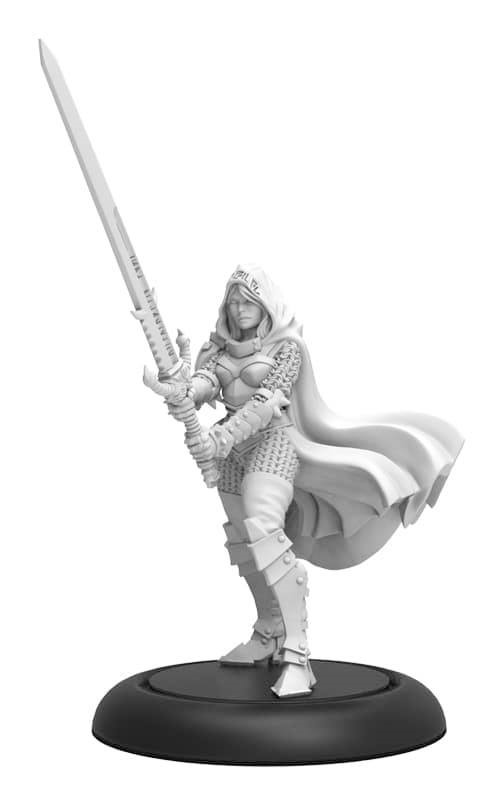 PIP Code: 41165Price: £11.95
The newest iteration of Alexia, this version, called the Undying, is a Mercenary solo that will also work for Cygnar and Khador. She is armed with the Witchfire, a weapon particularly powerful at disrupting Infernal Horrors, severing their tie with the mortal realm. She remains a potent spellcaster and is doubly effective while in the presence of various undead creations she has summoned to defend humanity.
October New Release
Riot Quest Fighter Orsus The Chained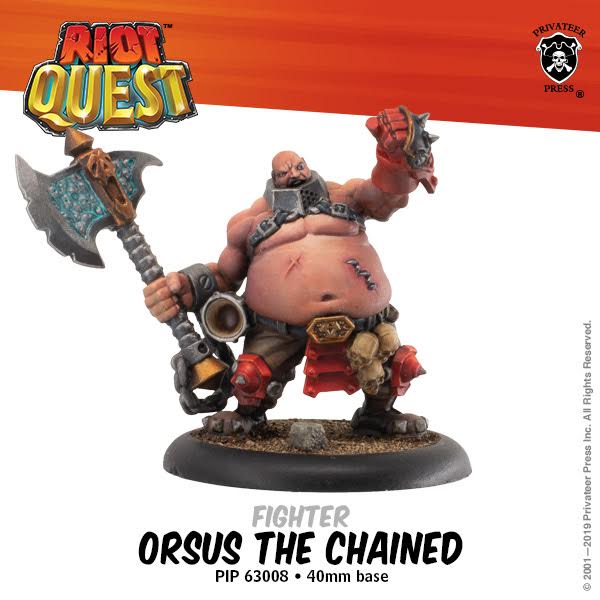 PIP Code: 63008Price: £13.95
Orsus is a Fighter class Hero that excels at knocking out multiple enemies in a single turn. Thanks to his Berserk ability, Orsus doesn't just attack one other Hero in the arena; he attacks every Hero around him. Additionally, as he takes damage, he gets stronger, making him a threat that must be dealt with quickly before he gets out of hand.
October New Release
Infernal Command Zaateroth Weaver of Shadows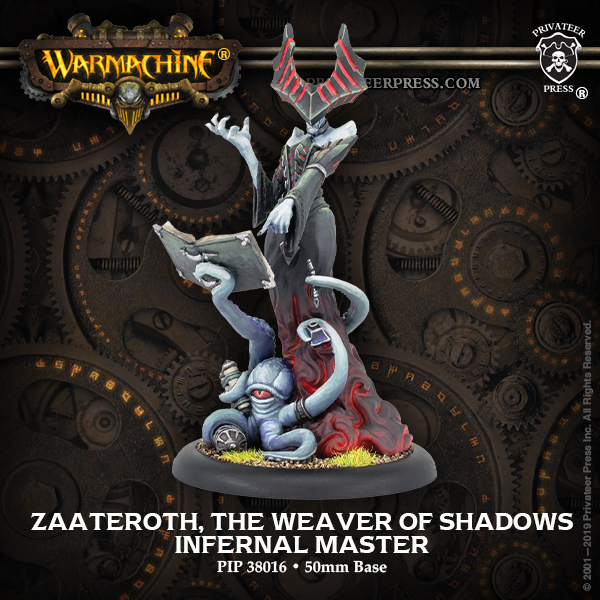 PIP Code: 38016Price: £31.75
Zaateroth is a powerful control 'caster with a suite of powerful spells and rules to help disable her opponent's army. She favors a selection of units that can leverage her feat and take advantage of her spells like Black Spot, which can generate additional attacks for units like Grievers, or Scything Touch, which reduces enemy armor and helps models like Howlers kill even more efficiently.
October New Release
Mercenary Minion Void Archon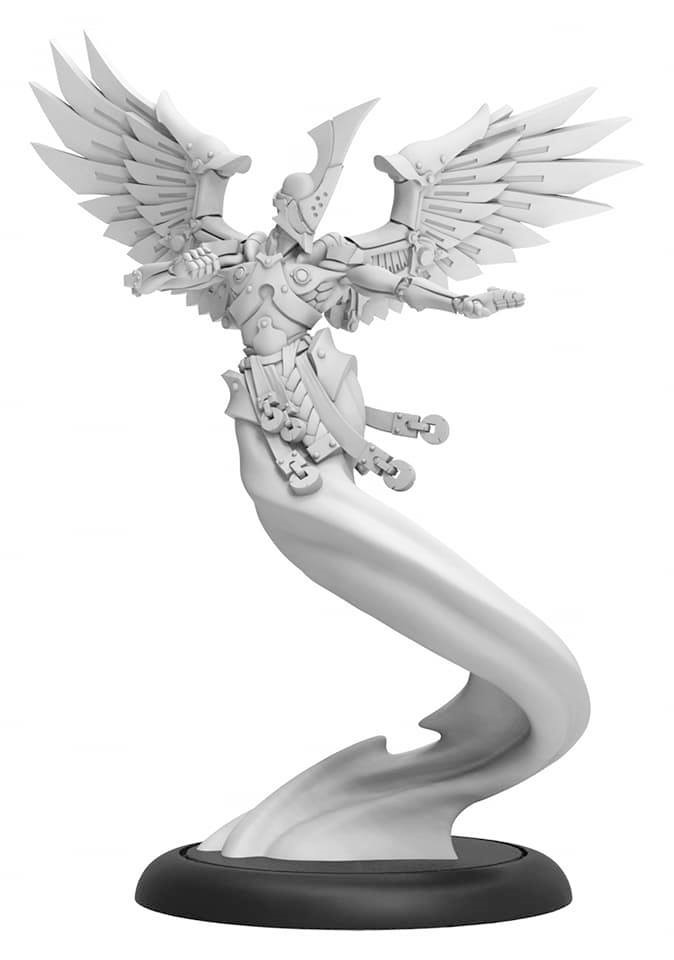 PIP Code: 41163Price: £39.95
The Void Archon is strange angelic manifestation that brings a variety of powerful rules to your army. The Void Archon is a Mercenary/Minion model that will aid the armies of Convergence of Cyriss, Cryx, the Retribution of Scyrah, and Skorne. The Archon's Soul Ward will protect the souls of your friendly models, and the combination of Dark Shroud to reduce enemy armor and its Void Walk teleportation means very few models are safe from its touch.
October New Release
Mercenary Thamarite Archon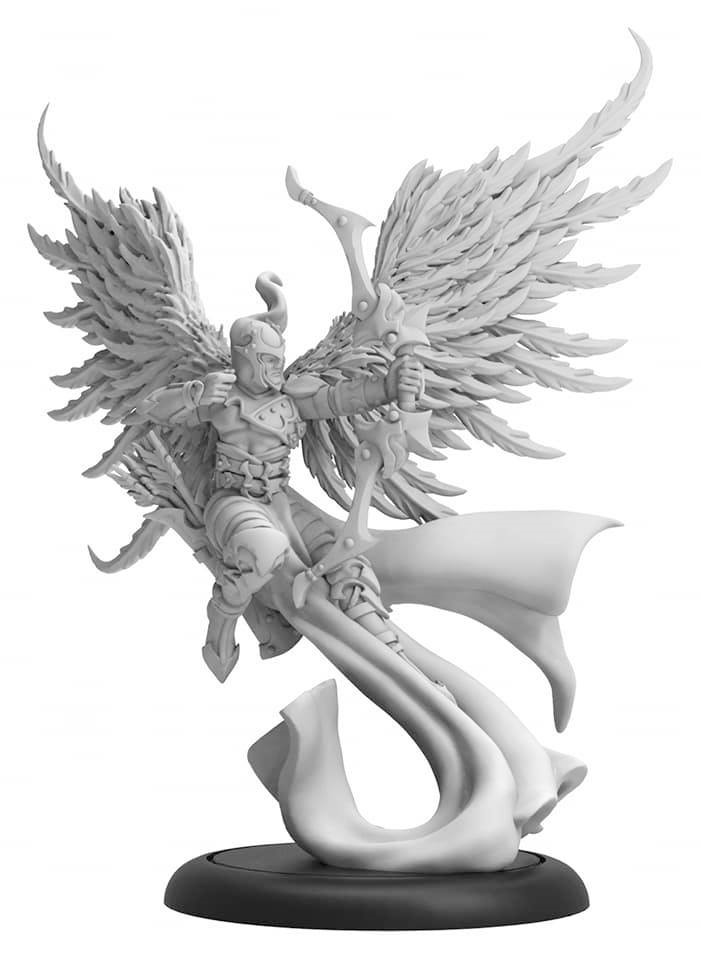 PIP Code: 41164Price: £41.95
The Thamarite Archon is a ranged combat Mercenary Archon that will work for Crucible Guard, Cygnar, and Khador. It has abnormally high mobility and is particularly difficult to come to grips with. Its primary weapon is Murmur, a multi-shot bow with different ammo types that gives it plenty of flexibility on the battlefield. Lastly, its Beloved of Thamar ability gives other friendly Thamarite models re-rolls on their attacks, boosting the effectiveness of other Thamarites like Fiona the Black.
October New Release
Mercenary Unit Order of Illumination Vigilants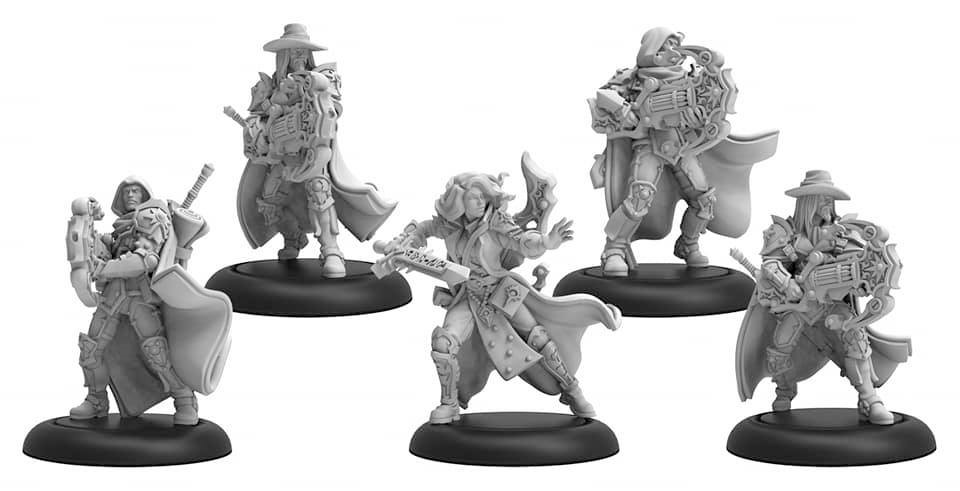 PIP Code: 41166Price: £41.95
Order of Illumination Vigilants are veteran monster hunters who are tasked with excising unnatural foes with their Blessed and Magical weapons: a powerful Heavy Crossbow and Great Sword. They work best in small groups, leveraging their Advance Deploy and Stealth to ensure they are in the right place at the right time. They are difficult to dislodge once they pounce on you with their Gang ability to increase their hitting and damage potential.
October New Release
Mercenary Morrowan Grand Master Gabriel Throne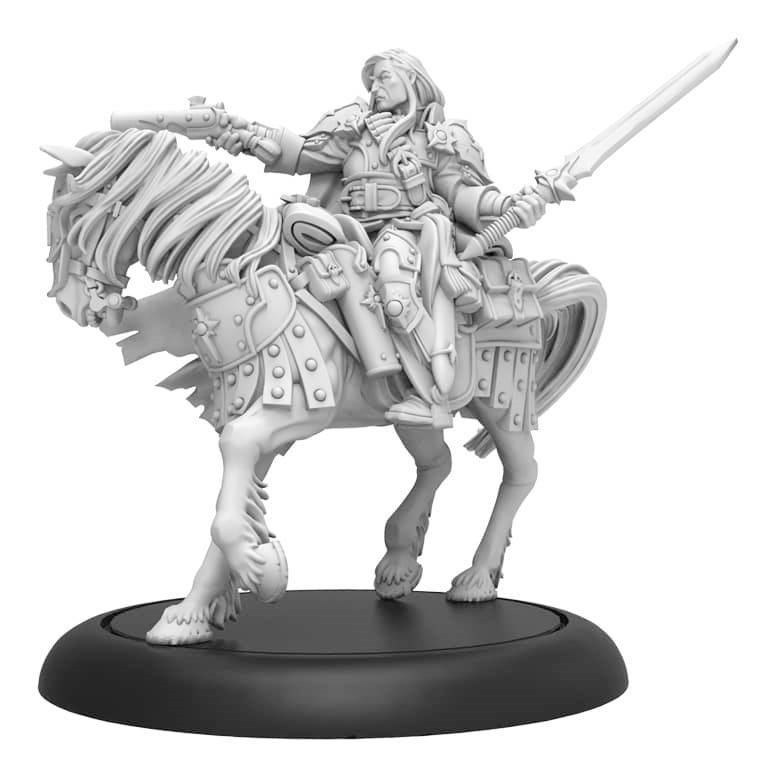 PIP Code: 41167Price: £31.75
Grand Master Gabriel Throne is a Mercenary Morrowan solo that supports his army with powerful Battle Plans. Heroic Call makes his units tougher while March provides much needed Pathfinder for units finding themselves stuck in terrain. Stir the Blood incites his units into striking even harder on their next attack, and finally, he provides Tactician to his Morrowan models, allowing them to move freely through each other.
October New Release
Riot Quest Fighter Captain Crawtooth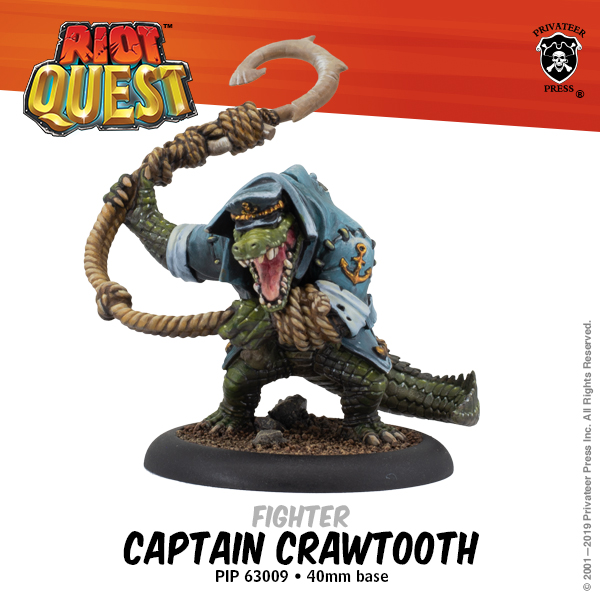 PIP Code: 63009Price: £21.45
Crawtooth is a Fighter class Hero with the longest-range melee attacks in the game. Like all Fighters, Crawtooth deals excellent melee damage, but his ability to do so from a distance and then drag enemies closer to him after he hurts them also makes him a very strong control Hero. Riot Gear cards that increase his melee range and damage, such as the Telescoping Blades, are a fantastic choice for Crawtooth.
October New Release
Riot Quest Scout Wolf with No Name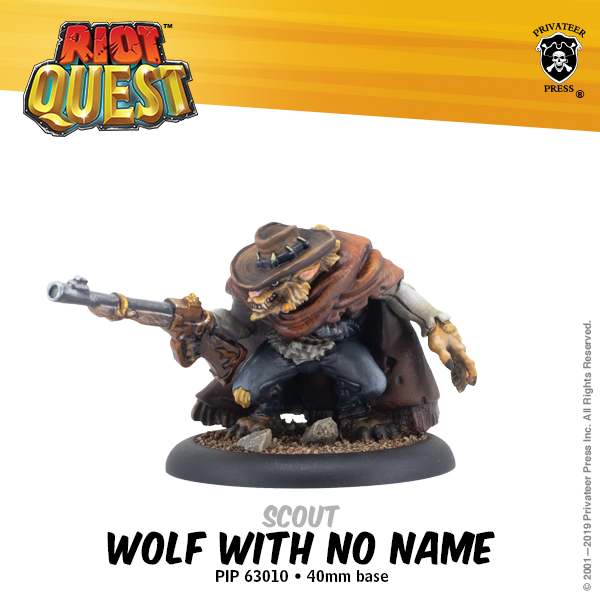 PIP Code: 63010Price: £21.45
The Wolf with No Name is a Scout class Hero that is just as capable fighting in melee as he is taking shots with his long rifle. Thanks to his Cutthroat ability, Wolf does more damage when he's attacking enemies that are already damaged. Wolf is also one of the few models that can move through rough terrain hexes with no penalty, making him harder to pin in place.
October New Release
Monpoc Empire of Apes White Dajan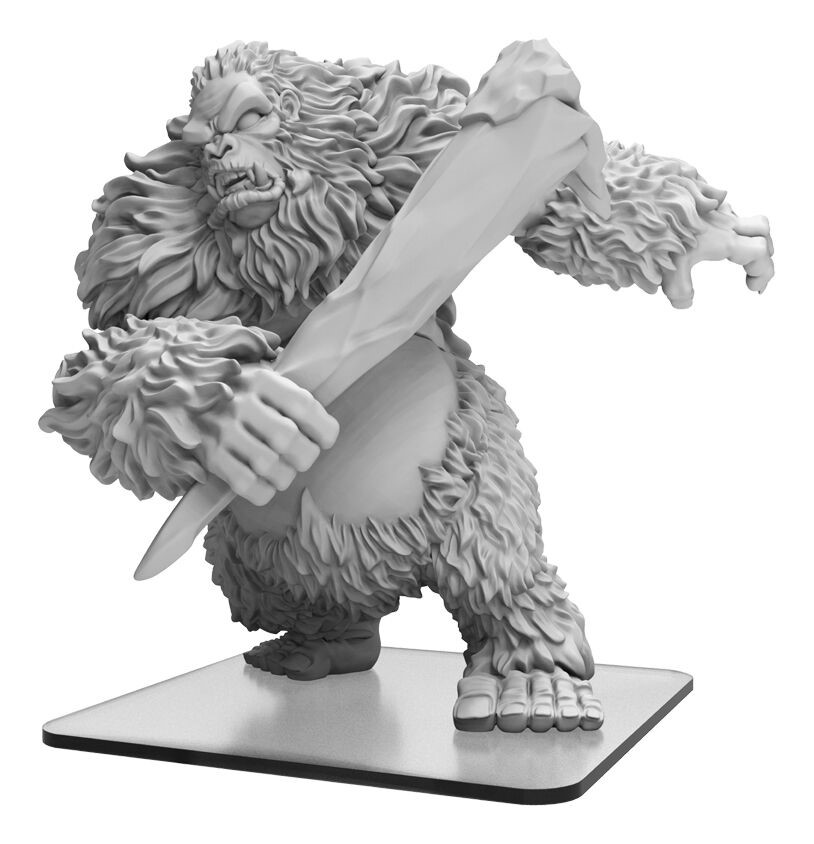 PIP Code: 51066Price: £30.95
White Dajan is a solid monster in alpha, so steady that enemies find him difficult to body slam. He also enjoys knocking down buildings due to his Demolisher ability and encourages his ape brethren to be part of his wrecking crew. When he goes hyper, he channels the power of the icy mountains he calls home to surround himself with a blizzard that makes the ground at his feet treacherous territory. The space around him becomes so icy that he can easily beat back any monster he smashes with his frozen club.
October New Release
Monpoc Lords of Cthul Ulgoth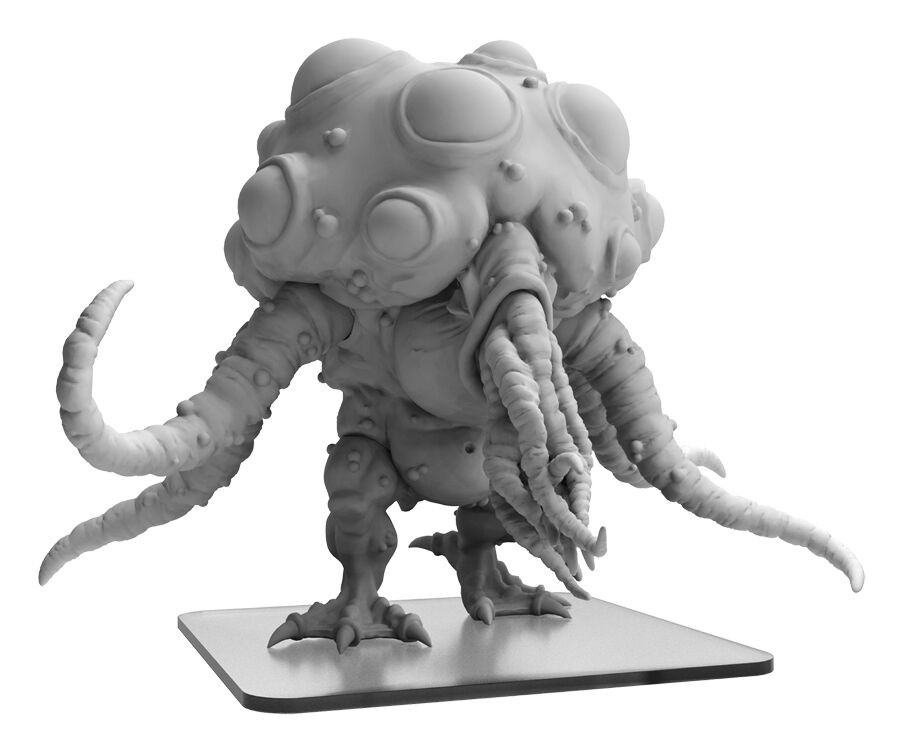 PIP Code: 51067Price: £34.95
Ulgoth is a highly defensive monster that can be added to any Destroyers force. His Unwieldy ability makes power attack throws targeting him more difficult for enemy monsters, and any time an attack does succeed against him, one of the boils on his back bursts, releasing a Lords of Cthul unit into this reality. That isn;t the only way that this monster has of flooding the city with minions, however -- anytime he lays a tentacle on an enemy unit, the energy released by the target's demise opens a tiny portal that allows a Lord of Cthul unit to squirm through. Ulgoth is such a disturbance on the fabric of reality that others find his mere presence to be a disruption to their plans.
October New Release
Monpoc Lords of Cthul Snatchers & Hellion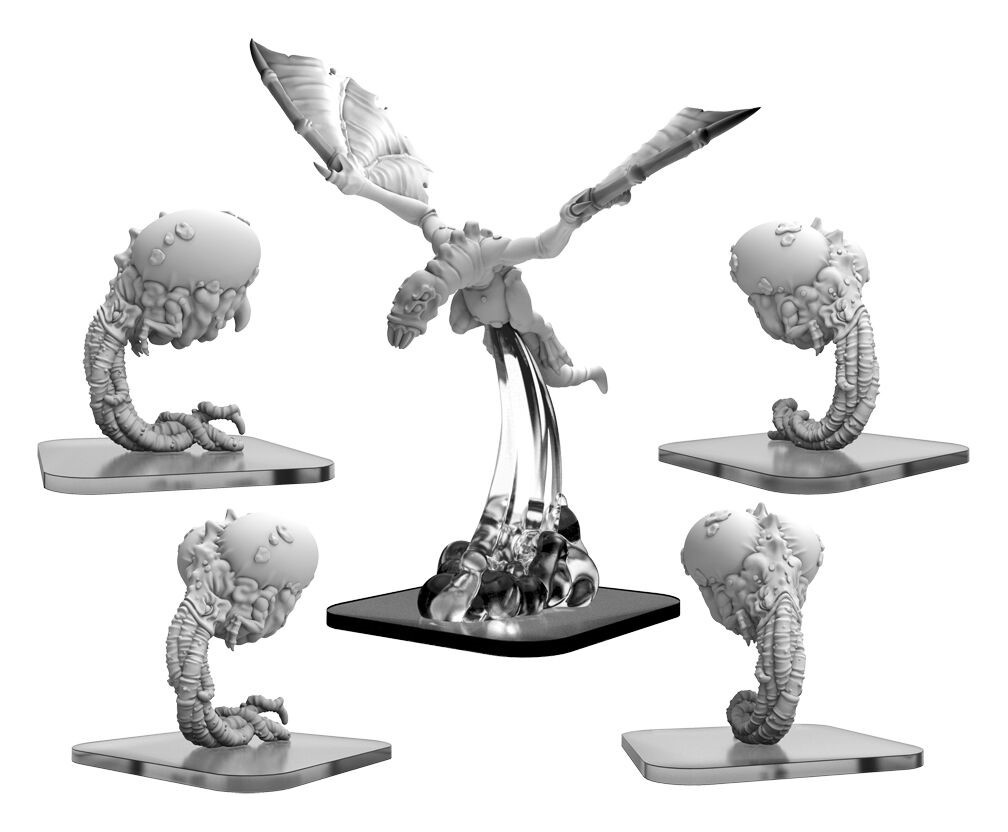 PIP Code: 51068Price: £26.95
This blister offers additional Lords of Cthul units to bolster any Destroyers force. Snatchers Hover ominously, looking for any unit they can corrupt and manufacture into another follower of their dark masters. The Hellion swoops across the city, striking key targets. Its powerful teeth easily penetrate a target's defense, and monsters bitten by the creature feel their power slowly siphoned away
October New Release
Monpoc Empire of Apes Bombers & Command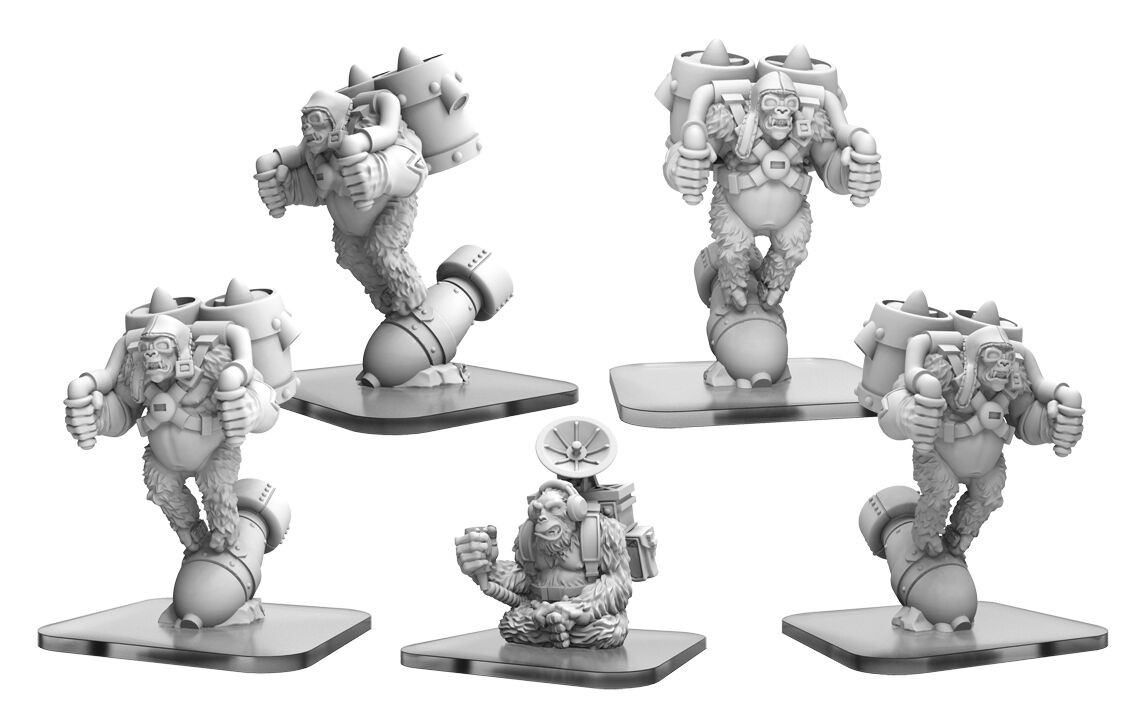 PIP Code: 51069Price: £36.95
This blister pack provides Empire of the Apes reinforcements for any Protectors player. Ape Bombers fly across the city, dropping their ordinance on enemy structures. The resulting devastation catches any enemy units taking shelter near the building in the carnage. Command Apes use their tactical instincts to direct their allies in battle. They favor Hit & Run tactics and send allied units hurrying across the city to blitz enemy positions.
September New Release
Infernal Master - Agathon, the Voice in the Darkness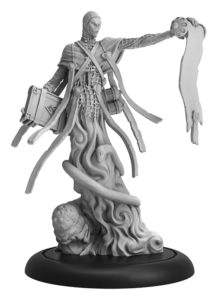 PIP Code: 38013Price: £33.95
The entity called Agathon has been transacting insidious arrangements with humans of western Immoren for centuries. Countless talented but impatient and greedy arcanists have been twisted to serve the Nonokrion Order as infernalists through the far-reaching schemes of Agathon. Though a creature of subtle power, will, and persuasion, Agathon is also a fierce battle master who takes delight in rendering lesser beings powerless and reminding them of their mortality. What those beings call magic is simple thought to Agathon, as reality bends and reshapes at a whim. The entity called Agathon has been transacting insidious arrangements with humans of western Immoren for centuries. Countless talented but impatient and greedy arcanists have been twisted to serve the Nonokrion Order as infernalists through the far-reaching schemes of Agathon. Though a creature of subtle power, will, and persuasion, Agathon is also a fierce battle master who takes delight in rendering lesser beings powerless and reminding them of their mortality. What those beings call magic is simple thought to Agathon, as reality bends and reshapes at a whim.
September New Release
Morrowan Archon Mercenary Solo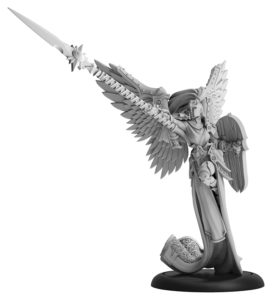 PIP Code: 41161Price: £38.95
The Host of Archons is accepted as the manifestation of Morrow's will on Caen, and their appearances are always momentous. Awe-inspiring as they are, the sight of a Morrowan archon can chill the blood of even the most pious, as they herald events that are both terrifying and world-changing. While most historical examples of archon manifestations have involved prophecy, they have also proven willing to wield their power directly in battle. Morrow's archons represent hope but also underscore the potential doom awaiting humanity should this war against the darkness be lost. The Morrowan Archon safeguards the souls of its devotees by serving as a stalwart bulwark against your opponent's offense. Specializing in defense and toughness, the Morrowan Archon is best served in the heart of your army, protecting the souls of your warriors while Shield Guarding enemy ranged attacks. Additionally, any enemy that strays too close will falter in their attacks thanks to the Morrowan Archon's Blinding Radiance.
September New Release
Menite Archon Mercenary Solo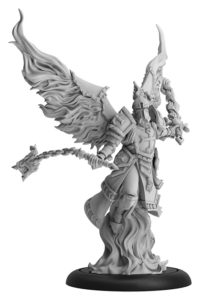 PIP Code: 41162Price: £38.95
Menoth is known by many names—the Lawgiver, the Lawbringer, the Creator of Man, the Hunter of the Wurm, Wallmaker, the Masked Giant. In the last few decades, Menoth has returned in force to Immoren, revealing his anger over neglect and igniting the fires of zealotry. Now Menoth has sent incarnations of divine power to fight in his stead. These figures appear amid shrouds of fire and auras of light to inspire soldiers of the Great Crusade and reassure them that they will not be abandoned in their hour of need. Unlike the Morrowan Archon, the Menite Archon focuses on offense over defense. Still incredibly durable, the Menite Archon eschews subtlety to bring fiery retribution to its foes in the form of extremely-high-damage weapons and a slew of aggressive abilities like Fuel for the Flames, which increases the damage of fire attacks from nearby allies.
September New Release
Primal Archon
Minion Solo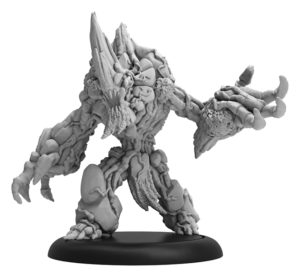 PIP Code: 75087Price: £38.95
Embodying the chaos of the natural world, of storm and volcano, of lightning, thunder, and flood, the Devourer Wurm also embodies predation and hunger—the need to kill and consume to survive. Primal archons are thought to be each a minor manifestation of the Wurm, sent from the hellish wilds of Urcaen. Not creatures of words or prophecy but rather of action and violence, primal archons leap into the fray as soon as they manifest on Caen. The Primal Archon brings a rock-solid defensive piece to your forces by punishing your opponent for straying too close. One of the most resilient of the Archons, the Primal is extremely hardy and durable but still threatening in combat, thanks to its Countercharge, which forces your foe to consider their next move lest they be knocked down by its powerful Horn. The Primal Archon should serve as a centerpiece to your army, securing both the souls of your models and preventing enemy Infernals from being summoned nearby.
September New Release
Gorghadratron — UberCorp International Monster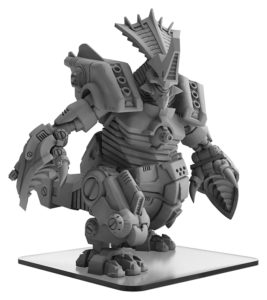 PIP Code: 51064Price: £28.95
Nothing demonstrates the military manufacturing capabilities of UberCorp International better than its gigantic weaponized hardware platforms, each customized to monstrous configurations. Gorghadratron brings the raw obliterating power of the so-called "Planet Eaters" to anyone with sufficient funds to commit to an exclusive purchaser's license. Built with innovative polymers and alloys derived from recovered xenoexobiological materials, Gorghadratron is as durable as it is lethal, with longevity assured by the recommended 10-year UberCorp maintenance contract, purchased separately. UberCorp cannot be held responsible for any collateral damage incurred by overloading Gorghadratron's reactors. Gorghadratron adds many things to a Destroyer player's arsenal. Its Flak Field ability is capable of sweeping units off the battlefield with ease but must be used carefully since it does not distinguish between friend and foe. It has Motivator, which speeds allied units across the city, and Power Sink to take advantage of opponents' power usage. When it goes Hyper, Gorghadratron unleashes multiple powerful ranged attacks in a turn, and its reactors put out so much radiation that enemy monsters cannot be healed or rebuilt.
September New Release
UCI Industries Building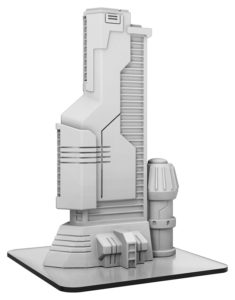 PIP Code: 51065Price: £17.95
Proving supremacy in stationary strategic structures as well as its more mobile combat platforms, UCI Industries hosts peerless corporate espionage and replicative capabilities. These facilities can analyze the military support systems of your competitors and swiftly adapt its machinery to offer competitive and approximately equivalent functionality, for a fee. UCI also offers the use of its legal department to bypass zoning regulations, which might prohibit the construction of this building. The UCI Industries building gives you access to numerous actions and helps deploy UberCorp Intl forces. A Destroyer player who secures this building can spawn UberCorp Intl units to the battlefield cheaper, and any player who secures this building can use the action abilities of other buildings in play without needing to secure them.
September New Release
Isle of Annihilation Fabric Play Mat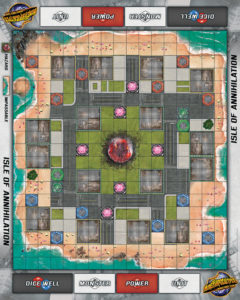 PIP Code: 51903Price: £28.95
Welcome to the vacation of your dreams. On this tropical island, you'll find numerous 5-star resorts, an active volcano, and giant monsters looking to destroy everyone and everything. Isle of Annihilation is a fan-favorite map, now in neoprene fabric to make it easier to transport and longer lasting! Each fabric play mat is rolled in an individual tube and measures 27.25" × 29.75" when flat.
September New Release
Black Bella, Duchess of Dread — Fighter (Riot Quest)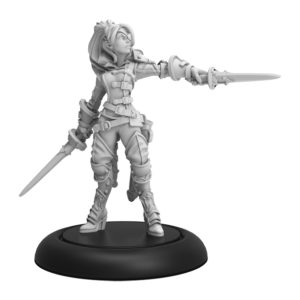 PIP Code: 63002Price: £9.95
As merciless as she is beautiful as she is merciless as she is… You get the idea. The name Black Bella—a.k.a. the Duchess of Dread—strikes terror into the hearts of those who sail the high seas as well as those who hide from her on land. Woe betides he who gets between this pirate and her booty! Black Bella is a Fighter-class hero with high defensive stats, great mobility, and strong melee damage. She is a great hero to help a player control the board. Her ability to punish enemy heroes that move away from her, combined with her incredible speed, makes her an excellent addition to any Crew.
September New Release
Boomhowler, Solo Artist Gunner (Riot Quest)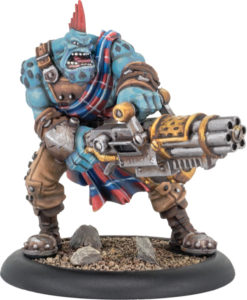 PIP Code: 68003Price: £13.95
Once the leader of the infamous mercenary band, Boomholwer & Co., Greygore Boomhowler struck out as a solo act—no, like he actually struck out—until he found an instrument that truly spoke to him: a chain gun! Boomhowler is a Gunner-class hero with great support options and strong ranged damage. In addition to being capable of making two ranged attacks a turn instead of the normal one, Boomhowler also boosts the attack stats of other heroes in your Crew near him.
September New Release
Harlowe Holdemhigh Scout (Riot Quest)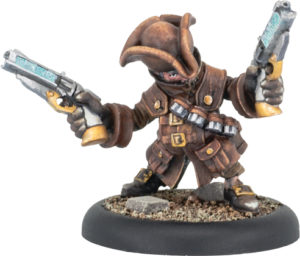 PIP Code: 63004Price: £8.95
He's small of stature and even lower of character, but Harlowe Holdemhigh always takes the high ground with his highway-harrying exploits! Armed with twin-magelock pistols, he's the most notorious highwayman in the Iron Kingdoms (under 4 feet tall)! Harlowe is a Scout-class hero that excels at damaging multiple enemies at ranged. Like all Scouts, Harlowe lowers the defensive stats of enemies nearby against ranged attacks. Thanks to his Ambidextrous rule, Harlowe can make one ranged attack but hit two different enemies with it. This means Harlowe is excellent and setting up knockouts for other heroes in your Crew or finishing off small pairs of weakened enemies.
September New Release
Gorman the Mad Rogue (Riot Quest)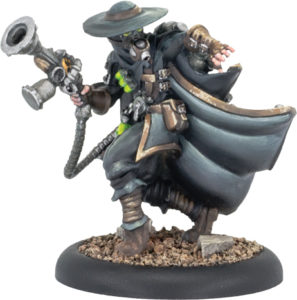 PIP Code: 63006Price: £10.95
A classic case of what happens when someone gets too into their work, Gorman the Mad hasn't just taken things too far—he's taken them beyond the point of getting them back. With his alchemical cannon full of corrosive ooze, no looter's Riot Gear is safe when Gorman goes off the deep end in battle. Gorman is a Rogue-class hero with strong defensive and disruption abilities. With his Cloak ability, Gorman cannot be targeted by ranged attacks farther than a couple of spaces away from him, which helps him survive unscathed in many situations. His alchemical cannon has the Strip ability, which destroys any Gear cards on the target he hits, a unique and powerful ability that lets Gorman keep his enemies in check.
September New Release
Widget, Tinker Extraordinaire Specialist (Riot Quest)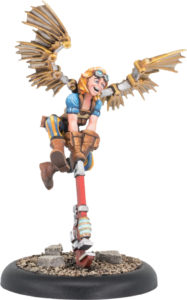 PIP Code: 63007Price: £8.95
This wiz with a wrench has a place on your bench! As good at fixing things as she is at breaking them—you can see the advantage to that—Widget will leave your opponent asking where this angel got her wings. (Answer: She crafted them out of the sorry scraps of the last scavenger to get in her way.) Widget is a Specialist-class hero with incredibly strong support abilities. What Widget lacks in damage output or defensive, she makes up by supporting her allies. Like all Specialists, Widget reduces the cost of Gear upgrades for herself and nearby heroes in your Crew. With her Engineer ability, Widget and other friendly heroes can interact with Bounty cards for a greater chance at success, earning more Victory Points faster to win the game.
September New Release
Thunderhead Fortress Fabric Play Mat (Riot Quest)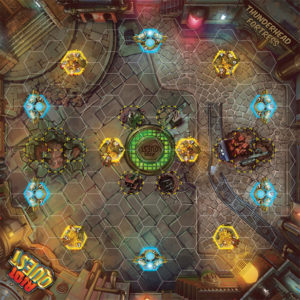 PIP Code: 63901Price: £28.95
Once the headquarters for infamous mad alchemists, Thunderhead Fortress now stands empty and unguarded. Within its labyrinthine halls, however, awaits untold wealth and many mad contraptions! Thunderhead Fortress is the original starter map for Riot Quest, now in neoprene fabric made to endure even more madness! Each Thunderhead Fortress fabric play mat is rolled in an individual tube and measures 27" × 27" when flat.
September New Release
Warmachine: Oblivion Campaign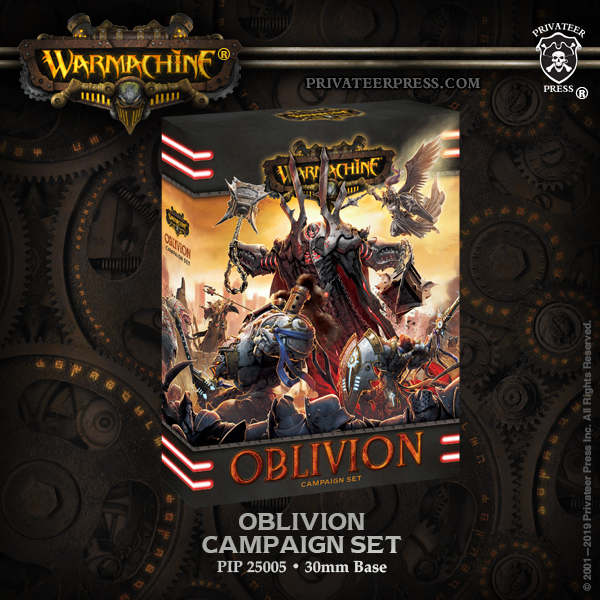 PIP Code: 25005Price: £59.95
Everything will change… A pact struck ages ago has finally come due, and now the otherworldly horrors known as the Infernals descend upon Caen to collect their payment. The cost in mortal souls is higher than anyone could possibly imagine, but forces have gathered to stand against these invaders. Holy archons and steadfast soldiers of the Order of Illumination join with armies of all nations to protect humanity from utter oblivion at the hands of ancient evils from without and traitorous individuals from within. The fate of every living being hangs in the balance, and the Iron Kingdoms will be changed forever…if it survives at all. The Oblivion Campaign Set contains a vault of secrets about the upcoming Claiming, including new fiction detailing the Claiming of souls; a narrative campaign system featuring 16 branching scenarios that allow you and your friends to participate in the invasions; Omen cards that contribute to the outcome of your path to victory or defeat; a brand-new model, the Hermit of Henge Hold, that can play in any army; and new and updated rules for WARMACHINE and HORDES in a convenient digest. The Oblivion Campaign Set has everything you need to help you defend against those who come to claim souls or to aid them in their decimation of the world. Contents: Hermit of Henge Hold (metal) Oblivion Campaign Book WARMACHINE/HORDES Updated Rules Digest 20 Omen Campaign Cards
September New Release
Warmachine & Hordes Organized Play: Longest Night 2019 Prize Kit
PIP Code: 99182Price: £12.00 NETT
It's time for candy and (tabletop) carnage! This single-day casual Organized Play event for WARMACHINE & HORDES celebrates the Halloween season with unique scenarios, prizes, and rules for costume contests. Each kit contains 8 Longest Night patches, enough prizes for 8 participants. This event can be run at any time but is officially supported and promoted during the month of October.
August New Release
Infernal Tormentor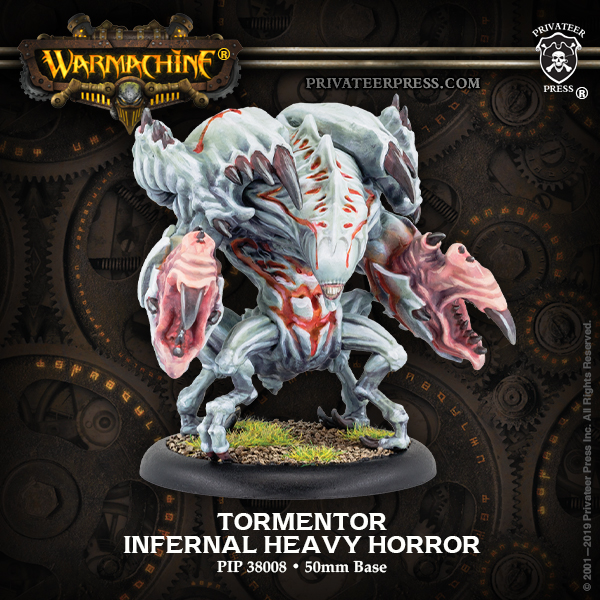 PIP Code: 38008Price: £41.95
The larger horrors sent forth by the infernals are massive hulks, their strange hides resistant to cutting and resilient against all but the mightiest blows. A Tormentor threshes through mortal warriors, severing limbs and inflicting other ghastly wounds. To this creature, a living body is just clay, something easily and brutally dismantled to separate the soul from the flesh that anchors it to Caen. Each of its massive toothy attack claws contains an open throat ready to swallow any flesh or metal it tears loose. Some believe these mouths to be themselves portals to the Outer Abyss. The Tormentor is the core heavy horror of the Infernal forces. It provides a strong melee presence to bring down durable enemy models, and thanks to Countercharge, it can punish enemy models that stray too close. The Tormentor is best paired with Cultist Bands (PIP 38005), which can heal and replenish its Essence.
August New Release
Infernal Desolator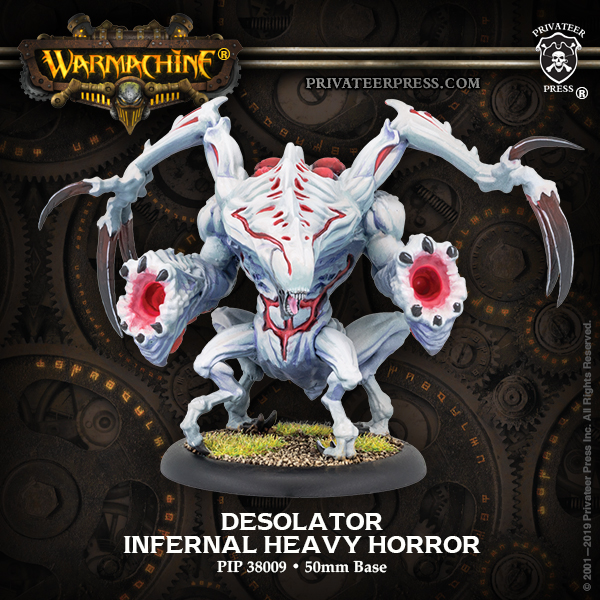 PIP Code: 38009Price: £38.95
The larger horrors sent forth by the infernals are massive hulks, their strange hides resistant to cutting and resilient against all but the mightiest blows. Desolators are terrifying to behold, their bodies festooned with myriad tumor-like bulbous sacs, each serving as a bladder for caustic liquids this horror unleashes through the maws of its attack limbs to obliterate its foes. Enemies closing with a Desolator are soon shredded by its upper limbs, which end in exceedingly sharp long-bladed claws. When battering down the enemy with the powerful claws of a Tormentor is not the solution, Infernal Masters turn to the Desolator, a heavy Horror that can destroy swathes of enemy infantry with its powerful spray attack. The spray is multi-use, reducing the armor of the model hit and amping up the hitting power of all your models. The Desolator particularly likes the Wretch (PIP 38007), whose Ancillary Attack lets it spray multiple times in one turn.
August New Release
Omodamos The Black Gate, Infernal Master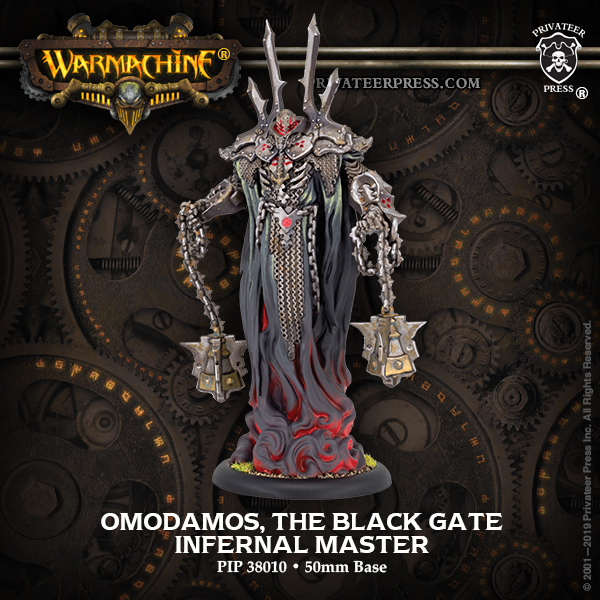 PIP Code: 38010Price: £38.95
All infernal masters are adept at battle, but more than any other, Omodamos embraces combat as the essence of his being. This master is a juggernaut of destruction, a force of unnature, and a being whose arrival presages slaughter and endings. He is called the Black Gate, for he eschews negotiations and contracts, preferring to tear souls directly from the slain and send them howling into the Outer Abyss. His arrival on Caen affords ample opportunities to inflict chain reactions of destruction and suffering, a pleasure denied him in the outer realms. Where Omodamos strides, reality weakens and buckles, flinching back as if afraid. Omodamos is a powerful, beat-stick of an Infernal Master who takes the fight straight to the enemy. Locked Horns provides Unyielding to his army, making them more durable in close combat. And one of his most powerful features is the spell Synergy, which amplifies all your battlegroup models' accuracy and hitting power. So, Omodamos particularly favors a large battlegroup of powerful Horrors to build an extensive Synergy chain.
August New Release
Cyber Khan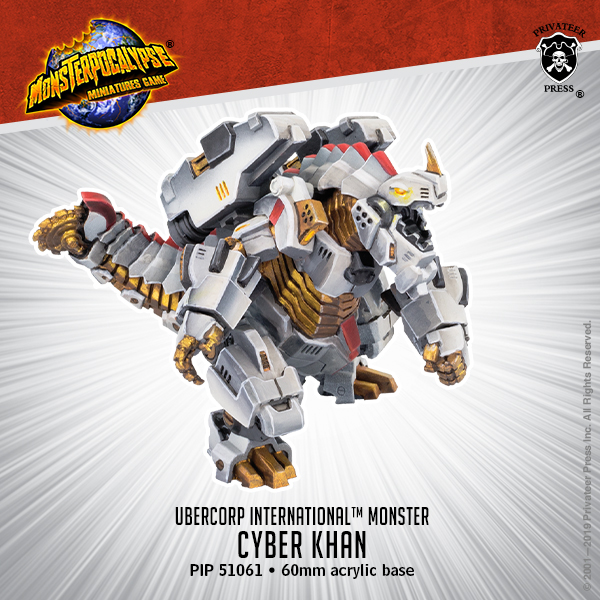 PIP Code: 51061Price: £26.95
Nothing demonstrates the military manufacturing capabilities of Uber Corp International better than its gigantic weaponized hardware platforms, each customized to familiar monstrous configurations. According to Uber Corp's marketing division, Cyber Khan is a towering testament of human ingenuity and know-how every bit as terrifying and twice as energy efficient as Terra Khan, the creature that inspired its design. Uber Corp spokespeople reject the complaints of critics who call them "destroyers." They insist the company is only interested in destroying those who threaten their aggressive but lawful capitalistic hegemony earned through innovation in affordable but overwhelming firepower. Cyber Khan is a well-rounded monster that can be added to any Destroyers force. He leads his fellow Uber Corp units in destroying cities by giving them more dice when attacking buildings. His Alpha form's High Mobility allows him to move over models and hazards with ease early in the game, and his Seismic Step abilities means he will stomp his way through many games. When he goes hyper, his weapons go into Rapid Fire mode, and he gains even more power from destroying buildings.
August New Release
Carnitrons & Robo Brontox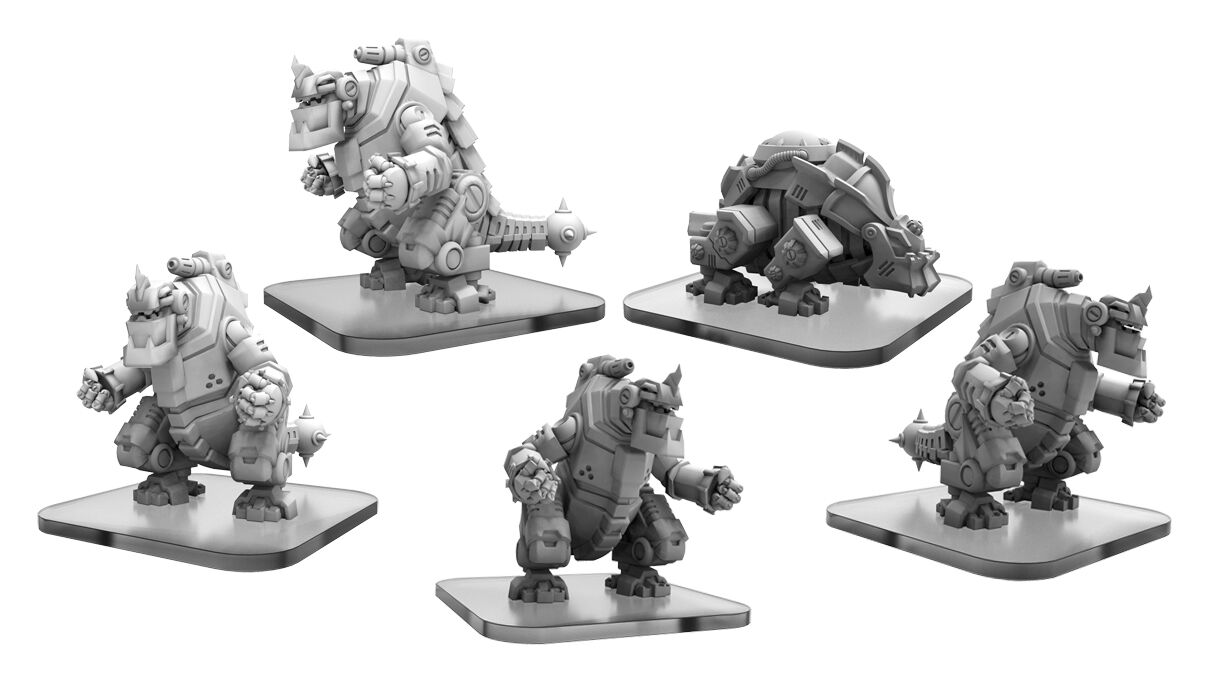 PIP Code: 51062Price: £26.95
Uber Corp's Automated Dinosauriformes Division is proud to present a number of mobile semi-autonomous fighting vehicles to fill a diverse array of battlefield roles. The Carnitron is intended for rapid adversarial disassembly, while the Robo Brontox is perfect for occupation operations and includes sophisticated jamming hardware and an encrypted WLAN package offering signals coordination and routing, as well as high-speed Internet streaming. This blister pack contains Uber Corp International units to expand your Destroyers force. Carnitrons are extremely versatile units able to sweep their tails through tightly packed enemies, or smash a nearby foe while blasting another farther down the street. Robo Brontoxs hold important territory, Jamming enemy abilities to perform actions and boosting the attacks of nearby allies. Contents: Carnitron (3) Elite Carnitron (1) Robo Brontox (1)
August New Release
Shinobots & Jet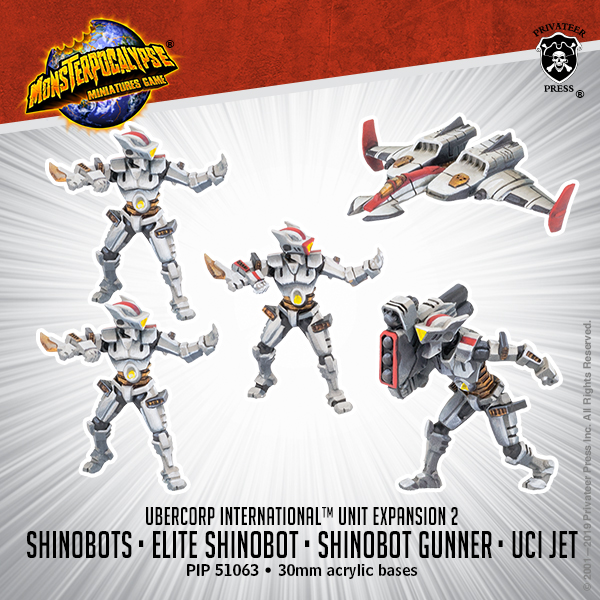 PIP Code: 51063Price: £26.95
Uber Corp's Shinobot Division is proud to present a number of rapid semi-autonomous multi-role infiltration and discrete elimination robotic units for immediate sale to the company's most discerning clientele. The Shinobot is a low-cost close-range infiltrator, while the Shinobot Gunner is equipped with a fault-free launcher and an array of seeker missiles capable of fulfilling all long-range elimination needs. The Uber Jet supports Shinobot ground forces with innovative force field and teleportation hardware to vastly increase tactical options for commanders in the field. This blister pack contains Uber Corp International units to expand your Destroyers force. Shinobots Sprint through the city, letting nothing stand in their way. Shinobot Gunners carry shoulder-mounted missile launchers that riddle foes with Explosive projectiles. Uber Jets are unarmed support models that protect allies with projected Force Fields and have Teleport technology reverse-engineered from salvaged Shadow Sun wreckages. Contents: Shinobots (2) Elite Shinobot (1) Shinobot Gunner (1) UCI Jet (1)
August New Release
Riot Quest Starter Box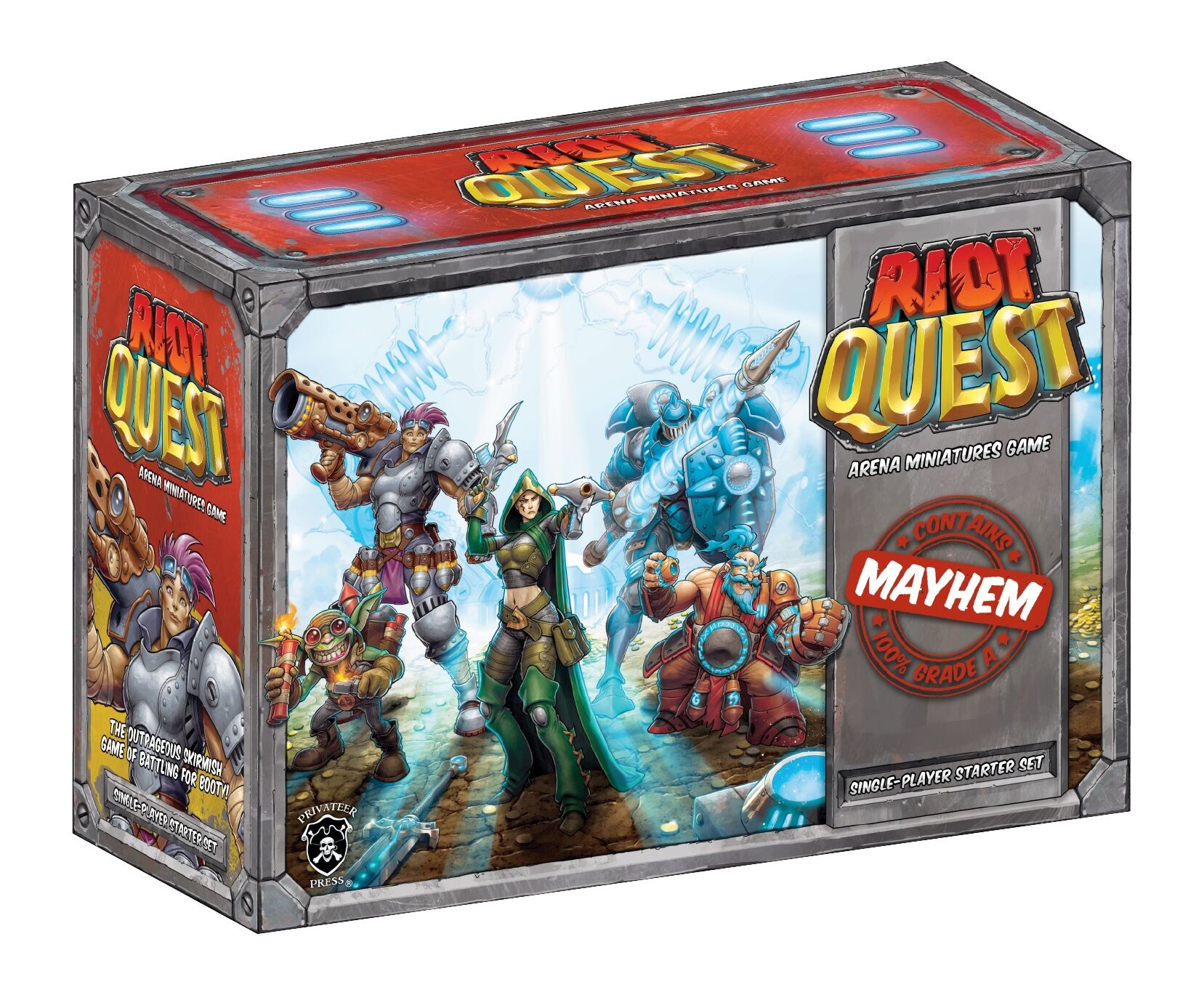 PIP Code: 63001Price: £51.95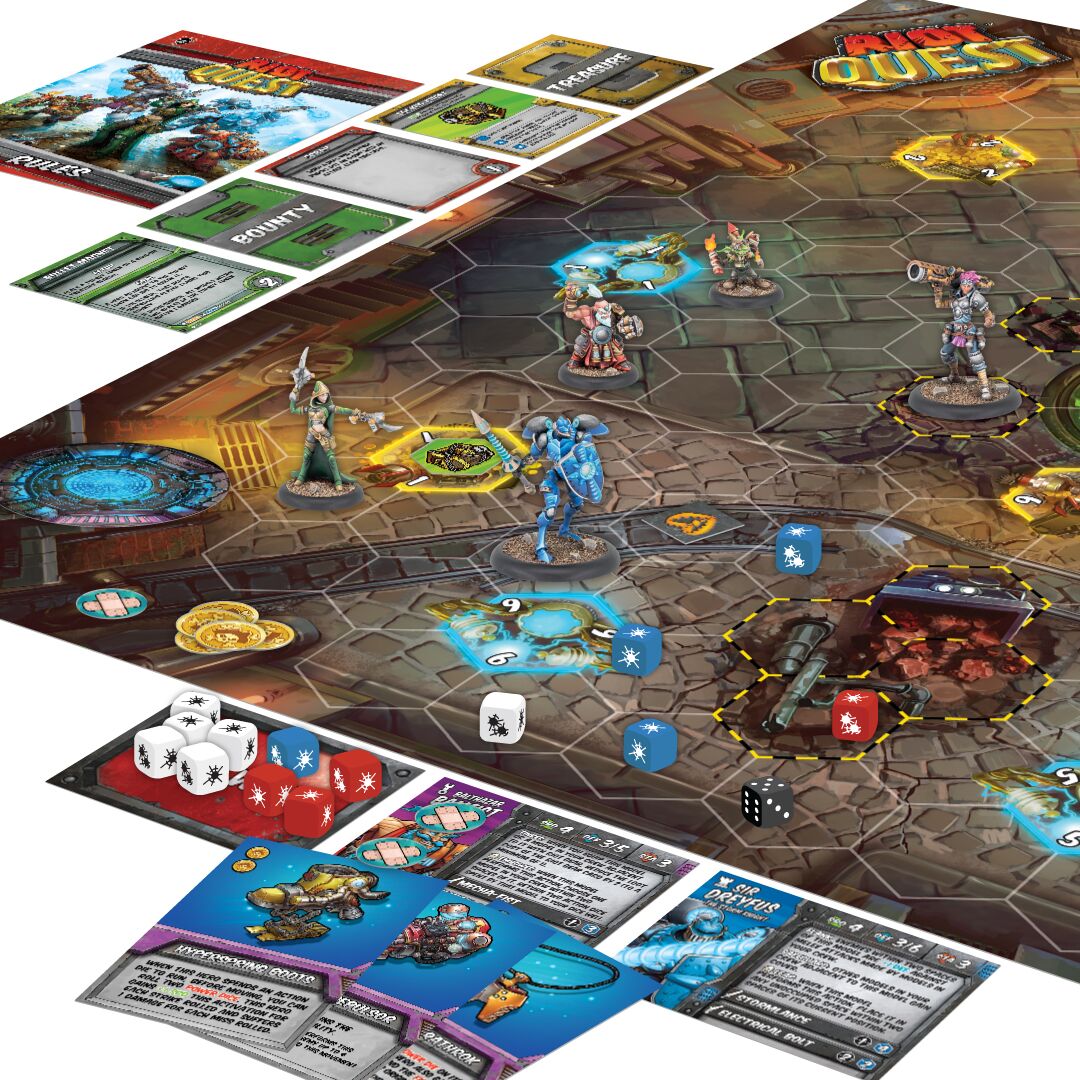 Contents: Five Fine Scale Hobby Miniatures (Eiryss - Fortune Hunter of Ios, Dez, Sir Dreyfuss, Gubbin, Balthazar Bamfist) 15 Dice Arena Map Rulebook Five Character Stat Cards 32 Game Cards Tokens The once-great Iron Kingdoms are now a pile of smoldering ruins. But there's treasure everywhere…if you've got the gumption to fight for it! You'll need a crackerjack crew, gobs of gear, and lots of love for the chaos of battle if you're going to score the best leftover loot in the land. But watch out! It's every human, dwarf, elf, and goblin for themselves in this outrageous quest for bodacious booty! Riot Quest is a fast-moving, highly unpredictable skirmish board game for up to four players using hobby miniatures. Each box contains everything one player needs to jump into a game of Riot Quest. (Each player will need to have his or her own starter or equivalent contents.) Everything a player needs to jump headfirst into the insanity of Riot Quest is contained in this single-player starter box. Inside you'll find five premium quality hobby miniatures, a full-color Riot Quest arena map, Riot Quest dice, rulebook, and all the game cards and tokens needed. This box represents the core product that all Riot Quest players will need to pick up and expand upon. The rules are simple enough that a player can be playing in no time, and the models included provide them with a balanced starting Crew to begin their journey into the apocalypse.
August New Release
Riot Quest: J.a.i.m.s Guard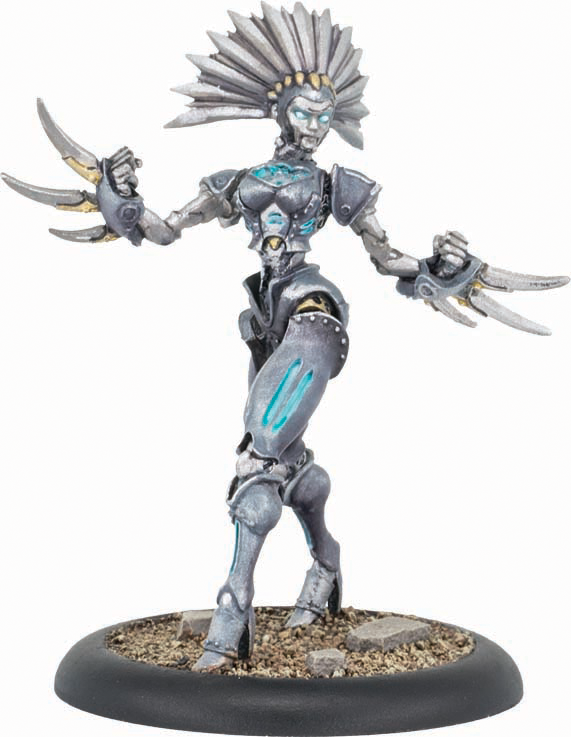 PIP Code: 63005Price: £10.95
She slices! She dices! (But dont ask her to make you julienne fries if you value your life.) Just another iron maiden, she is not. As inventor Jasper Jacobsen`s last surviving specimen of clockwork automata, Jacobsens Amazing Iron Maiden (J.A.I.M.s for short) is a merciless tornado of blades, as beautiful as she is deadly.
August New Release
Foreboder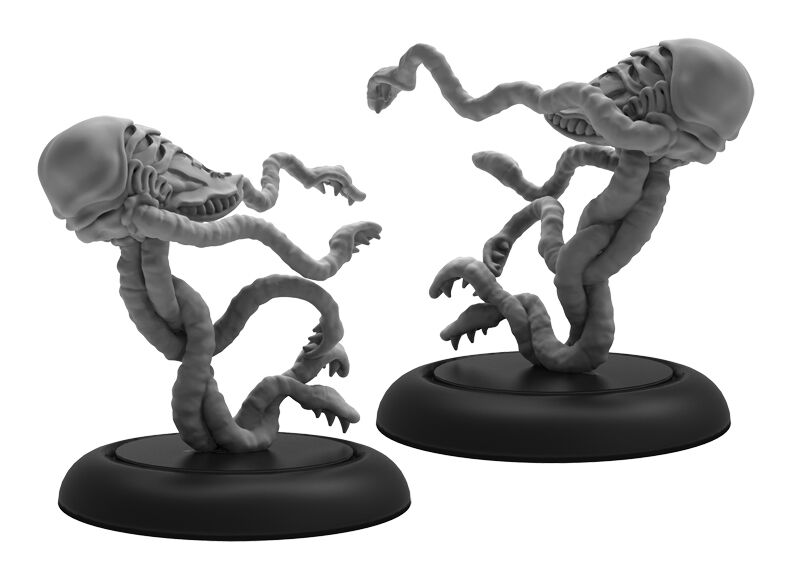 PIP Code: 38011Price: £11.95
There exist horrors of various sizes and capabilities, and some of the most disturbing ones are those that are less physically imposing. The very appearance of these creatures is an assault on the mind-it can shatter sanity and fray nerves. The Foreboder serves as a conduit for the power of its infernal master, and the presence of one of these floating beings is accompanied by a sensation of mental oppression. It glows with sickening radiance, which provides a brief forewarning before unholy magic is sent through it. The Foreboder is a simple Lesser Horror that acts primarily as a Channeler for your Infernal Masters, dramatically increasing the range of your spells. Cheap and easy to summon, the Foreboder has a home in any list that favors long-range spell casting, like Agathon (September release) and Zaateroth (October release).
August New Release
Shrieker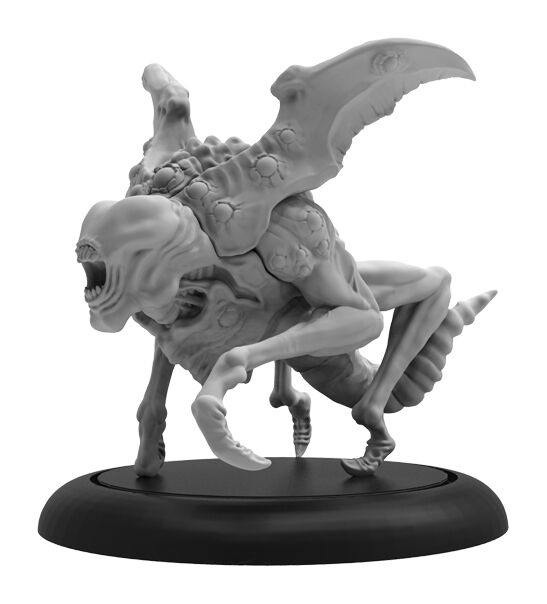 PIP Code: 38012Price: £10.95
There exist horrors of various sizes and capabilities, and some of the most disturbing ones are those that are less physically imposing. These beings possess formidable weaponry but also often torment their victims needlessly, as if suffering has value to their masters. Shriekers emit a terrifying high-pitched sound as they strike from a distance, a sonic attack that overwhelms mortal senses and pulverizes internal organs. When the Infernals need a tool to deal with massed infantry, the Shrieker is the Horror for the job. The main feature is its powerful ranged weapon, Spectral Fire, which can hit multiple enemy models, making it excellent for removing chaff infantry as well as clearing space. It also has Wailing, making it difficult for nearby models to receive orders or cast spells. Ancilliary Attack from the Wretch (PIP 38007) can make this model a true threat to enemy infantry forces.
August New Release
Bucaneer (Resculpt)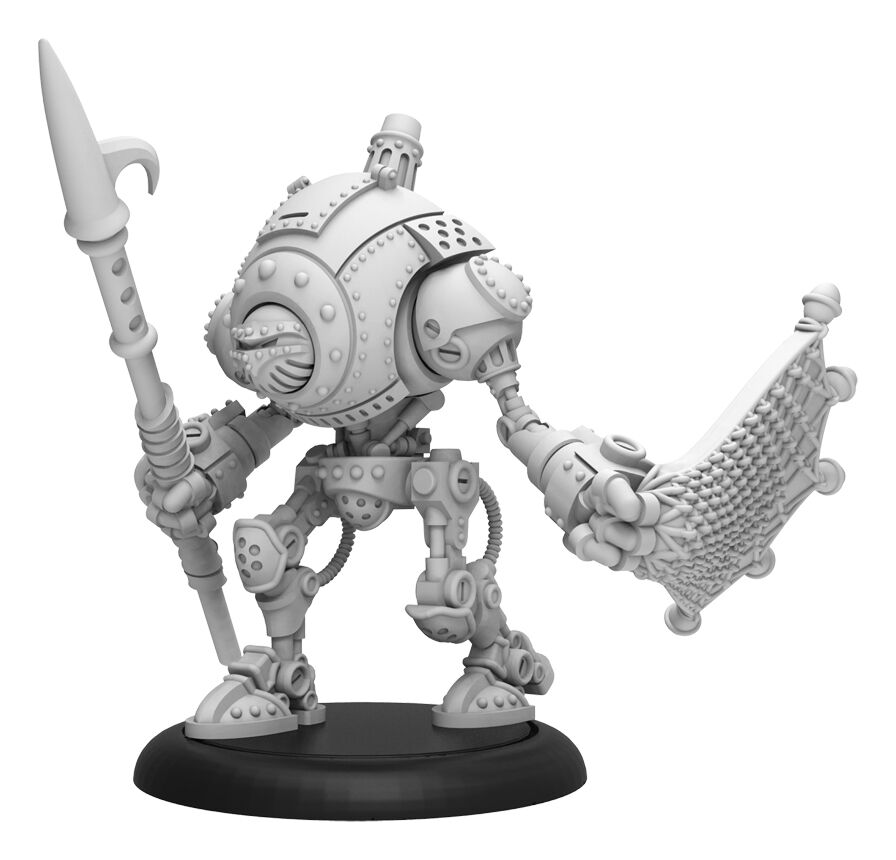 PIP Code: 41160Price: £18.95
A nimble and sure-footed combatant, the Buccaneer can charge across heaving ship decks during a storm to ram its gaff into adversaries or sweep them into the ocean. Its weighted net entangles enemies to set up an easy kill for its own weapon or the sailors fighting alongside. While the engineers that designed this light warjack expected it to see use on fishing vessels, it has proven far more popular with privateers and pirates engaged in or defending against hostile boarding actions. The Buccaneer is a classic Privateer Light Jack that provides some melee and ranged utility. The main feature of this amphibious warjack is its net, which lets it knock down enemy models from range, impeding their movement or helping your own models land key attacks. When push comes to shove, its long Gaff weapon can further keep enemies at bay.
July/August New Release
Infernals Army Box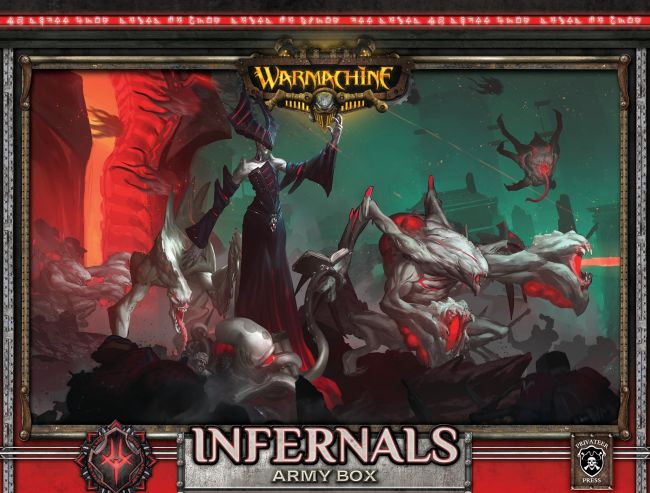 PIP Code: 38006Price: £195.95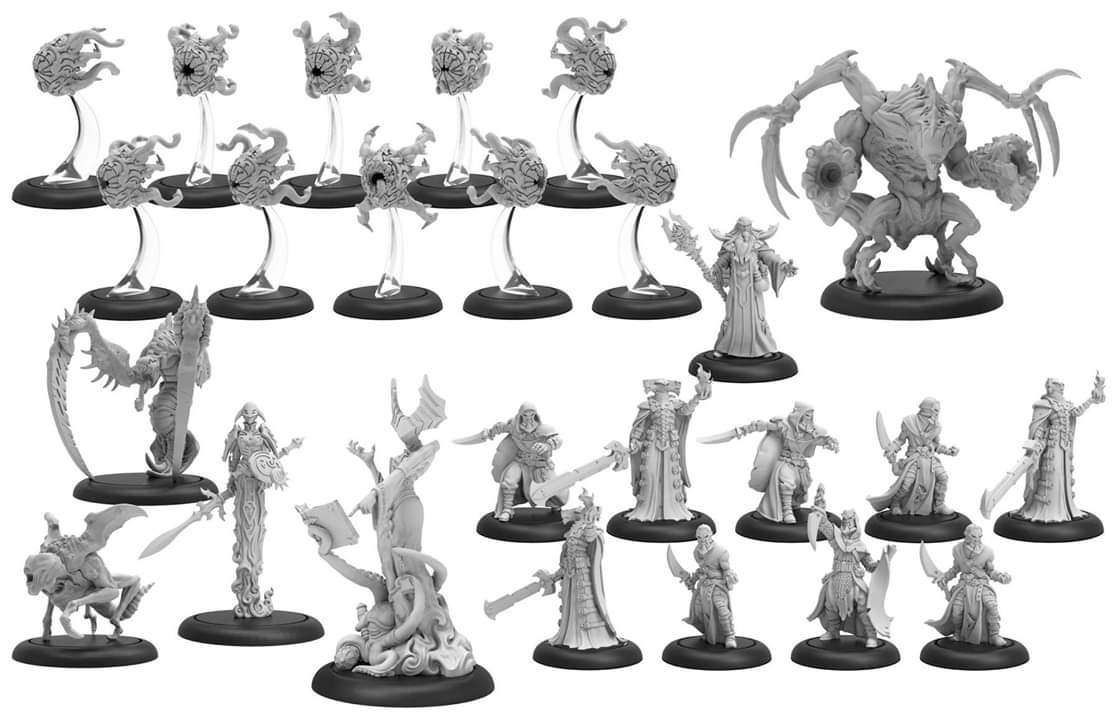 The New Infernals Army Faction! Take command of these insidious Infernals with this box, which contains a full army of horrors and infernalists ready to support your infernal master's battlegroup. The perfect start to an Infernal army, this box provides a complete army to begin playing immediately. Save over 15% on these models when you buy the Infernals Army Box! The Infernal Army box provides a complete 35-point army ready to play. Led by Zaateroth, the Weaver of Shadows, this force cripples your opponent's army with a variety of debuffs, such as Black Spot from Zaateroth, Soul Parasites from the Lamenter, and Withering Death from the Desolator. Grievers and Cultists make up the core of the army, with Grievers providing ranged weapons to harass your foe, and the Cultists can either provide backline support or Ambush, striking your foe from the side. Add Valin Hauke to provide more defensive abilities to your army, or add a Soul Stalker to increase your melee damage and soul collection.
July/August New Release
Fallen Knight Valin Hauke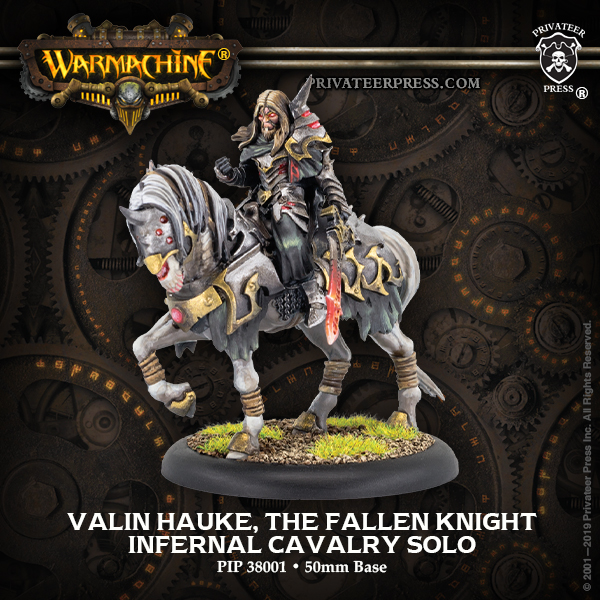 PIP Code: 38001Price: £31.95
The most ardent adversaries of the infernals have long been the Morrowans, such as the soldiers of the Order of Illumination. Valin Hauke was once one of their champions, a knight who had sworn oaths to eradicate infernalism. A tragic series of events would lead to his undoing and rebirth. The world of light he once believed in has been revealed to be an illusion and the coming darkness as the true reality. Hauke no longer cares whether his victims are innocent or guilty, as he no longer believes in innocence. Valin Hauke is a powerful mounted solo that provides potent buffs to nearby Infernals. Tactician allows your models to move through each other to more easily manage your models' placements. Brother's Keeper prevents your nearby Infernals from being knocked down or made stationary. When push comes to shove, he is a deadly combatant as well!
July/August New Release
Infernal Lamenter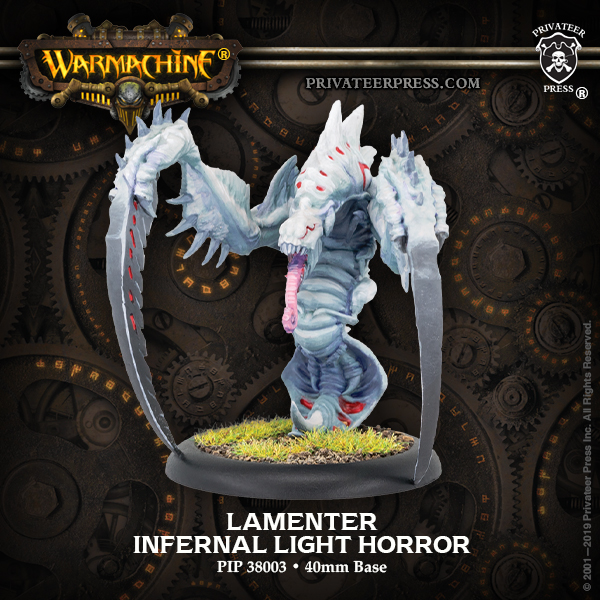 PIP Code: 38003Price: £18.95
Though considered a minor horror compared to its more hulking and massive counterparts, the lamenter makes up for its size with a streak of unmistakable cruelty. The very appearance of these creatures is an assault on the mind—it can shatter sanity and fray nerves. A lamenter often toys with its victims needlessly, impaling them with its wickedly sharp impaling limbs. Each is surrounded by a swarm of invisible floating parasites that gnaw on the souls of its enemies, inflicting mental torment. The Lamenter is a Light Horror that is dangerous in melee combat with its pair of piercers. Its signature ability is Soul Parasites, crippling the attack rolls of nearby living enemy models, making it challenging to remove at close range.
July/August New Release
Soul Stalker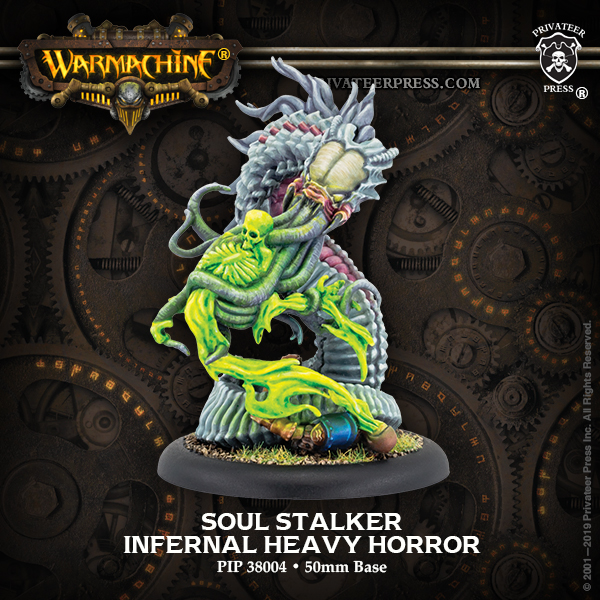 PIP Code: 38004Price: £41.95
Among the most frequently witnessed of horrors on Caen, the soul stalker is a terrifying serpentine creature that tirelessly stalks its prey. Arriving into the world with a piercing shriek, a stalker twists through the air in defiance of natural laws. Stalkers are sent from the Outer Abyss to harvest marked souls lingering in Caen so they can be brought back to the infernal masters. They can slay by bite or constriction, absorbing the souls of any they slay to add to those they have already collected. Soul Stalkers do just what their name says, consuming enemy models and delivering their souls to their Infernal Masters. This ability is very useful at increasing the Essence pool of their Master by ensuring a constant stream of souls. The Soul Stalker is a versatile tool, with its Coil ability allowing it to wrap up its victims so that all of its attacks are guaranteed to hit.
July/August New Release
Cultist Band & Dark Sentinels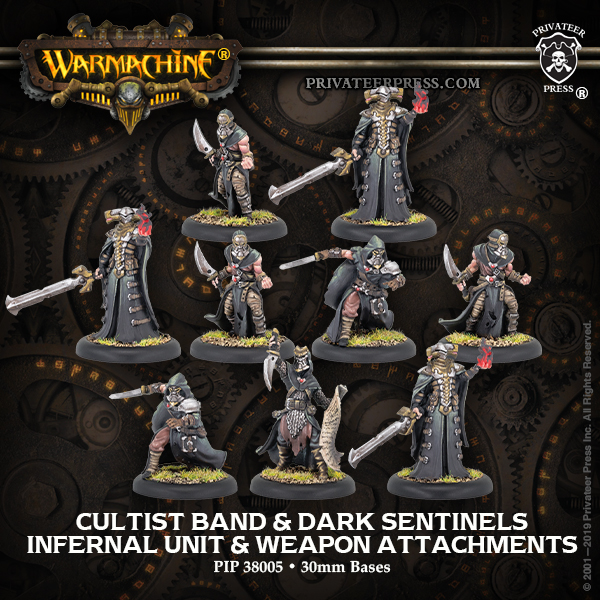 PIP Code: 38005Price: £36.95
Tempted by boons and offers of power, many mortals have chosen of their own free will to serve alien beings from beyond Urcaen. Infernalist cultists are corrupted and manipulated into surrendering their former loyalties to become willing collaborators in the infernal invasion. Wielding rune-covered ritual blades that whisper to them and pulse with inner heat, the most prodigious killers are elevated to dark sentinels, bestowed with more formidable swords and entrusted to take on special tasks. Cultist Bands constitute the bulk of human forces dedicated to their Infernal Masters. A multifaceted unit, Cultist Bands can be used to both heal and fuel nearby Horrors and ensure they remain on this plane of reality. Additionally, Cultist Bands are deadly light skirmishing units that prefer to take advantage of their numbers with their Gang ability. Dark Sentinels are Weapon Attachments that bulk up the hitting power of their unit, providing offensive spells and more powerful melee weapons.
July/August New Release
The Wretch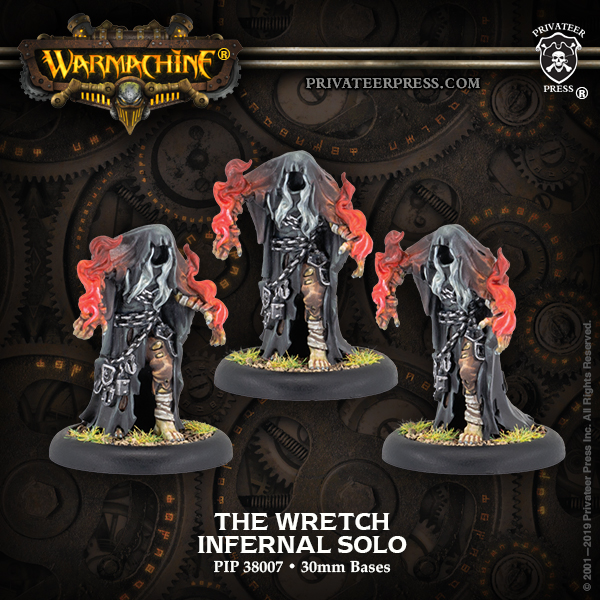 PIP Code: 38007Price: £18.95
Some infernalists embrace their chosen path with greater than normal enthusiasm, surrendering themselves utterly to the cause and giving up their humanity. Referred to as wretches, these individuals have put their past identities behind them and have earned a variety of boons from their patrons that allow them to unleash terrifying magic. Infernal power has transfigured them into monsters with scaled skin, wrapped in tattered rags and chains that symbolize their bondage to higher powers. The Wretch is a support solo that lurks in the backlines of Infernal armies. It is protected from enemy ranged attacks by Stealth, and it can cast a spell that covers allies in the same protection. Its other spells can be used to give a friendly Horror an out-of-activation attack or detonate enemy warriors into a swarm of biting flies. Like most of the mortal followers of the Infernals, the Wretch is a Marked Soul. This makes it an integral part of any Infernal Master's Essence economy and an important component for Horror summoning.
July/August New Release
Infernal Umbral Guardian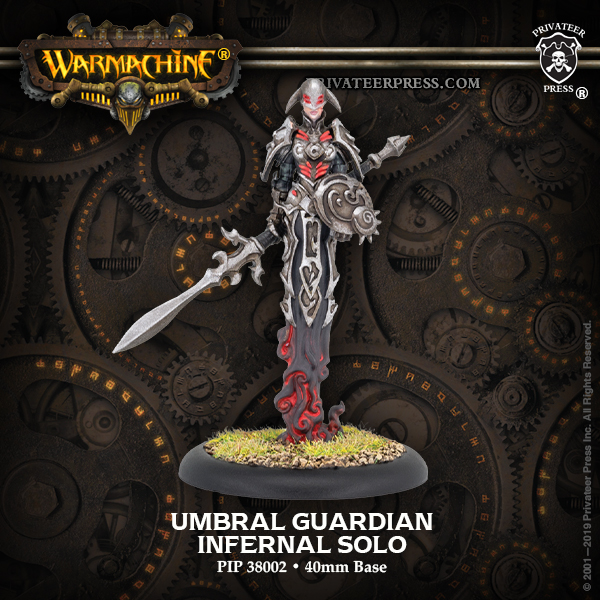 PIP Code: 38002Price: £14.95
Umbrals are a type of infernal that occupies a distinct niche in the Outer Abyss, benefitting from being able to slip into Caen more easily than others. They possess a special connection to shadows that lets them exploit darkness to serve as gateways. Guardians are often contracted to bind into the shadows of important infernal assets, lurking unseen to await the time they are needed, at which point they spring into action in defense of their charge. Umbral Guardians are incredibly potent defensive pieces that can appear near friendly models that are being attacked at range by your foe and absorb the shot. Umbral Guardians are at their most dangerous when being attacked, thanks to their Defensive Strike, which can make advancing up to them very perilous.
July/August New Release
Generl Hondo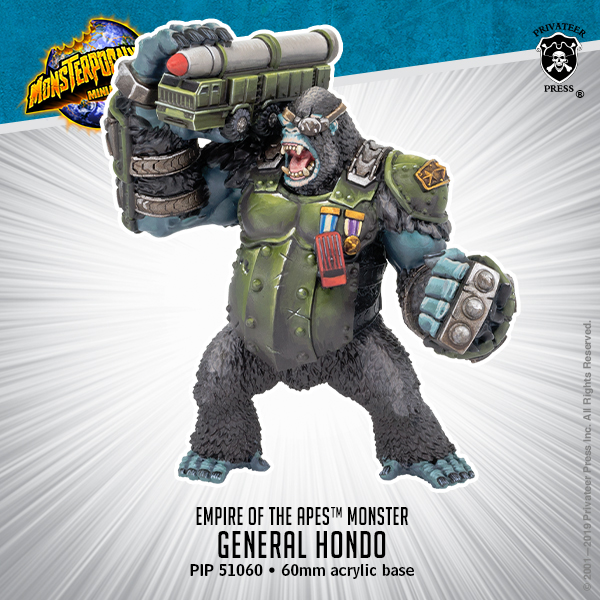 PIP Code: 51060Price: £30.95
Though he is not their king, General Hondo is the Empire of the Apes' greatest military leader. Hondo is responsible for the widespread seizure and deployment of human military hardware by ape troops fighting Earth's potential destroyers. He is also fond of military uniforms and medals. Hondo's methods suggest a degree of tactical and strategic depth once thought exclusive to Homo sapiens. He enjoys bringing missile-launching platform with him and savors the resulting explosions, another trait shared with his human counterparts.
June New Release
King Kondo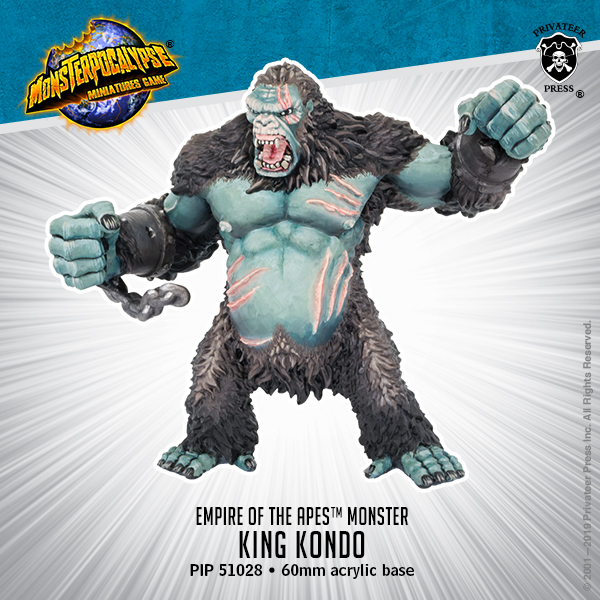 PIP Code: 51028Price: £27.95
The arrival of the Destroyers has drawn the ire of many great beasts once hidden in the untracked jungles and wilderness places. One of the greatest of Earth's savage defenders is known as King Kondo, a primate of gargantuan proportions with a rage to match his height and girth. Kondo has the strength to punch through buildings or lift and throw entire trains. He has no reason to trust humanity, particularly after a disastrous attempt by a secret multi-national task force to take him captive and use him as a chained weapon, but most of his ire is reserved for unnatural horrors like the Planet Eaters. King Kondo is an in your face monster that can be added to any Protectors force. He leads his fellow apes in combat, inspiring Empire of the Apes units in your force to hit harder when they make brawl attacks. His High Mobility allows him to move over models and hazards with ease and his Grappler ability prevents his enemies from being as mobile. When he goes hyper his massive punches do more damage and he gains power dice when enemies injure him.
June New Release
Rocket Ape & Assault Apes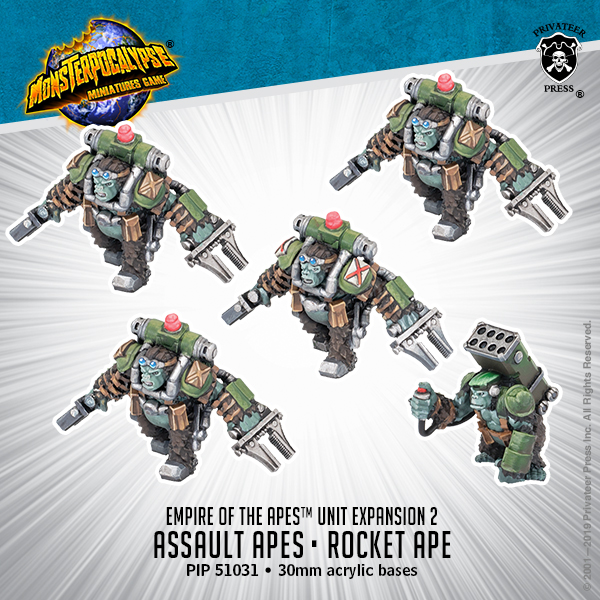 PIP Code: 51031Price: £33.95
The great apes joining Kondo in his wars are extremely clever and adaptable, having stolen a variety of modern military hardware and showing surprising facility at employing them in battle. The assault ape wears a prototypal exoskeleton intended for lifting heavy cargo but which is just as useful for smashing chompers and destructomites. Rocket apes carry an explosive projectile launching array equipped with an easy-to-use firing trigger, allowing the unleashing of an ongoing salvo.
June New Release
Ape Infiltrator & Ape Gunners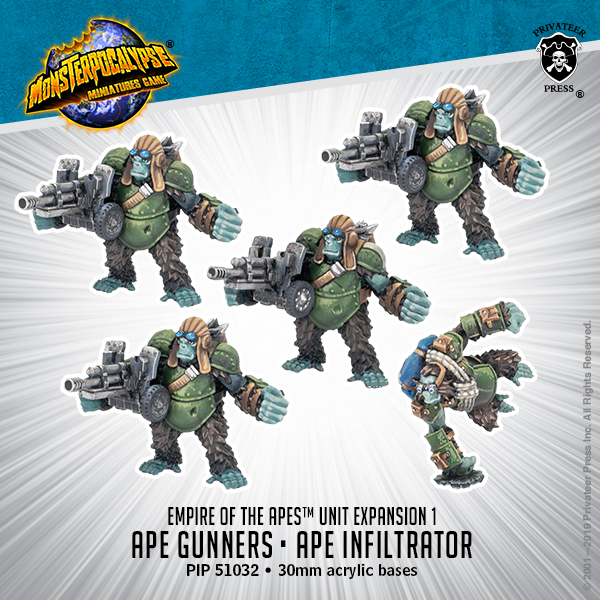 PIP Code: 51032Price: £33.95
The great apes joining Kondo in his wars are extremely clever and adaptable, having stolen a variety of modern military hardware and showing surprising facility at employing them in battle. The ape gunners carry looted artillery pieces and employ them as a human might a carbine - and with surprising accuracy. But the true proof that the apes are smart enough to eclipse humanity is evident in the ape infiltrators, who employ advanced electronic hardware to identify hidden enemies and assist their targeting and destruction.
June New Release
Jungle Fortress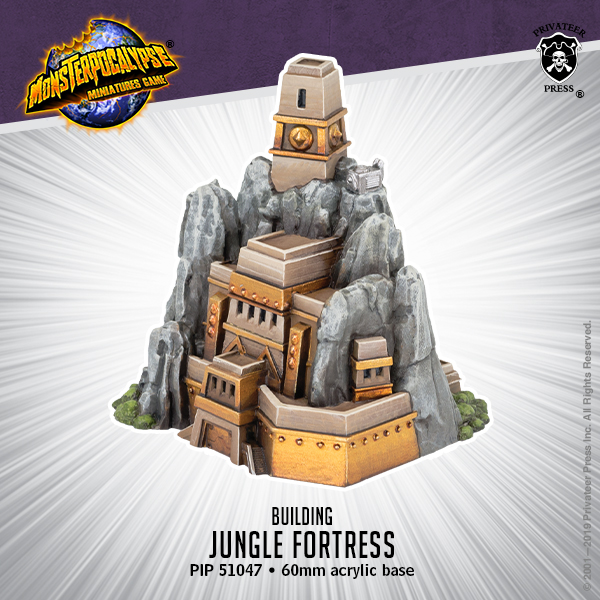 PIP Code: 51047Price: £18.95
Those who have seen the Empire of the Apes in action have begun to suspect there must be human collaborators facilitating their military efforts, and the Jungle Fortress certainly supports this theory. What strange cabal might be behind efforts to enhance the native intelligence of the apes and help outfit them with modern weaponry remains unknown, but their facilities have sometimes been discovered in remote locations. Within these halls, stolen or black market-bought military hardware is modified to suit the oversized frames of the apes. They also stock many pairs of oversized ape goggles, as eye protection is clearly a priority.
June New Release
Kovnik Apprentice Kratikoff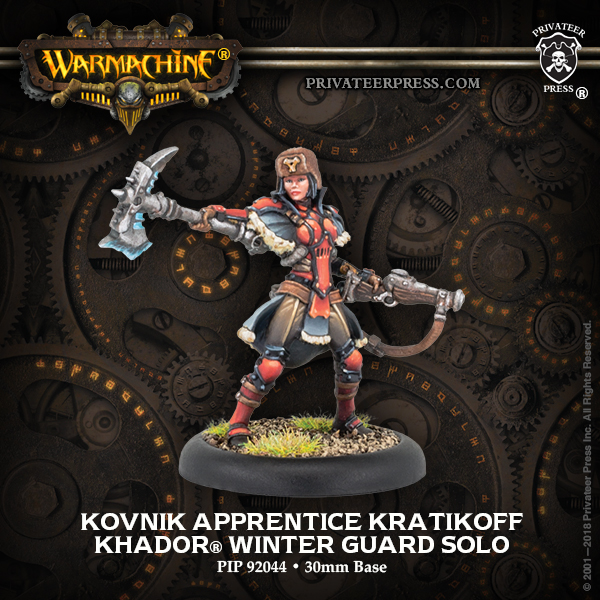 PIP Code: 33137Price: £10.95
The woman who would become one of Khador's greatest warcasters entered military service young, lying to recruiters to get into the Winter Guard two years before normal eligibility. By the time her warcaster talent was recognized, she was already a battle-hardened veteran. Awakened to her talent after the death of her superior officer, she was impatient to put training behind her and do her part in the Motherland's wars. She inspired her soldiers with her courage and heroics, ever inclined to close with the enemy as quickly as possible.
June New Release
Swashbuckler Light Warjack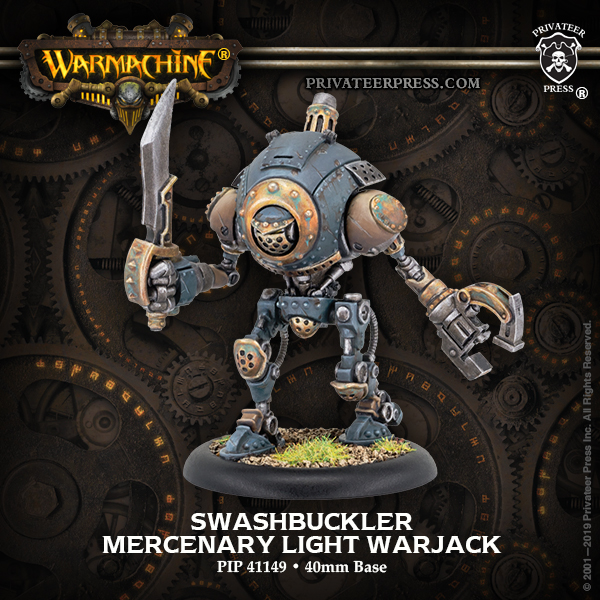 PIP Code: 41149Price: £17.95
The Swashbuckler takes unique advantage of the adroitness of its underlying chassis, built expressly for the purpose of navigating a ship's deck even when tossed by winds at sea. Engines East employed a cortex custom-built to augment capability in melee as well as superlative situational awareness. Privateers enjoy them in particular for their usefulness during boarding operations, either on the offense or defense. Firing a short-ranged cannon in one hand and wielding a cutlass in the other, the Swashbuckler is aptly named: it walks with a similar swagger to its human counterpart. The Swashbuckler is a nimble light 'jack that can leverage its powerful defensive abilities to thwart enemy plans. Duelist and Dodge make it difficult to lock down in melee combat, and Defensive Strike discourages your foe from engaging it without getting punished.
June New Release
Captain Rahera Mercenary Warcaster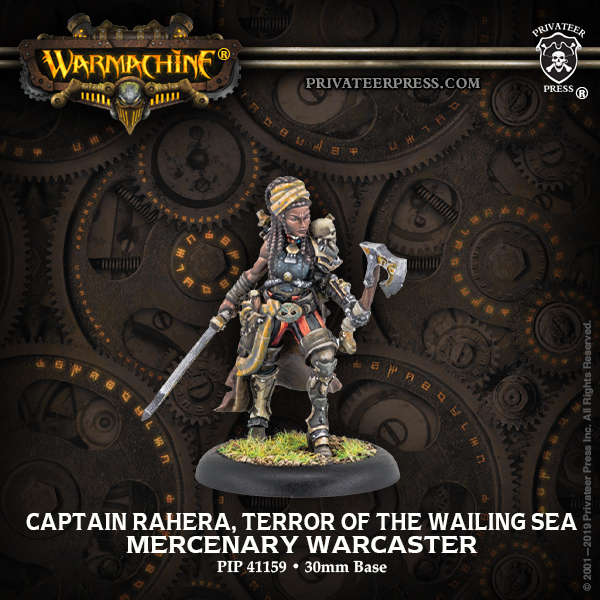 PIP Code: 41159Price: £10.95
For most who dwell among the Scharde Islands, the pirate's life means freedom and a chance for wealth, at least for those who are sufficiently ruthless and driven. Captain Rahera represents these ideals better than most, having risen above the riff-raff of the many pirate dens to seize her own destiny. She has somehow managed to retain autonomy while also staying in the good graces of Cryx's lich lords and considers herself beholden to no man, living or dead. She claims to know the sacrificial magics of the Satyxis—and the ships she claims certainly see their decks painted red with the blood of the fallen. Captain Rahera is a Cryx and Mercenary 'caster that blends aggression and support. Her abilities favor Privateers and Scharde pirates while providing potent buffs to your 'jacks with Escort and Manifest Destiny. Rahera herself favors a forward aggressive style, attempting to trigger her Blood Weaver ability to generate free casts of her powerful spell list to further the potency of her forces. She works equally well in Cryx and Mercenary forces and favors a mix of 'jack and unit choices
May New Release
Krakenoctus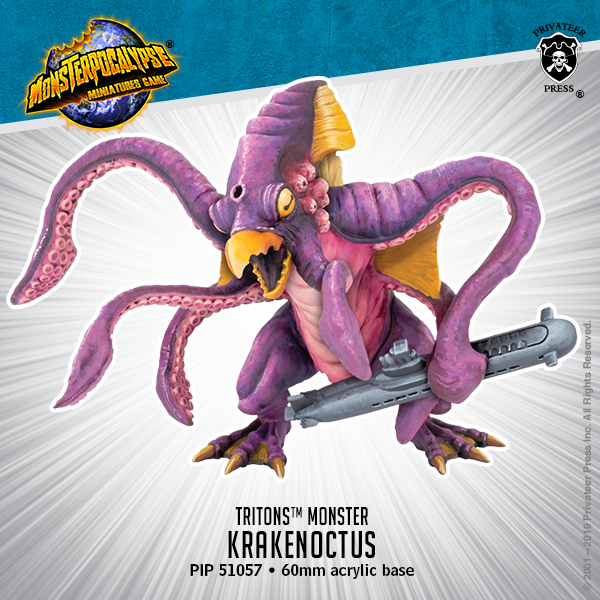 PIP Code: 51057Price: £26.95
From the ocean's depths arises the mighty Krakenoctus, a squid-like monster of Leviathan proportions. What has awakened this ocean horror is uncertain, though it is clearly enraged by the destructive forces ravaging the Earth, drawn in particular to battle the Planet Eaters and Lords of Cthul. Accompanied by a swirling whirlpool of salt-water, the passage of Krakenoctus has quenched fires that would otherwise have obliterated embattled cities. Despite its alien and imposing demeanor, it seems to have no particular malice toward humanity or the planet's other defenders.
May New Release
Subterran Uprising Hammerklak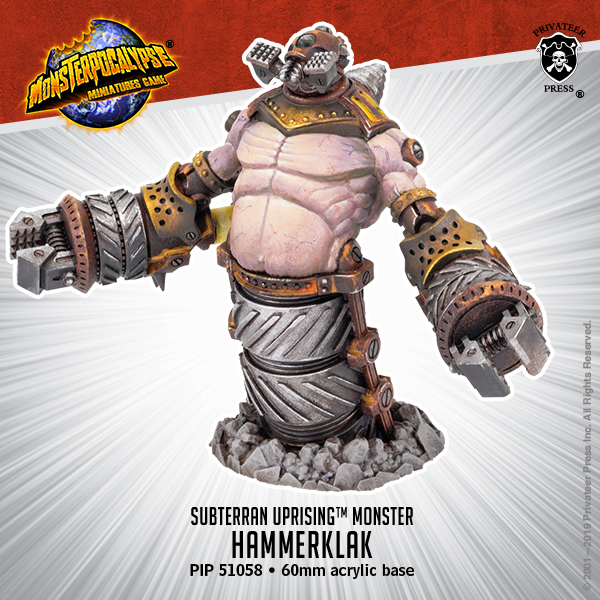 PIP Code: 51058Price: £23.95
Leading a force of ravenous and destructive creatures from below the soil, Hammerklak is considered a leader of a group referred to, for obvious reasons, as Subterrans. Resembling moles in aspect and methodology, yet utterly brutal and with no regard for the natural world, Hammerklak has proven to be a menace as great as Rogzor or Gorghadra. Able to tunnel with unnatural alacrity and emerging to destroy his foes, Hammerklak has a fierce temper, and few can withstand his drills during his berserk rages.
May New Release
Statue of Liberty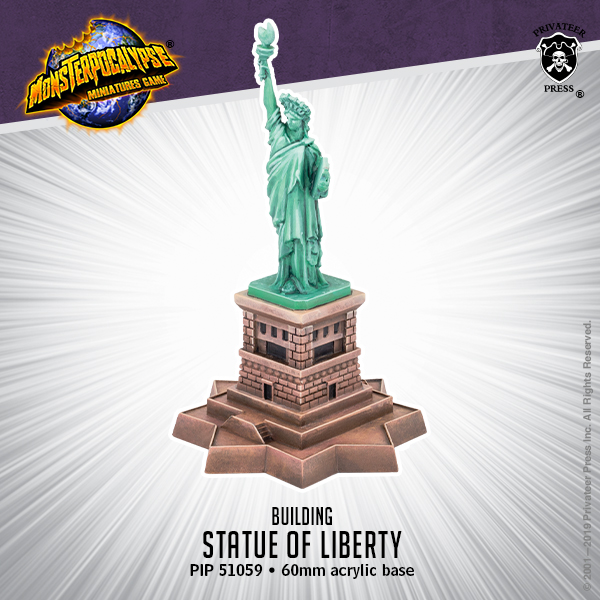 PIP Code: 51059Price: £14.45
A symbol of peace and prosperity and an unlikely friendship across the ocean's waters, the Statue of Liberty is certainly a recognizable sight to anyone. The inspiration it has provided down through the decades has manifested in a palpable energy that can invigorate Earth's guardians or be harnessed and exploited by the horrors that invade from beyond.
May New Release
Piggyback Officer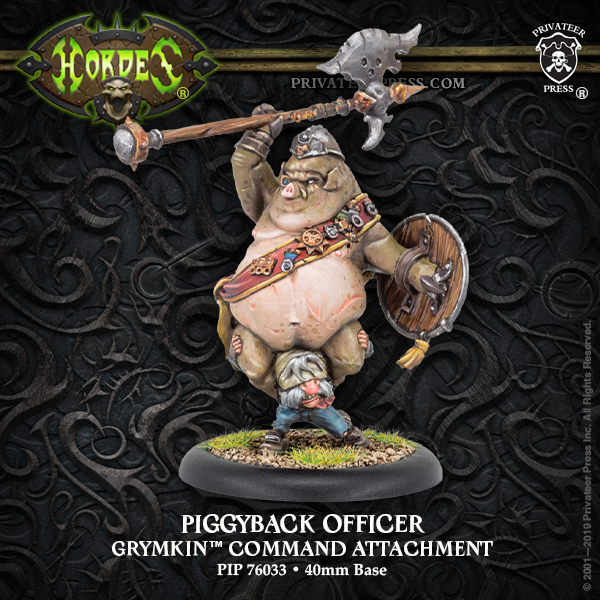 PIP Code: 76033Price: £13.95
Greed is the sin that gives rise to the Piggyback, and it is the most greedy and gluttonous who emerge in their ranks to be inflicted with their fattened leaders. Festooned with medals stolen from all manner of army officers, these torpid pigs delight in riding into battle to hack through the wicked. Squealing imperiously to direct their subordinates, no outsider can comprehend their orders, yet the Piggybacks move with alacrity at his beck and call, trampling all enemies beneath their weight. Together they make mockery of all disciplined mortal soldiers.
May New Release
Underchief Mire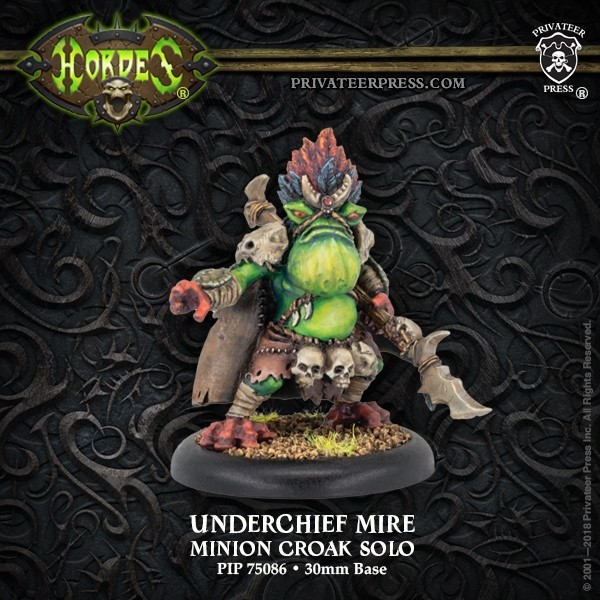 PIP Code: 75083Price: £9.95
Among the war-embattled croaks driven to western Immoren, being a leader can be a burden. Underchief Mire competes with his oversized brother to earn the right to succeed their father, the aging chief of their displaced tribe. In this contest, Mire has a unique advantage, having formed mystical bonds with beasts of the marshes, including several fetid swamp trolls. Caustic mists rise at Mire's command to melt the flesh from his foes, and the croak warlock can walk unharmed amid these vapors, hiding from sight before retaliating. He has earned a place of respect among the wilderness peoples for his cunning and his courage, staying neutral in their conflicts.
May New Release
Light Warjack Scallywag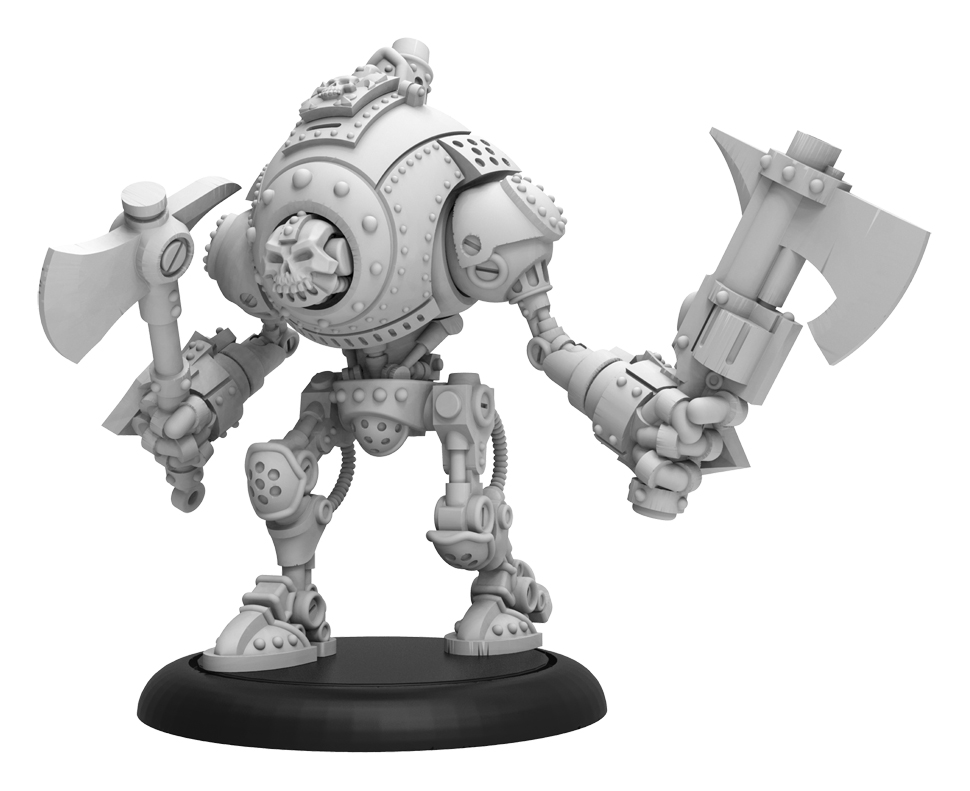 PIP Code: 41151Price: £23.95
Captain Phinneus Shae has long been fond of the Buccaneer, finding it eminently useful both for labor and fighting. After one of his favorites lost its arm in a scrap, Shae took it to Engines West in Ceryl for repairs and was talked into paying for a complete weapons overhaul, commissioning a pair of axes, one equipped with an integrated cannon. While it took the machine a few weeks to adjust, Scallywag now seems to enjoy blasting enemies with its cannon and only occasionally tries to use either axe as its missing gaff hook.
May New Release
Steelhead Ironhead Solo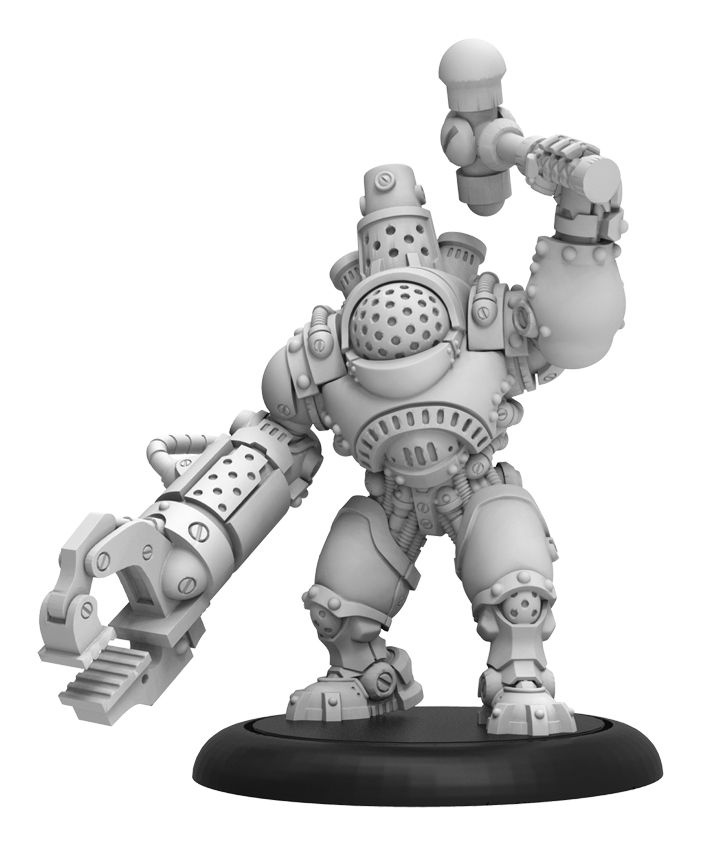 PIP Code: 41158Price: £14.95
While found in the largest numbers inside the Khadoran Army, fighting men and women decked out in heavy, steam-powered armor are not exclusive to that kingdom. A number of successful mercenaries with mechanikal aptitude have opted to be outfitted in this sort of gear. For those who can afford it, such armor makes its wearer nearly invulnerable to small-arms fire and greatly increases survivability to explosives and even direct hits from major ordnance. For the best mercenary mechaniks, being an Ironhead is the closest they have to a guarantee they will live long enough to collect payment.
May New Release
Powder Monkey Sea Dog Solo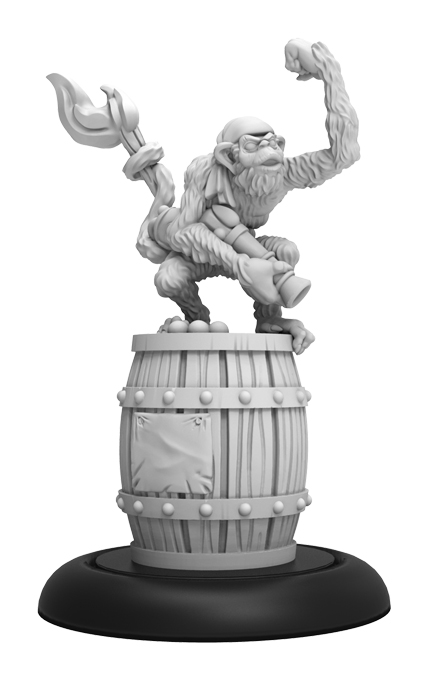 PIP Code: 41922Price: £10.95
On a busy pirate ship, the sea dogs that crew the vessel come and go, particularly in hostile waters. Oftentimes ships find themselves short on crew and are willing to consider unconventional solutions. A well-trained monkey can be just as useful as the average half-drunk sea dog for many tasks, including running powder to cannon crews and warjacks. Teaching one to light a readied cannon or even to fire small pistols is well within a monkey's capabilities. Whether or not it's actually a good idea to hand a torch to a monkey who sits atop a powder keg is another matter.
May New Release
Swabber Heavy Warjack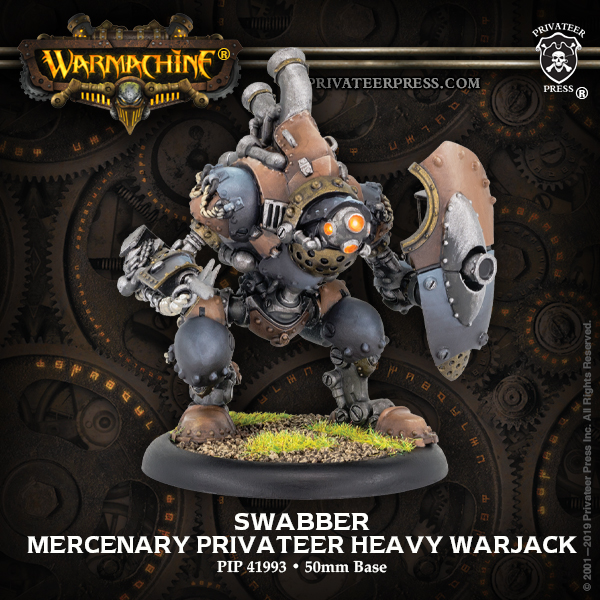 PIP Code: 41993Price: £33.95
Escalating conflicts at sea has seen a steady upgrade of armament among a number of familiar warjack chassis, resulting in several dedicated war machines in place of dual-purpose labor and fighting 'jacks. The Swabber is an outcome of this, swapping out the Mariner's improvised cannon for a dedicated shield-cannon that is extremely powerful, if inaccurate beyond short range. It is also equipped with a harpoon launcher and reeling engine that lets it drag in its catch. While marketed as being useful for whaling, the Swabber has been purchased almost exclusively by pirates to employ against their targets.
April New Release
Monpoc Building Tokyo Triumph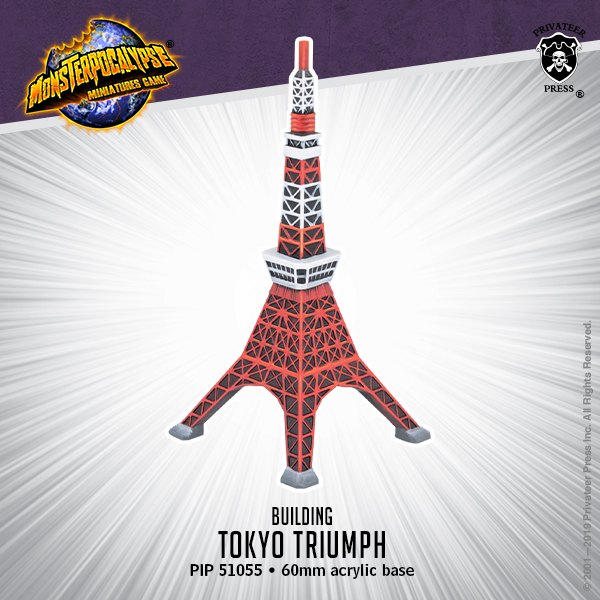 PIP Code: 51055Price: £14.45
The Tokyo Triumph was originally built to serve as a radio and later a TV signal tower, but it became a beloved landmark and favored tourist destination. It gained greater recognition after a highly televised battle in its vicinity between Zor-Maxim and Cthugrosh. Its architecture is appreciated by many monsters, though more for its usefulness in impaling foes on its narrow spire than the picturesque view from its central deck.
April New Release
Monpoc Building Imperial State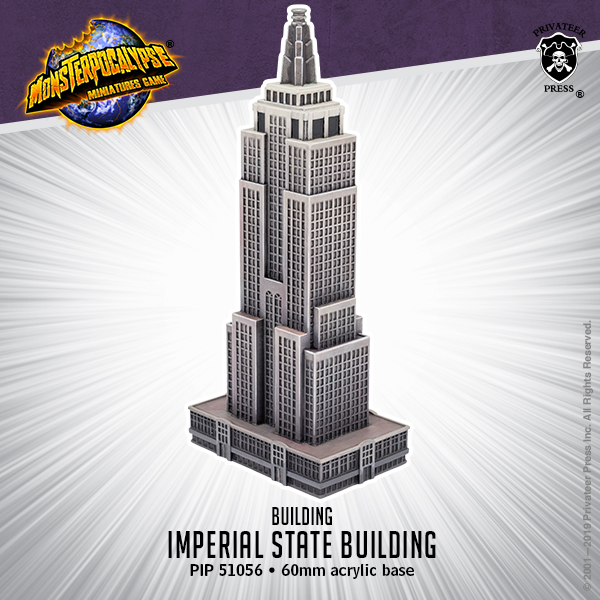 PIP Code: 51056Price: £22.95
The Imperial State Building was once the tallest skyscraper in North America, though it was soon eclipsed by other buildings. It remains a masterpiece of Art Deco design, a stylistic detail often lost to the Terrasaurs or Martian Invaders rampaging through adjoining streets. Amid urban battles, it is enjoyed by military snipers and others who prefer a lofty vantage to fire on foes or to just savor the sunset.
April New Release
Malady Man & Monkey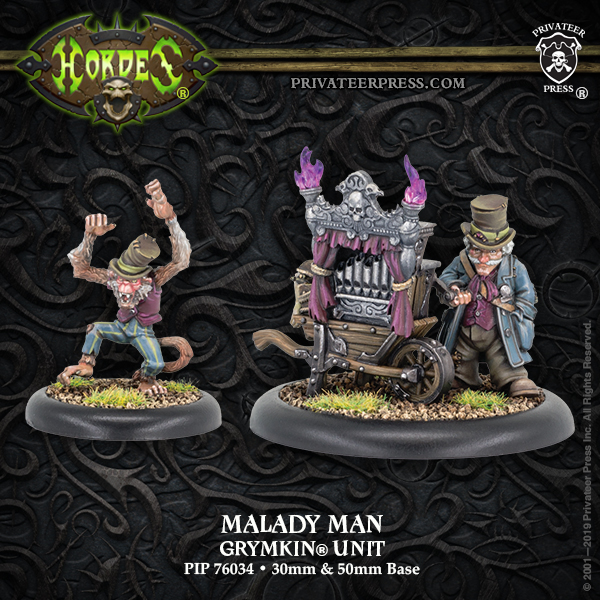 PIP Code: 76034Price: £16.95
Not all music is pleasing to the ear, and it is with discordant, off-kilter harmonics and an uneven tempo that the Malady Man plays his fiendish instrument. He punishes those who lack conviction and are easily distracted to abandon work or to neglect their wards. Soldiers who stray from watch posts, mothers who let their children wander off, or laborers who stand idly by more than they work, all have been transfixed by the sound of his hand-cranked organ before being torn apart by the deranged monkey that joins him.
April New Release
Neigh Slayer Warhorse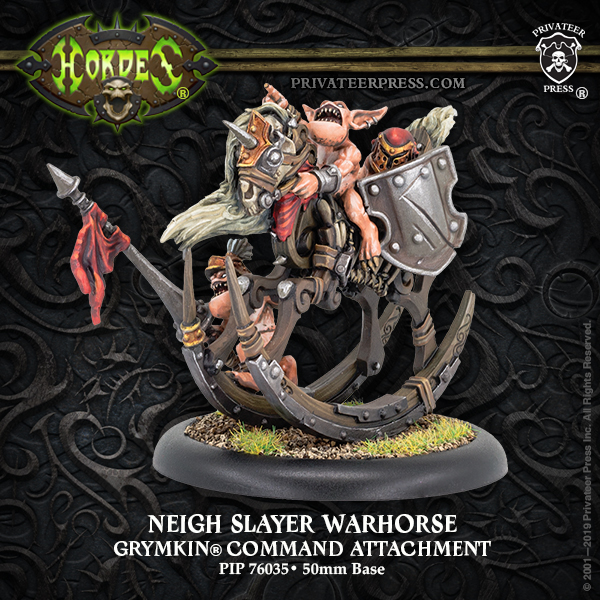 PIP Code: 76035Price: £19.95
The childish imagination of the neigh slayers takes on a tangible and deadly form. In their minds, they ride not toys but terrifying warhorses. They delight in carnage, giggling at the corpses they leave behind, for the slain seem less real to them than the imagined steeds they ride. The gremlin with the greatest imagination leads a pack from his rocking horse, accompanied by shield and lance bearers. He capriciously dictates to other neigh slayers the ever-changing rules of his favorite games, leaving their victims lit afire or bleeding from mortal wounds.
April New Release
Baron Tonguelick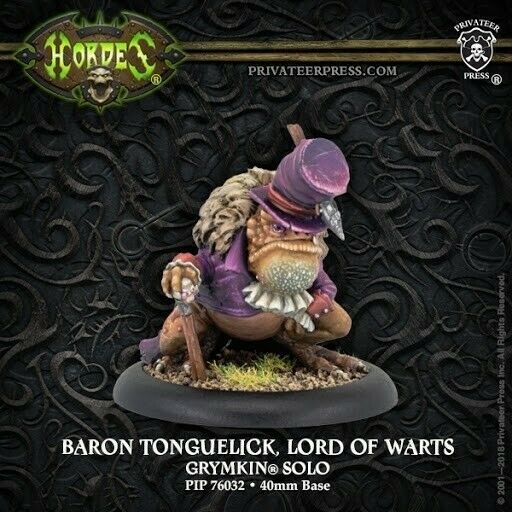 PIP Code: 76032Price: £17.95
In folklore, Baron Tonguelick was said to have been a deranged and petty tyrant. The dubious nobility of Tonguelick notwithstanding, the self-appointed Lord of Warts has ingratiated himself with the Defiers. By their favor, he lords it over lesser grymkin, who must beware the lash of his tongue. He can bolster the reality-warping power of the Defiers or serve as a direct conduit for their magic. The baron's tongue is dangerous whether employed as a weapon to catch and consume prey, or when he croaks words that leave weaker-willed enemies confounded and confused.
April New Release
Steelhead Cannon Crew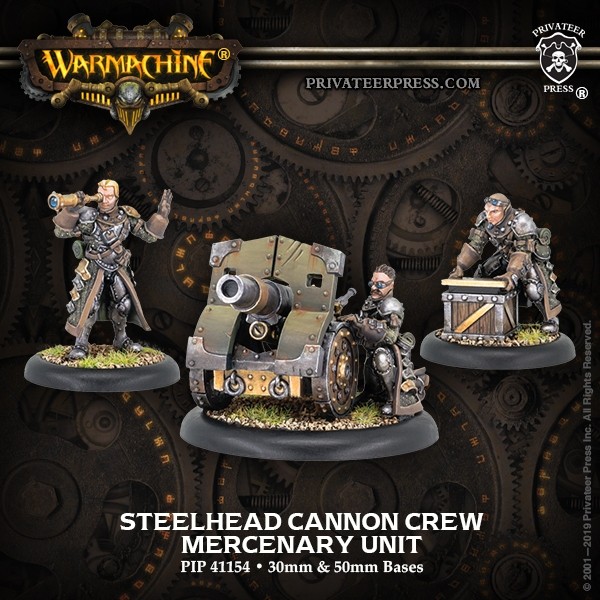 PIP Code: 41154Price: £24.95
As the Steelhead Mercenary Company evolved into a larger outfit, capable of fielding full armies for hire, it saw the need to develop an artillery division. This cannon is the mainstay Steelhead artillery weapon, providing blasts of concussive firepower to complement withering volleys of riflemen and the charge of halberdiers. The heavy explosive charge packed into cannon ordnance is quite capable of knocking anyone caught in the blast to the ground, disrupting the formations of advancing soldiers and leaving even those who survive its lacerating shrapnel shaken.
April New Release
Steelhead Mortar Crew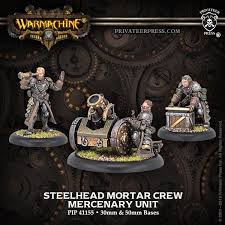 PIP Code: 41155Price: £24.95
Each piece of artillery employed by the Steelheads has a distinct role, directed by veteran gunners to exploit that artillery's strengths. Mortars fire in high soaring arcs, directing explosive payloads onto the heads of distant targets, even those otherwise shielded from direct fire by intervening walls or warjacks. While such firing arcs make it difficult to aim with pinpoint accuracy, the size and impact of mortar blasts makes up for this. Mortar fire obliterates infantry and leaves the ground pocked with craters.
April New Release
Steelhead Volley Gun Crew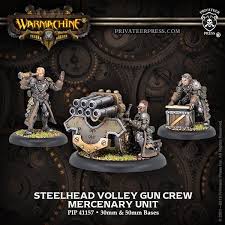 PIP Code: 41157Price: £24.95
Engineered as a modified variant of an Ordic weapon first invented by Midfast Munitions, the Steelhead Volley Gun can unload a steady barrage into enemy lines. It utilizes a double-rowed rack of seven barrels firing solid shot in sequence to batter infantry and even light warjacks into oblivion. The crews manning these weapons are in constant motion as they compensate their trajectories after the recoil of previous shots and then reload to begin another cycle of destruction.
March Release
Steelhead Solo Gunner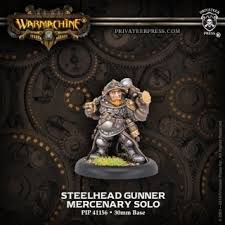 PIP Code: 41156Price: £13.45
While most Steelhead soldiers are human, the company is quite willing to take on anyone with solid skills willing to fight for coin, and its officers have frequently fought alongside Rhulic mercenaries. A number of Rhulfolk have accepted work with company branches, negotiating for top pay—few soldiers are more disciplined or cool under fire. Gunners are artillery veterans who know how to get the most out of their crews, coordinating fire and ensuring such weapons are quickly positioned to do the most harm.
March Release
Steelhead Solo Arcanist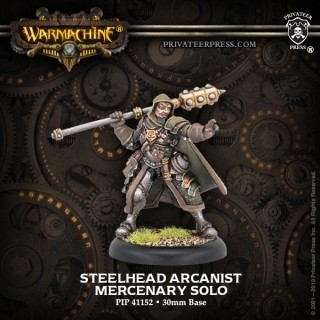 PIP Code: 41152Price: £14.45
While the Steelhead Mercenary Company isn't known for occultists, its commanders and captains know the value of battlefield magic and are willing to offer a premium wage to recruit seasoned arcanists. These individuals enjoy privileged positions in Steelhead companies and the most competent quickly earn officer commissions, receiving even greater pay. A number of Steelhead arcanists formerly served in Ord's navy, earning combat experience and knowledge of weather magic and lethal barrage spells.
March Release
Mount Terra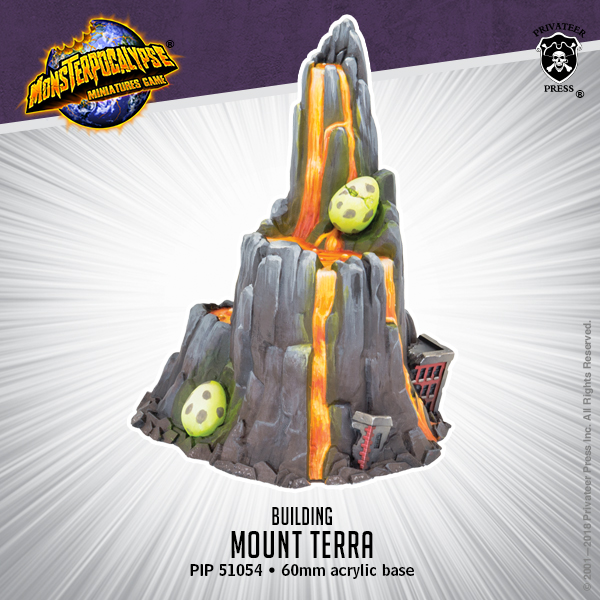 PIP Code: 51054Price: £18.95
Mount Terra is a G.U.A.R.D. codename for the inexplicable volcanic eruptions that sometimes follow the path of the Terrasaurs. These are either a reaction to their presence or are perhaps part of some deliberate plan. Whatever their origins, Terrasaurs seem reinvigorated in the presence of Mount Terra and have been known to utilize the radiant heat of these eruptions to accelerate the hatching of their eggs.
March Release
Armodax Terrasaurs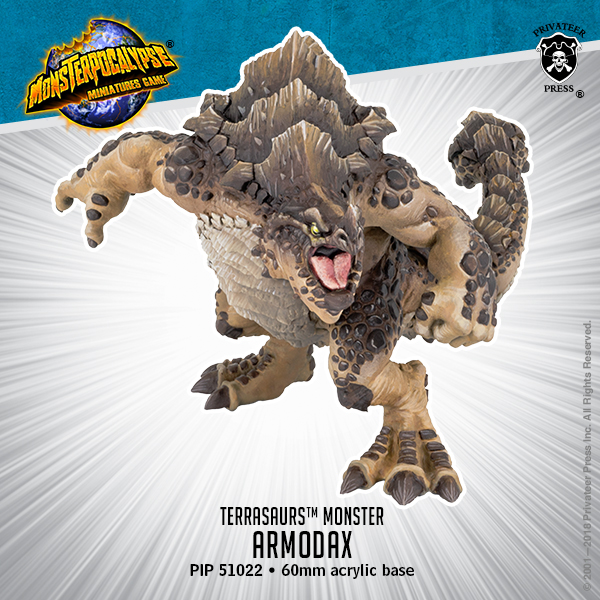 PIP Code: 51022Price: £25.95
Though the Terrasaurs have shown a remarkable willingness to fight alongside Earth's other defenders, some are trickier to work with than others. Armodax is a hulking monster covered in armored plates and boasting a weighty clubbed tail that serves better than any wrecking ball at toppling buildings. He has demonstrated unrestrained delight in annihilating skyscrapers, factories, and power plants while clashing with Earth's foes. Yet there is no question he is worth preserving, given his unstoppable ferocity. His allies have learned to ensure the complete evacuation of any zone he has entered.
March Release
Building Void Gate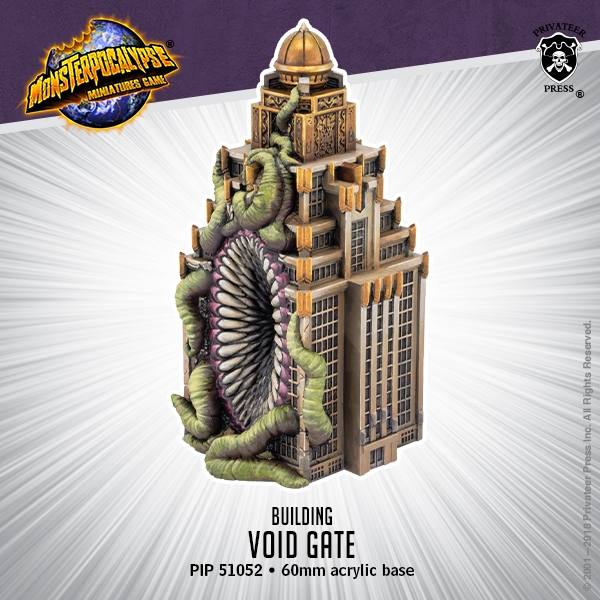 PIP Code: 51052Price: £19.95
Where the Lords of Cthul stride into battle, reality warps and bends before tearing asunder. Void Gates are like wounds in the very fabric of the time-space continuum, and through them come otherworldly horrors to ravage the Earth. It is a top priority of all of Earth's defenders to eradicate these unnatural structures as rapidly as possible..
March Release
Warwitch Initiate Deneghra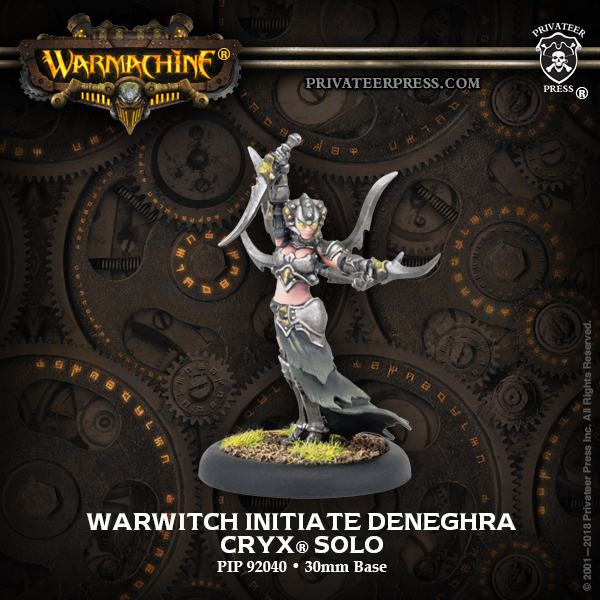 PIP Code: 92040Price: £11.95
No other individual in Cryx has been so deliberately molded into a mystical weapon from childhood as has Deneghra. Identified by prophecy and then seized by satyxis at the age of five to be delivered to Asphyxious, Deneghra's entire upbringing was engineered to exploit her warcaster talents for the Nightmare Empire. The iron lich mentored her directly to prepare her for her early induction into the warwitch tradition, the direct inheritors of Orgoth magics. Deneghra embraced these practices, showing an aptitude for cruelty and shadow that would have horrified her forgotten parents.
March Release
Garryth Eye of Vengeance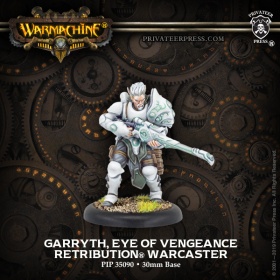 PIP Code: 35090Price: £12.95
Garryth has earned his place among the deadliest mage hunters in the Retribution over a century spent tireless stalking the sect's foes across western Immoren. But during the Skorne Empire's invasion of Ios, he was given cause to reevaluate his tactics. An attempt to neutralize Supreme Domina Makeda failed in a way that suggested he had become reckless. He has chosen to take a more measured and systematic approach, striking from a distance with Void Singer, a powerful sniper rifle made to his specifications. He is still willing to close for the kill with blade when needed but chooses his moment carefully after allowing the prey to approach, demonstrating the focus and patience of an apex predator..
February Release
Greylord Adjunct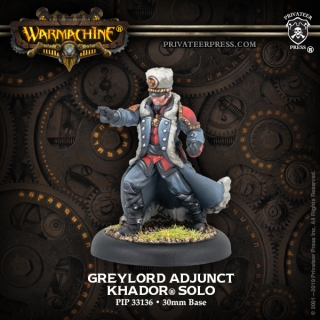 PIP Code: 33136Price: £10.95
The Greylords Covenant has long served the Khadoran Army by assisting in the detection and education of warcasters, knowing the best methods to unleash their arcane powers. Adjuncts are specially trained arcanists assigned to directly lend support to warcasters on the battlefield. In addition to their elemental mastery of cold, an adjunct can help sustain a warcaster's powers, extend their reach, and unravel incoming mystical assaults.
February Release
Bane Knight Officer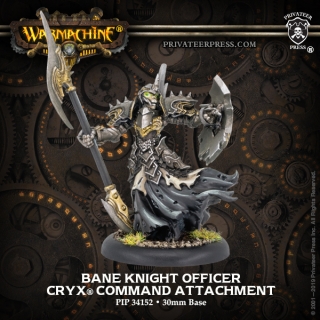 PIP Code: 34152Price: £12.95
Lost for an eternity in the shapeless void between Caen and Urcaen, all banes have their sanity shredded to madness, yet some few retain scraps of their minds. Great warlords or ancient military officers with strong will might retain the instincts that made them effective leaders in battle. They carry that forward into their unholy existence. Under the direction of these greater knights of shadow, banes demonstrate sophisticated tactics, moving in disciplined formations and proving considerably more formidable than is regularly the case.
January Release
Bloodgorgers
PIP Code: 34153Price: £83.95
The murderous Bloodgorger trollkin hail from the blighted kriels of the Scharde Islands. Corrupted and black-hearted, they find no greater joy in life than charging into battle to maim their enemies before devouring them alive. Toruk's blight has blessed these trollkin with pronounced spurs and curving horns, enhancing their already-formidable ability to commit atrocity. Bloodgorgers are excellent shock troops and the frontline warriors of the Slaughter Fleet Raiders theme force. Their lethality and endurance is greatly enhanced by the addition of their unique command attachment Jussika Bloodtongue (PIP34145) and the fearsome solo General Gerlak Slaughterborn (PIP34059).
January Release
Tharn Blood Shaman
PIP Code: 72110Price: £11.95
Blood magic is the oldest of arcane practices in western Immoren, one the Tharn have mastered. While bloodweavers leap into the fray to wet their sacrificial blades, blood shamans are more reserved and focused, steeped in deeper sacrificial rites. They have long served the masters of the Circle Orboros, facilitating their magics through bloodletting, a talent also brought to the greatest warlocks among the Tharn. Linked by blood-sworn pacts, such shamans can borrow spells from those they serve. The Tharn Blood Shaman is a powerful solo that provides magical support to the warlock it is attached to and a strong melee enhancement to any warrior in the army at the cost of sacrificing a fellow soldier. Warlocks with particularly powerful spell lists, such as Krueger the Stormlord (PIP72033) and Kromac the Ravenous (PIP72020), will find this solo especially useful.
January Release
Abidan the Keeper
PIP Code: 74107Price: £16.45
Some few immortals prove exceptional enough to earn esteemed recognition. In life, Abidan was a skilled warrior, though from a family of little standing. In death, he has won glory and honor denied him in life. He was shattered in a clash inside Ios, where he fought back to back with Hakaar the Destroyer. When the extollers recovered his sacral stone and the exalted ancestors spoke his praises, a new, more ornate form was granted him, and so he became the Keeper. Given a special place among the immortals, he fights to safeguard those around him, moving to intercept blows intended for his ancient companions. Abidan is a companion solo that fights alongside the Ancestral Guardians of the Skorne, protecting his larger allies but also gaining additional offense capabilities when near them. Any army that includes models such as the Ancestral Guardian (PIP74019) or Hakaar the Destroyer (PIP74050) will benefit from having this model fighting at their sides.
January Release
Immortal Vessel
PIP Code: 74109Price: £11.95
Following the unconventional path laid by Zaal, the Ancestral Advocate, the extoller caste has redefined its destiny, and now its most esteemed members no longer fear the Void. Some whose service to Zaal has been exemplary are allowed to transcend death to become immortal vessels, a stature below the full exalted yet preserved for eternity in stone. These vessels serve as conduits for the mortitheurgical power of warlocks and can guide destructive magics to smite those marked for death by the ancestors. The Immortal Vessel provides any Skorne warlock a cheap and durable solo that can channel spells across the battlefield, as well as increase the accuracy at which offensive spells hit their foes. This makes the Immortal Vessel an excellent match with casters such as Lord Tyrant Hexeris (PIP74091) and Supreme Aptimus Zaal (PIP74021).
January Release
Extoller Novitiate
PIP Code: 74112Price: £9.95
Becoming a full extoller is an arduous process, one with many trials during which failure can result in death. Yet even novitiates who have yet to sacrifice an eye to gain their oculus can be useful on the battlefield. Each one labors day and night, carving the stone forms of the exalted, and through this skill, they can restore those damaged in battle or help quicken them to action. They are not warriors, but each wields a hammer augmented to shape stone, which can as easily be used to shatter the skull of any unwary foe that lingers nearby. The Extoller Novitiate is a cornerstone support solo for any Skorne Exalted army, capable of repairing damage from Exalted constructs while providing the Tough benefit to nearby Exalted warriors. Due to their Field Allowance, players collecting this army are likely to buy three copies of this model in order to properly support of the frontline Immortals unit (PIP74072) that make up the majority of their force.
January Release
Journeyman Lieutenant Allister Caine
PIP Code: 92043Price: £14.45
Allister Caine was never an ordinary journeyman, for he had already earned both infamy and fame as a gunmage. As deadly with his pistols as he was stubborn and difficult to train, young Allister Caine chafed under instruction both as a youthful prodigy of the Arcane Tempest and while learning what was required of a Cygnaran warcaster at the Strategic Academy. He was never respectful to the warcasters he was assigned to follow, prone to sneaking off to follow his own instincts. Yet when battle began, he quickly proved his worth, wielding a magelock in each hand. As part of the fifteenth anniversary of WARMACHINE, several journeyman solos were released based on some of the most popular warcasters ever released. Representing the "Zero Version" of each warcaster, these solos show what each character looked and played like before they became the legends they are known as today. Much like his later iterations, Caine is an excellent gunmage and incredibly mobile. With spells that allow him to teleport to a warjack in his battlegroup (or vice versa), light warjacks with solid ranged weaponry such as the Charger (PIP31089) or the Hunter (PIP31027) are excellent additions to Caine's battlegroup.
January Release
Potentate Severius
PIP Code: 92046Price: £14.45
Severius loyally served multiple hierarchs in his time as a scrutator and was a significant voice in the caste even before being elevated to leadership over all of the Protectorate's military forces. As a scrutator potentate, Severius saw fit to support Voyle in his bid for power, accelerating that great ruler's rise to hierarch. When he wasn't striding fearlessly into foreign lands as a missionary to convert unbelievers to the faith, Potentate Severius was a formidable presence in battle. He manifested holy power, inspiring zealots and warriors, and from the start, he showed his facility at wielding the warjacks of the Protectorate against the theocracy's enemies. Similar to Caine, this "Zero Version" of Severius is a journeyman solo. Severius is a powerful spellcaster and provides one of the strongest offensive buffs in the game to nearby allies. With an outstanding FOCUS stat of 5 for a solo, Severius pairs well with focus-hungry ranged warjacks such as the Redeemer (PIP32083) and the Repenter (PIP32084).
January Release
Monsterpocalypse — Sky Sentinel: G.U.A.R.D. Monster
PIP Code: 51021Price: £30.95
Sky Sentinel has earned a special place among G.U.A.R.D.'s defenders as being one of the first super mechs created to protect the Earth, one of two initial Liberty-class weapons platforms. After the tragic death of its counterpart, Laser Knight, Sky Sentinel stood alone for a time against those who would destroy the planet, taking advantage of its advanced mobility to rapidly redeploy from one theater to another. This revered super mech is exceptionally equipped to coordinate the efforts of strike fighters and rocket choppers in its vicinity, unleashing unparalleled concentrated firepower. Sky Sentinel excels at air superiority. In its alpha form, it sweeps opponents out of the sky with anti-air weaponry. When it goes hyper, it sends more power to all of its ranged weapons, firing more rapidly. In both forms, Sky Sentinel also coordinates the actions of other G.U.A.R.D. air forces, making Strike Fighters and Rocket Choppers (PIP51003) natural inclusions in its force.
January Release
Monsterpocalypse — Deimos-9: Martian Menace Monster
PIP Code: 51023Price: £23.95
The enigmatic tripod walker craft known only as Deimos-9 would follow after the Ares Mothership and continue the process of harvesting resources while expeditiously dismantling Earth's defenses. Impacting initially in a compact spherical form, it unfolded to reveal its long legs and extending manipulator appendages, proving it could swiftly cross any terrain as it focused on urban centers. Deimos-9 has shown the capability of reaping vast amounts of energy in minutes, and it seems to prefer to prey on power plants, solar grids, and other high-energy locations. Its grappling manipulators and limbs are made of advanced Martian metals and polymers, being extremely strong and durable despite a fragile appearance. Deimos-9 offers area control to Destroyer players in new and interesting ways. Its Grappler ability prevents High Mobility enemies from bypassing buildings, hazards, and other models to get into position, and its Flank ability empowers the melee attacks of its allies against any nearby enemies. Deimos-9 makes a good partner for Gorghadra (included in PIP51002) or Cthugrosh (PIP51010).
January Release
Monsterpocalypse Building — G.U.A.R.D. Defense Base
PIP Code: 51048Price: £19.95
G.U.A.R.D. soldiers and pilots can't be out fighting alien horrors every hour of the day, and the defense base is a place where they can coordinate their efforts, fill out necessary paperwork, and enjoy a bit of coffee before the next battle. As these bases are often deployed in forward regions, each is heavily fortified and during emergencies can activate a bunker mode where vulnerable segments are withdrawn, during which it can sustain considerable punishment. G.U.A.R.D. Defense Base coordinates the units fighting for a city and helps deploy G.U.A.R.D. forces. A Protector player who secures this building can spawn G.U.A.R.D. units to the battlefield cheaper, and any player who secures this building gains boost dice in unit attacks made nearby.
January Release
Monsterpocalypse Building — Martian Command Post
PIP Code: 51023Price: £23.95
Proving they might have more interest in sticking around on Earth, at least until every resource is consumed, the Martians have erected a number of peculiar command posts in urban regions. The interior activities of these are largely unknown, but it is suspected these buildings help coordinate invasion efforts utilizing quantum-based communications arrays. The Martian Command Post empowers the resources gathered by allies and helps deploy Martian Menace forces. A Destroyer player who secures this building can spawn Martian Menace units to the battlefield cheaper, and any player who secures this building gains the ability to stretch their Power Dice resources further.
January Release
Monsterpocalypse — Bases
PIP Code: 91158Price: £11.45
Monpoc Bases Unit Base x 6 / Elite Base x 4 (10 30mm).
January Release
Monsterpocalypse — Bases
PIP Code: 91159Price: £11.45
Monpoc Bases Base x 4 /Elite x 1 / Fllight Stand x 5.
January Release
Monsterpocalypse — Bases
PIP Code: 91160Price: £4.45
Monpoc Bases Monster Base 60mm (2).
December Release 2018
Tharn Theme Force Box
PIP Code: 72109Price: £119.95
BLOOD AND RAGE! Tharn are the most terrifying and ruthless warriors dedicated to the Circle Orboros. Savage descendants of the barbaric Molgur, Tharn revere the Devourer Wurm. Though once human, they have become something else after centuries of channeling the Wurm's power to transform into bestial killers. Amid frenzied rites, ravagers gain muscle mass to become hulking axe-wielding brutes, closing on their foes to tear out their hearts and eat them raw. Stealthier bloodweavers are cloaked in shadow during their approach and engage in sacrificial bloodletting, each one wielding a sacral blade to offer their kills to the Wurm. The twins Bríghid & Caul stand as heroes among the Tharn, veterans of infamous reputation. Unleash these bloodthirsty warriors with this box, which contains a full complement of Tharn ready to support your warlock's battlegroup. Fight to offer blood and hearts to the Wurm!
December Release 2018
Brighid & Caul
PIP Code: 72106Price: £28.95
The Tharn twins Bríghid and Caul have built their reputation upon a pile of corpses beyond counting. Born to the first generation of Tharn after the Curse of the Ten Ills was lifted and saved their race from extinction, these twins have come to embody a new hope. A skilled hunter, Bríghid has mastered the use of the heavy Tharn bow; when hunting larger game, she uses the bow to cripple and maim an enemy before allowing her brutish brother Caul to finish the prey with his heavy axe. They balance the skills of a hunter with the brutality and savagery of the greatest predatory beasts.
December Release 2018
Tharn Bloodweaver Haruspex
PIP Code: 72105Price: £9.95
The bloodweaver haruspex is able to divine the strands of future and fate from the blood and viscera of her slain foes, bringing the power of divination to the bloodweavers who accompany her in battle. Her bloody fortune-telling guides their strikes with unerring accuracy and imbues them with lethal potency. Through her sacrificial rites, she empowers her sacral blade to act as a conduit for the very energies of life and death.
December Release 2018
Iona the Unseen
PIP Code: 72104Price: £11.95
Though the Tharn possess their share of shamans, true warlocks are rare and revered, each a formidable leader, capable of unsurpassed feats on the battlefield. Iona the Unseen is among the rare few, a huntress whose fierce gaze can force obedience from both warbeast and subordinate Tharn alike. A fearless hunter, Iona draws on the predatory aspect of the Devourer Wurm, granting her forces speed and stealth as they surround her enemies like a pack of dusk wolves. She employs clever feints and decoys and relishes the sight of her enemies' confusion as her pack slowly encircles them.
December Release 2018
Frustrum Locus
PIP Code: 36032Price: £22.95
The Frustrum Locus was engineered by an advanced technologies optifex directive specialized in innovating hardware to disrupt formulaic magic. By modulating the energies produced by its pattern disruptor array, it can deflect or shred incoming hostile mystical attacks and even invoke a feedback loop to retaliate against the offending 'caster. By reversing these harmonics, its phase singularity beam can attune key enemies to make them easier to destroy by Convergence warcasters from afar.
November Release 2018
Crucible Guard Assault Troopers
PIP Code: 37021Price: £48.95
Assault troopers are the Crucible Guard's dedicated melee infantry. Relying on their armor to allow them to reach enemy positions, these soldiers carry only oversized thermal hammers as weapons. If not for the protection of specialized armor, the thermal hammer would inflict painful burns on its wielder. The heat ripples the air and flash-ignites any combustible materials within several feet, including anything struck by the weapon's heavy striking surface.
November Release 2018
Railless Interceptor
PIP Code: 37018Price: £115.5
The Railless Interceptor is an advanced new type of military hardware, representing an evolution of armored transportation. Weighing in excess of 150 tons, the Railless is a rolling fortress of weapons and armor plating. It is crewed by a dedicated team of warriors who must serve as a hybrid of traditional crew, artillerists, and field mechaniks in order to keep their vehicle at peak operation during the course of a battle.
November Release 2018
Aurum Ominus Alyce Marc & Big Alyce
PIP Code: 37005Price: £23.95
Alyce Marc personifies the volatile and sometimes unpredictable nature of alchemy in a way few others ever have. In a moment of pure desperation, she consumed an unstable experimental serum, which gave her the ability to transform into a powerful monster. Alyce's body can become that of a hulking, muscular beast with a thick hide able to slow bullets and turn blades. This new form allows Alyce to tear through enemy attackers before succumbing to exhaustion and returning to her original body's shape. She is still learning how best to govern this unusual ability but stands ready to unleash her inner strength against the Order's enemies in the days ahead.
November Release 2018
Aurum Adeptus Syvestro
PIP Code: 37002Price: £11.95
Syvestro represents the ideal blend of alchemist and soldier. His demeanor is serious, and he does not succumb to fanciful obsessions over every new alchemical discovery, preferring to keep his work pragmatic and focused on advances in military alchemy. Whenever possible, he hones his battlefield capabilities, pushing himself to improve his martial skill through practice bouts with other soldiers, physical trials, and simulated combat between actual engagements. While others rest, he tests his mind by studying and refining formulae long into the night by the light of an alchemical lantern..
November Release 2018
Captain Eira Mackay
PIP Code: 37019Price: £119.95
Seeing a need for those with her warcaster abilities, Eira Mackay joined the Crucible Guard as soon as she was able, eager to assist in the war effort against those she saw as cruel oppressors. Life on the front lines was too dangerous for her father to bear, so he turned his talents into creating a bulwark to shield his daughter from harm: the Railless Interceptor, a unique weapons platform akin to the war wagons and gun carriages of the past, cross-bred with a locomotive and blended with alchemical and technical innovations. Traditional Crucible Guard commanders view the weapon as a novelty, but Captain Mackay works to prove their assumptions wrong, and she seems born for the task.
November Release 2018
Marshal General Baldwin Gearhart & Mr Clogg
PIP Code: 37015Price: £19.95
A Cygnaran-born mercenary warcaster, Marshal General Baldwin Gearhart has made a career of fighting and has enjoyed every moment along the way. He is never happier than when facing long odds and overwhelming numbers, much to the chagrin of his manservant Mr. Clogg. Gearhart has dragged his assistant across the Iron Kingdoms and into the wild yonder beyond the civilized world on countless hunting expeditions, and now he delights in knocking Khadorans around the battlefield in occupied Llael. Whatever enemies the Crucible Guard faces in the years ahead, the marshal general stands ready to deploy his unusual arsenal against them.
November Release 2018
Vanguard
PIP Code: 37024Price: £27.95
Originally designed and crafted from the finest materials and the skilled hands of the Golden Crucible, only a small number of Vanguards were ever produced. Able to keep pace with the fleetest of warcasters, and to set their cannon-laden shield and long hafted poleaxe against their foes, the Vanguard is a highly prized masterpiece on the battlefield.
October Release 2018
Crucible Guard Mechanic
PIP Code: 37007Price: £6.95
The Crucible Guard has a small but dedicated corps of mechaniks that maintain and repair the army's vital warjack complement. These soldiers are cross-trained for combat, as they must often affect repairs in the midst of battle. Outfitted with sophisticated equipment, these mechaniks brave incoming fire to reach damaged warjacks on the verge of destruction back to fighting shape.
October Release 2018
Vulcan
PIP Code: 37022Price: £139.95
Matching the size of other modern colossals, the Vulcan is no less than a rolling alchemical arsenal. Sloshing hundred-gallon vats within its structure allow it to unleash an array of alchemical attacks. A series of dispersal nozzles along the chassis can blanket a large area in a debilitating fog of toxic gas. Its primary weapon, the Aqua Mortuum rocket, leaves trails of alchemical poison in the air and detonates with a burst of lingering toxins, while its smaller vitriolic deflagrators hose down squadrons with concentrated, high-molarity acid.
October Release 2018
Eilish the Occultist
PIP Code: 41142Price: £10.95
An arcanist, scholar, and experienced sellsword, Eilish Garrity of the Black River Irregulars mercenary company now walks a dangerous road to power. Those who confront him in battle discover that his scholarly demeanor belies his potent arcane skill—which some suggest was earned through nefarious means. He insists he is wielding his power for the greater good, though it seems a dark path he treads.
October Release 2018
Rocketman Ace
PIP Code: 37024Price: £9.95
Some Crucible Guard rocketmen rise above their cohort, demonstrating an aptitude for the power of flight that few others can boast. After scoring dozens of high-value kills, such soldiers are welcomed into the ranks of the elite aces. Aces lead formations of rocketmen and serve as living scions of aerial war. Those who witness their feats are inspired to redouble their own efforts, hoping to some day earn a place among them.
October Release 2018
Aurum Legate Lukas di Morray
PIP Code: 37012Price: £12.95
Lukas di Morray has kept the rebellious fire of the Order of the Golden Crucible burning in Llael even after the loss of its old headquarters. Driven by a need for new weapons in his war against the Khadorans who seized his homeland, di Morray risked everything to unlock his latent arcane potential. Lukas tested an unstable alchemical formula on himself, and by this succeeded in becoming the first self-made warcaster. Eventually the serum he injects will cost him his life, but he considers the price a small one in exchange for the power it gives him to achieve his retribution.
October Release 2018
Crucible Guard Infantry & CA
PIP Code: 37004Price: £53.95
Infantry has been a core element of the Crucible Guard since its inception, with each new generation hitting the field with new and improved variations on proven equipment designs. Each is equipped with a Crucible Arms Model 609 rifle, with variable ammunition designed to target a range of opponents, and a hermetically sealed suit of armor treated to withstand various caustic agents. Infantry members wear breather masks that filter out smoke and other toxins, allowing the soldiers to operate in hostile environments for prolonged periods. The Guard's infantry holds the front line of an engagement; they are trained to operate in tight skirmish formation and to serve as a worthy counter to the foot soldiers of any rival army.
October Release 2018
Hand of Silence
PIP Code: 32134Price: £28.95
The Hand of Silence rides alongside the armies of the Great Crusade, but his path is set by Menoth's will. On his steed Alban, he thunders over the battlefield, directing the spirits of the faithful to their place in the City of Man. As a widely recognized member of the Reclaimant Order, he stands ready to scorch unbelievers or strike them down with his weapon, Usher. The Hand of Silence cares little for the fate of these misguided souls.
October Release 2018
Monsterpocalypse News
Press Release
Privateer Press' upcoming Monsterpocalypse Hobby Miniatures Game, scheduled for release on September 21, has been temporarily delayed. U.S. Customs held the container carrying the game and a host of items from other companies for an intensive exam. The street date has been changed to October 5, 2018. The Monsterpocalypse tutorial guide was launched last week to further players' knowledge and awareness of the forthcoming game. The tutorial is available at https://www.youtube.com/watch?v=VjS2uEKGEKs. The Monsterpocalypse Hobby Miniatures Game represents an updated and streamlined second edition of the original 2008 collectible game's rules. Additionally, instead of using pre-painted collectible figures to play, the new game's most noteworthy difference is its use of highly detailed resin and metal hobby miniatures, which players get to assemble before playing. As a hobby game, this upgrade to the Monsterpocalypse experience provides the opportunity for players to customize their armies through painting and modeling them. For the latest news and information about Monsterpocalypse, visit the game's official website monsterpocalypse.com